Go West!
What are your plans October 15-18, 2018? Hopefully, they include heading to Phoenix, AZ for the annual Dynamics Summit! As a proud sponsor of D365UG/AXUG Summit, we're excited to share this experience with you this fall. We'll spend Summit squeezing every last bit of functionality out of the products and get you the ROI you want — and deserve.
WHY YOU SHOULD ATTEND
D365UG/AXUG Summit is THE go-to conference that brings industry experts, software development vendors, and everyday users together to discuss important issues, trends, product updates, customer pain points, and genuine solutions. The value of D365UG/AXUG Summit is endless! Here are some top reasons why you should attend:
Meet & network with your user group buddies: Overcome system challenges without risking downtime for your organization by making professional connections. D365UG/AXUG Summit connects companies in similar industries and individuals by job/role, so you can grow your support network.
Geek out over great content: There's no better instructor than an actual Microsoft Dynamics 365 or Dynamics AX user and that's what makes Summit unique. Learn how to make the most of your current implementation through user-led education around specific functions and modules within Dynamics 365 & Dynamics AX.
Evaluate and test solutions: Understand third party solutions and learn what they can do for your industry or organization.
Serve as a voice: Speak with vendors and Microsoft representatives so they understand your product pain points and can grow your industry with their products and future development.
Ready to Register? Let's Go!
You can head on over to the Summit site to register. Don't forget - Advanced Pricing discounts end September 6th.
OPPORTUNITIES TO SEE SUNRISE AT SUMMIT 2018
Five Examples of Reporting and BI Workspaces You Should be Using in Dynamics 365 Finance and Operations
Thursday, October 18 | 8:30-9:30AM | Room 124B
Business intelligence is critical to help you make good business decisions. But it can be tedious and inaccurate to gather the data…unless you have the right tools. Dynamics 365 utilizes workspaces to pull in the essential information into an easy-to-read visual analysis. In this session you will see examples of Power BI powered workspaces that were created using best practices from over 150 go lives! You will learn:
How to leverage workspaces to make better decisions
How to manage links, lists, and tiles within workspaces
How to enable analysis through embedded PowerBI
Retail Replenishment Rescue — Three Ways To Do It Better, Faster
Thursday, October 18 | 2:30-3:30PM | Room 126A
You really don't need to spend all that money on an expensive, third-party system that you then have to integrate. You can do it all from Dynamics 365! We will show you how to:
Minimize integrations
Get insights from your data without spreadsheets
Reduce your costs and IT time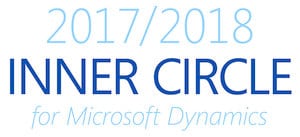 GET A FREE DYNAMICS 365 UPGRADE WORKSHOP
WHY BOOK A WORKSHOP?
If you're thinking about making the switch to Dynamics 365, there really isn't a better time. Especially if you consider that support for AX09 and AX12 will be ending soon and that the clock is ticking on significant upgrade discounts from Microsoft. Getting started is easy! A free workshop can get your team up to speed and map out a path forward. Stop by Booth #820 to register for free.