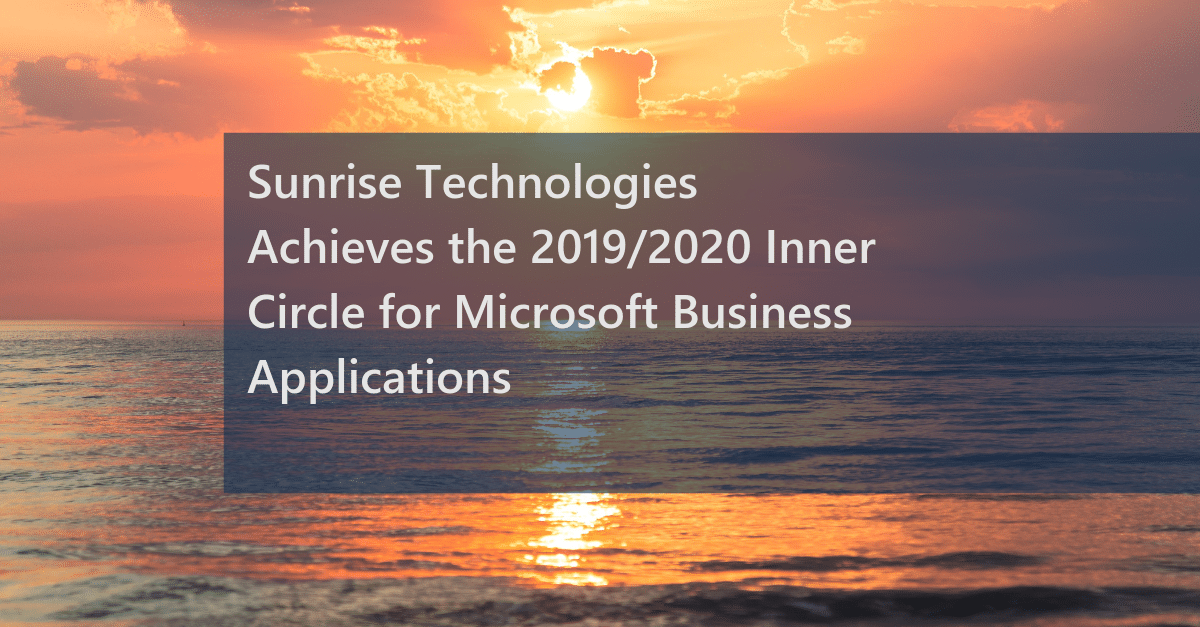 Aug 13, 2019
Sunrise Technologies is honored by Microsoft for achieving outstanding sales achievement and innovation.
Sunrise Technologies, a global provider of Microsoft Dynamics 365 Business Applications and Cloud services, has achieved the prestigious 2019/2020 Inner Circle for Microsoft Business Applications. Membership in this elite group is based on sales achievements that rank Sunrise Technologies in the top echelon of the Microsoft's Business Applications global network of partners. Inner Circle members have performed to a high standard of excellence by delivering valuable solutions that help organizations achieve increased success.
2019/2020 Inner Circle members are invited to the Inner Circle Summit, taking place October 1-4, 2019, where they will have a unique opportunity to share strategy and network with Microsoft senior leaders and fellow partners.
This recognition of Inner Circle for Microsoft Business Applications came during Microsoft Inspire, the annual premier partner event, which took place July 16-18, 2019, in Las Vegas, NV. Microsoft Inspire provides the Microsoft partner community with the opportunity to learn about the company's road map for the upcoming year, establish connections, share best practices, experience the latest product innovations and learn new skills.
"Each year we recognize Microsoft Business Applications partners from around the world for delivering innovation and driving unsurpassed customer success," said Cecilia Flombaum, Microsoft Business Applications Lead. "Our Inner Circle members are chosen based on their business performance as well as capabilities as an organization, whether that's creating IP, developing solutions, or having an industry leading focus on digital transformation. Microsoft is honored to recognize Sunrise Technologies for their achievements this past year, their dedication to our customers, and their innovation around the Microsoft Cloud."
Sunrise Technologies implements Microsoft Dynamics 365, Azure, and Power Platform for clients in the apparel, footwear, consumer goods, home furnishings, manufacturing, and retail industries. Sunrise also offers their exclusive industry IP, Sunrise 365®, which provides essential features for supply chain and retail replenishment in Dynamics 365. As a global Microsoft solutions provider, Sunrise has a track record of over 170 implementations in 15 countries. In 2019, Sunrise has also been recognized as Microsoft's Global Partner of the Year for Finance and Operations.
"We are very proud and honored to be part of Inner Circle again this year," said John Pence, President of Sunrise Technologies. "Achieving Inner Circle during our 25th anniversary year is especially meaningful because it reinforces our belief that providing our customers the best possible customer experience is always the right strategy. We are excited to see what the future as a Microsoft partner holds."