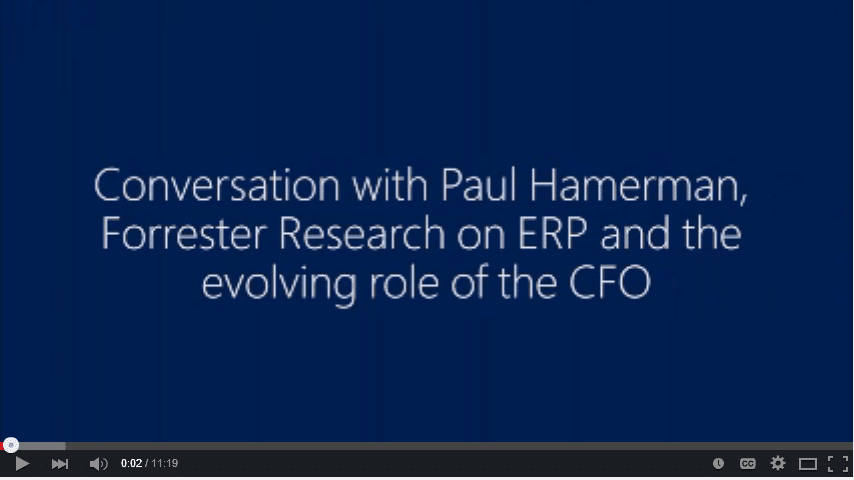 In this video, Forrester Research Vice President Principal Analyst, Paul Hamerman, discusses his views on the
changing ERP landscape
and the
evolving role of the CFO
. Hamerman also discusses how ERP solutions can support growing businesses and how business leaders can grow companies by focusing customer requirements.
He sees it evolving in three directions:
Industry specialization – how an ERP system can meet the needs of specific industry requirements (like retail or apparel manufacturing)
Globalization – some vendors can only support a business with commerce in certain geographies but as companies becomes increasingly global, their ERP systems need to support multiple currencies, languages, and local requirements
Company size – some are designed for small, medium, or large enterprise — the most complex systems are the ones which can step up and support the complexity of a large multi-national enterprise
Five innovation pillars in ERP
Cloud – the appetite for the Saas ERP model has tripled in the last 3 years because of the benefit of persistent versioning so you are always up to date with the latest functionality
Flexibility – configure the system without getting into technical code level customization and extend the system to go above and beyond basic requirements to meet the business needs
Analytics – real time information in context rather than using complicated query tools
User experience – adopting familiar consumer paradigms and inherently mobile
Integration – must integrate with CRM, PLM, and HR systems for example to provide a comprehensive view of the business
Factors in a successful ERP Implementation
Select ERP that supports your industry that is built on a technically viable platform
Selecting an implementation partner with experience with that solution and your industry to help you deploy faster
Define vision and roadmap to accomplish and staff it appropriately so you can execute on that vision
Shifting role of CFOs requires them to help the business grow and innovate around the 4 C's. For example, focusing on funding product innovation, funding acquisition, and investing in improving the customers to provide long term value and revenue growth.
Cost
Controls
Compliance
Customer
Finance professionals need to bring all of the time dimensions together under a single platform:
Past – traditional role of accounting and having a traditional close process
Present – actional information how the business is performing today (KPIs and dashboards)
Future – need planning tools to forecast how business will evolve in the future
The challenges CFO's face today include:
Outdated systems
Inflexible systems
Business information that isn't timely
Business processes that inefficient
Overall a lack of insight into the performance of their business
Investing in a cloud ERP system can help eliminate these challenges and increase the speed of doing business. Cloud applications are more flexible and agile, allowing the company to improve cost, controls, compliance, and the customer experience.