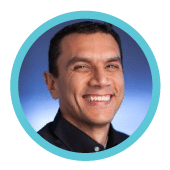 ---
As the SVP of Global Business Development for Sunrise Technologies, Cem Item brings nearly 20 years of experience in business systems experience in the textile, apparel, footwear, home furnishings, retail, and consumer goods industries. He offers a deep supply chain understanding in manufacturing, distribution, and retail operations with knowledge of ERP, CRM, POS, and BI systems. For Sunrise clients with operations across North America, Europe, and Asia, Cem provides thought leadership and guidance throughout the evaluation process of Microsoft Dynamics 365, business system strategy and a vision for digital transformation.
---
Over the years, we've had hundreds of successful go lives with consumer brands, manufacturers, and distributors. With that many implementations under our belt, we've been able to gain a different perspective on how modern, cloud-based, business applications better manage complex operations. Even though our clients have very different products and processes, we see the same industry challenges over and over. The good news is we're able to solve them with modern ERP and CRM applications. We were inspired to share some of the common challenges we see (and fix) after our recent joint presentation with Ultra Consultants. You can watch the recording here to learn more and see a quick overview demo.
Complex Operations Are Cumbersome to Manage With Outdated Legacy Systems
So why do so many organizations try to battle the same challenges with outdated technology? Nearly all businesses have faced the same evolution of technology over the past few decades. Moving from no packaged software to point applications that couldn't do it all, companies have ended up with a patchwork of integrations and homegrown solutions. As businesses became more complex and global, the Frankenstein infrastructures continued to get more custom, and more painful to manage. Most commonly, we see these legacy systems have a really hard time managing: 
Product Variations

Size, color, unit counts, packaging, etc...the list of combinations that cause complexity goes on and on
Older legacy systems don't store these attributes well and the variations can cause a lot of headaches
Simple questions become difficult to answer because reporting, planning, and overall inventory management is extremely challenging in these older systems
Multiple Channels

Once items with a complex product structure begin moving through multiple channels, it becomes dynamic and even harder to track
In many cases, the lack of clear visibility into supply leaves organizations scrambling
Legacy systems struggle to support the unique aspects of each unique channel (dropship, eCommerce direct to consumer, B2B sales and wholesale, and retail stores)
Prioritizing Scarce Goods Allocation

Older legacy systems take a first-in, first-out approach to orders
Often, consumer brands will want to fulfill important orders first (like to their big box store clients) over the eCommerce website, or smaller mom and pop stores
Legacy systems require creative workarounds like hiding inventory or virtual warehouses which are difficult to manage and lead to missed sales
Does Your Organization Currently Utilize Technology that Meets Your Operational Needs?
Poll results during the webinar found that 63% of organizations were dealing with friction created by legacy systems. Every organization will likely come to a digital transformation crossroads in which they will be forced to upgrade or implement new enterprise technology to better manage the organization's complexities. More than 50% are considering the cloud because of the advantages it provides. Curious about how the cloud may benefit you? Check out our cloud eBook for more details.
If you'd like to see a demo of how Sunrise and Microsoft Dynamics 365 can solve some of the challenges outlined above, you can watch the webinar recording here.