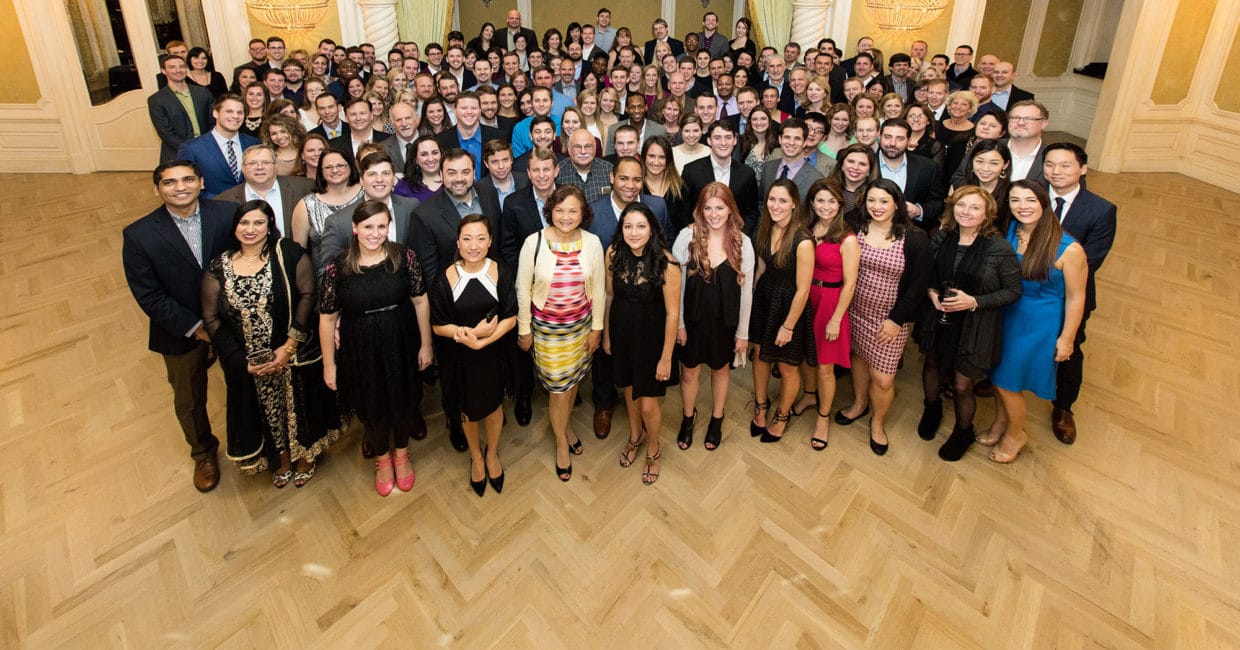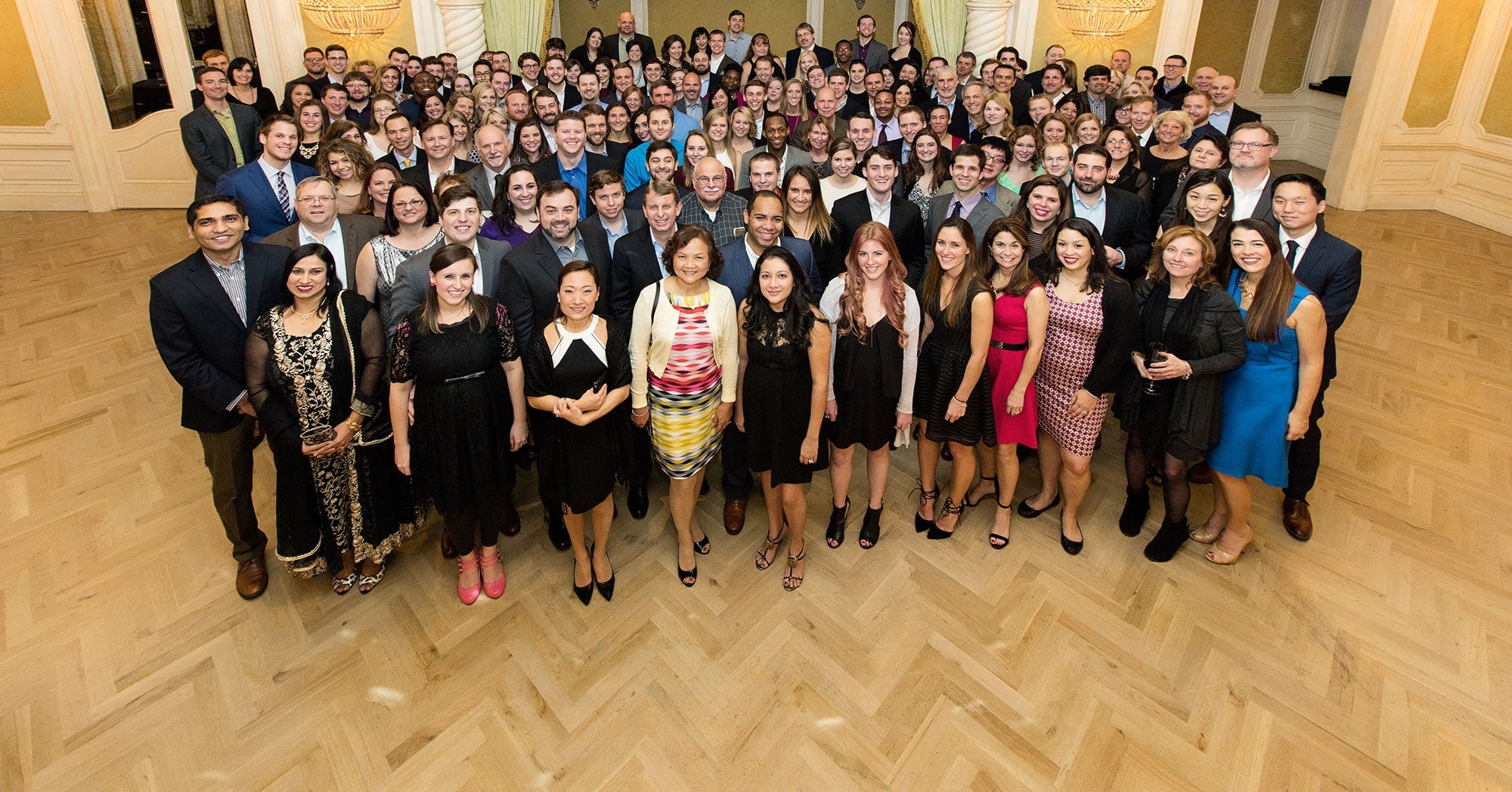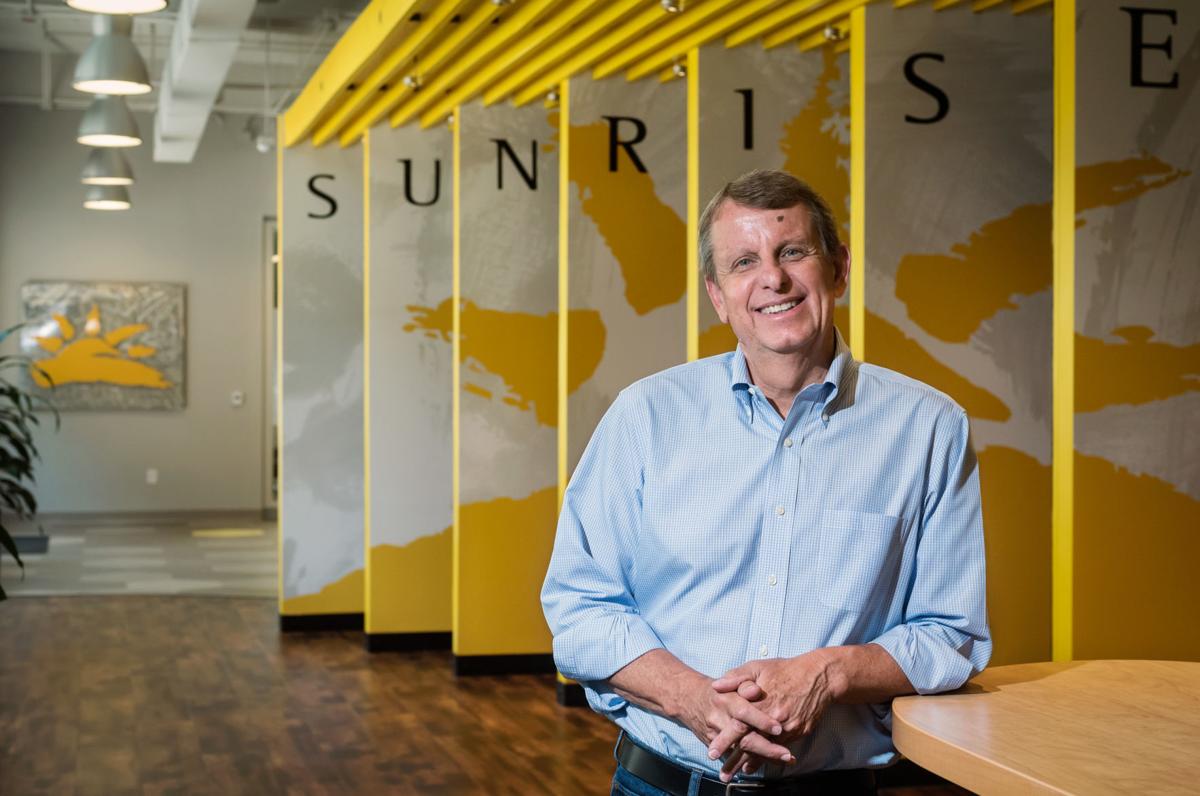 "One of the first goals I set for myself was that I wanted customers to stay with us for at least ten years."
- John Pence, President and Founder
Take a peek at our timeline to see when we earned our first Dynamics business, celebrated 25 years, earned Microsoft Partner of the Year, and other important dates for Sunrise Technologies.
OUR STORY
During the summer of 1994, John Pence launched Sunrise Technologies from his dining room table. After spending several years as the CIO of the Champion Athletic division of Sara Lee (now Hanesbrands), John knew that a strong supply chain was at the heart of any successful business and set about helping brands find the right technology to make their organizations thrive.
Because of his own struggle to find consultants that specialized in apparel, footwear, and textiles, he formed Sunrise with the intent of always being exceptional at that. He believed in being very good at just a few things instead of "just ok" at a lot. This is why we only focus on Microsoft Dynamics 365 for consumer brands and retailers (no matter if it's called Axapta, AX, or Dynamics 365, we've been partnered with Microsoft since it got into the ERP and CRM market).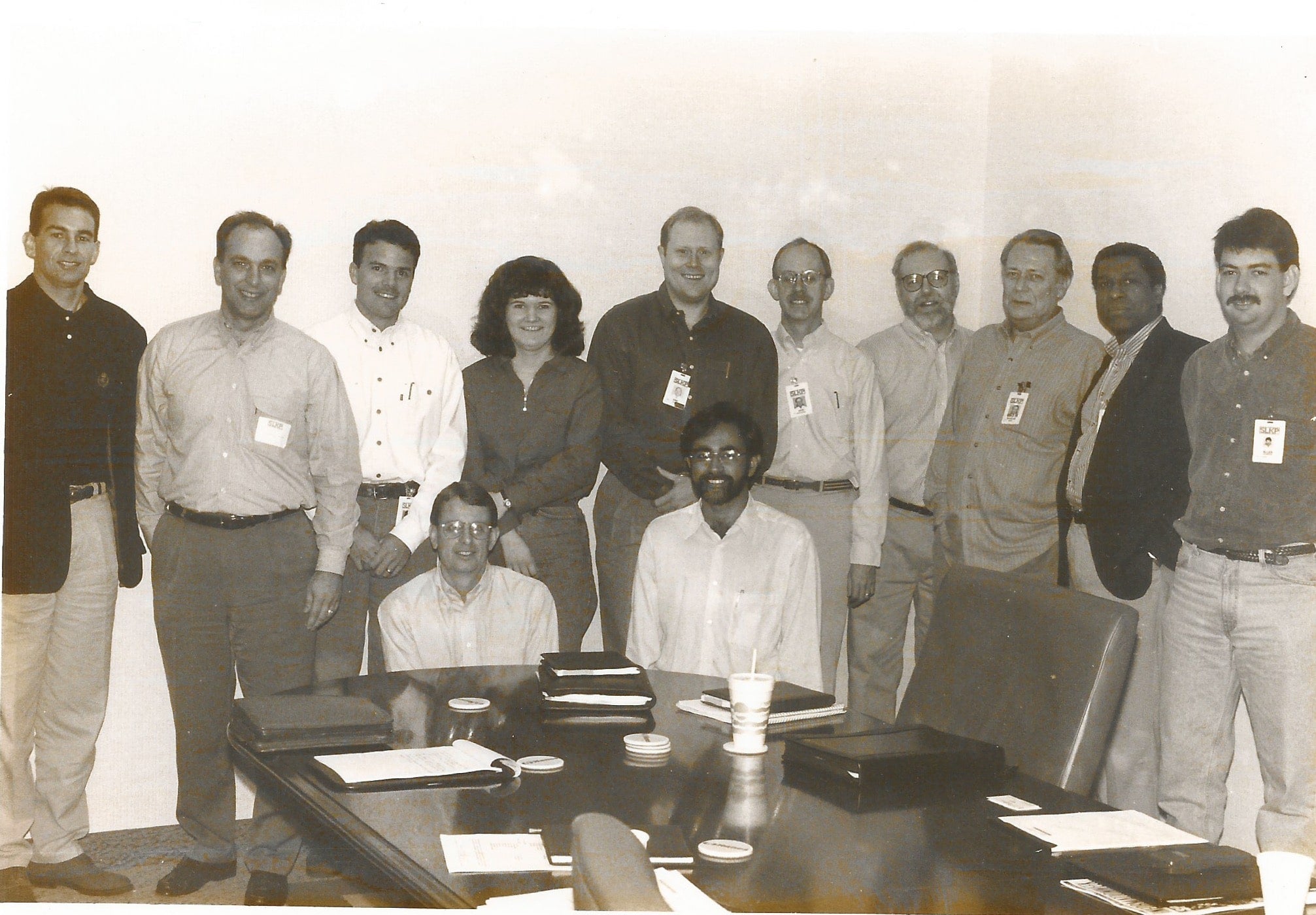 One of our earliest ERP implementation projects. It wasn't too long after this that John (seated left) hired Mike Pereira (third from left standing) as Sunrise's third employee.
John also believed that his company would not just be deploying technology; these were people projects. That's why the founding values are so important to him: honesty, work hard, and be nice to people.
From the start, Sunrise was recognized as a major player in supply chain consulting within the textile and apparel industries. It was in these early years that John also cemented Sunrise's reputation for hiring professional, experienced consultants who were totally focused on customer satisfaction (in fact, our Global VP of Business Development was the third employee John hired).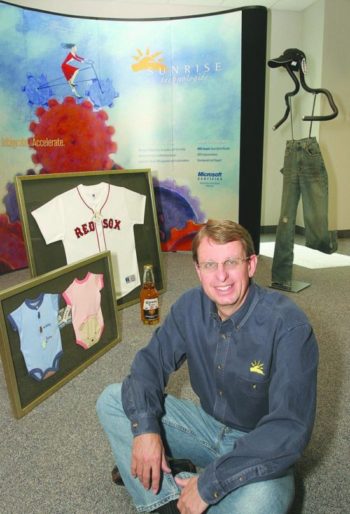 Featuring customer artwork and products at our Winston-Salem office has always been key to our decorating scheme, as evidenced from this photo, circa 2005.
Sunrise evolved from a pure supply chain consultancy to an industry-focused Microsoft Dynamics 365 partner over time. The turning point for the company arrived in 2003 when Sunrise worked with Microsoft on "Project Green," a wide-reaching plan that would create a suite of enterprise applications that integrated with Microsoft's desktop and server software. While working on the project, Sunrise's executive team saw a first look at Axapta, the ERP solution Microsoft purchased from a Danish company in 2002 that is now called Microsoft Dynamics 365 and formerly known as Dynamics AX.
Sunrise was initially impressed with the multidimensional and global nature of the solution, its modern technical architecture, and advanced functionality for manufacturing and distribution. There was an immediate impression that it would be perfect for consulting customers—it provided a beautiful transition from the linear, rigid systems of the past to the flexible and configurable systems of the future.
Already impressed with Axapta's capabilities, it was actually Microsoft's roadmap for the solution that really made it shine. From day one, Dynamics AX was always intended to empower users to work where and how they wanted. Sunrise evaluated other leading Tier 1 ERP solutions but decided hands down that Microsoft offered the best value and long-term viability. The Microsoft partnership solidified later that year when we joined the Microsoft Partner Network as an exclusive Microsoft Dynamics AX reseller.
In just a few short years, Sunrise secured a Microsoft Gold Competency in Enterprise Resource Planning, released the first Apparel and Footwear solution for Dynamics AX (a solution that is still evolving to solve supply chain challenges for brands to this day), and formed a Microsoft Certified Development Center in Xi'an, China (a critical part of our development and support business we call Sunrise Asia).
A proven track record of success led Sunrise to boast the largest industry-focused Microsoft Dynamics AX customer base in the partner network. By narrowing our focus to serve consumer brands, manufacturers, and retailers (and only Microsoft solutions), Sunrise has been able to concentrate on recruiting, training, and execution efforts. That's why our experience, solutions, and knowledge are unmatched when it comes to providing Dynamics 365 solutions for apparel, footwear, home furnishings, textiles, consumer products, retail, and manufacturing companies. Today, Sunrise also extends that industry knowledge to organizations considering and implementing Microsoft Dynamics 365 Business Central through its subsidiary, Volt Technologies.
And while the Sunrise customer base grew, its customers were also growing—becoming more global and more omni-channel. To keep pace with customer demands, Sunrise has grown far beyond John's dining room table, with over 300 employees across North America, Europe, and Asia.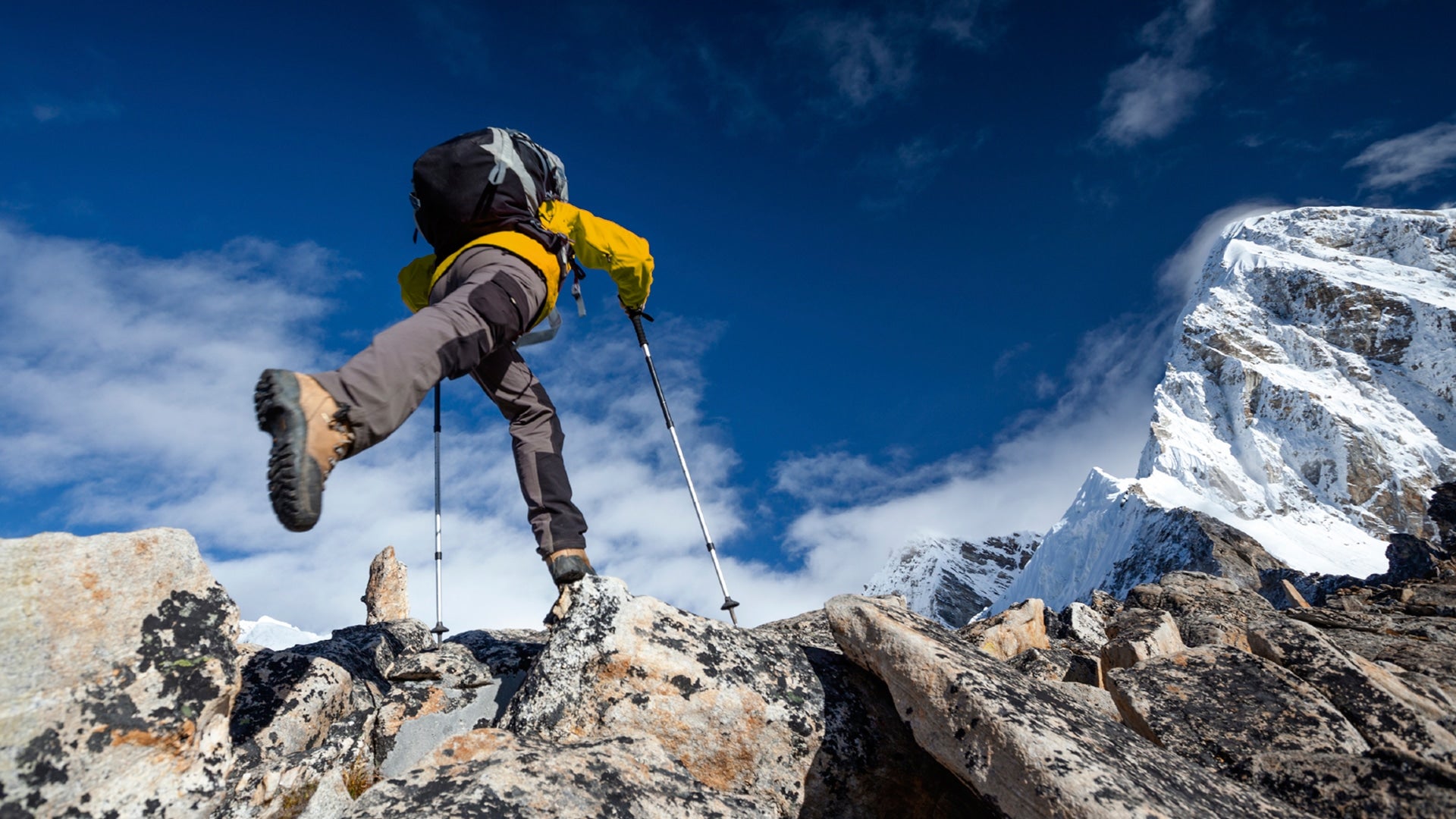 We believe the following will make us a great company:
We will put the needs of our customers before our own.
We will truly care about our customers, our associates, and each other.
We will be nice to everyone we deal with.
We will do a few things very, very well.
We will be honest and stand by our word, no matter what.
Who we are:
We are a company full of people with a track record of successful implementations.
We are a company full of people who know how to optimize your supply chain.
We are a company full of people who are experienced in your business.
We are a company full of people who will take your success personally.
The Sunrise Mantra:
There are far more great ideas than great implementations.
Sunrise exists to implement great ideas.
Executive Team
John Pence - Founder and President
Mike Pereira - Global VP of Business Development
Bryn Sieverts - VP of Existing Customer Support
Rod Pruett - VP of Consulting
Brad Edwards - Chief Technology Officer
Heather Essic - Chief Administrative Officer
Barbara McCuiston - VP of Human Resources