In 2018, retailers reported a combined total loss of $90 billion in fraudulent eCommerce transactions¹. And while online fraud has gotten more sophisticated (and tougher to spot), Microsoft and Sunrise Technologies can help you mitigate the losses from fraud and help you stay profitable. By connecting global transaction data and artificial intelligence, Dynamics 365 Fraud Protection reduces revenue losses, improves bank acceptance rates while reducing false positives, and improves your customers' shopping experience.
¹ LexisNexis® Risk Solutions 2018 True Cost of FraudSM Study Retail Edition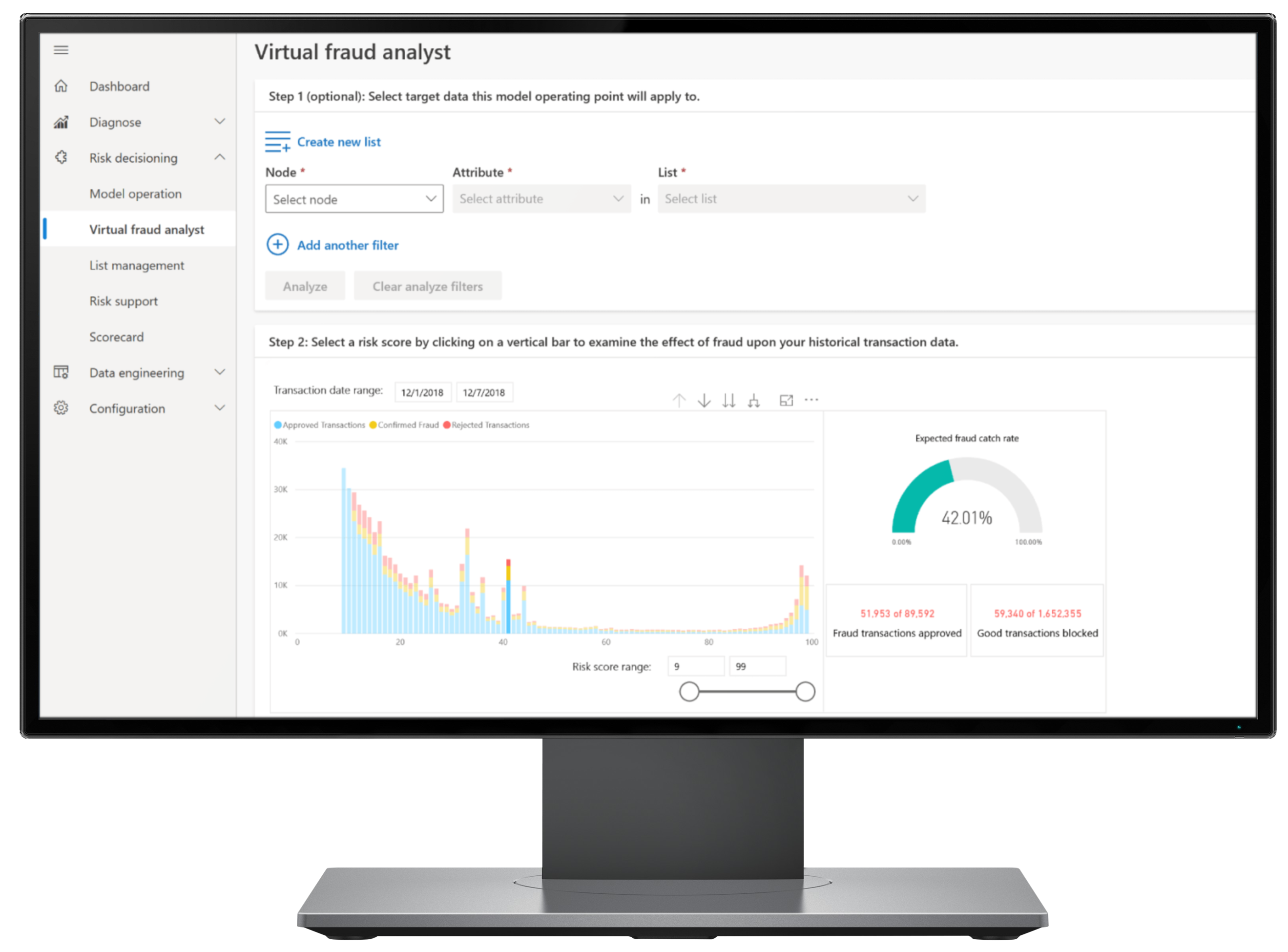 Proven to mitigate fraudulent attacks
After searching for a comparable fraud analysis tool for their own diverse eCommerce business, Microsoft found that most options were expensive and lacked all the functionality needed to truly secure their business. So, Microsoft's own security experts developed Dynamics 365 Fraud Protection, a world-class set of tools that focus on payment fraud protection for eCommerce businesses. Microsoft was able to reduce manual review of fraud activity by 70% and reduced losses by $75M. All while improving the experience for legitimate shoppers and lifting revenue by 9% with fewer false positives and higher bank acceptance rates.
Artificial intelligence helps to maximize profit
Modern fraud protection cannot be done without artificial intelligence. Take advantage of the industry-leading Microsoft AI platform to assess risks, reduce fraudulent payments and account creation, minimize automated attacks on customer accounts, and decrease fraud related expenses. This adaptive AI technology continuously learns through advanced machine learning and a unique connected knowledge graph. We can set you up quickly so you can monitor transactions and spot fraudulent patterns in real time, then take action — fast.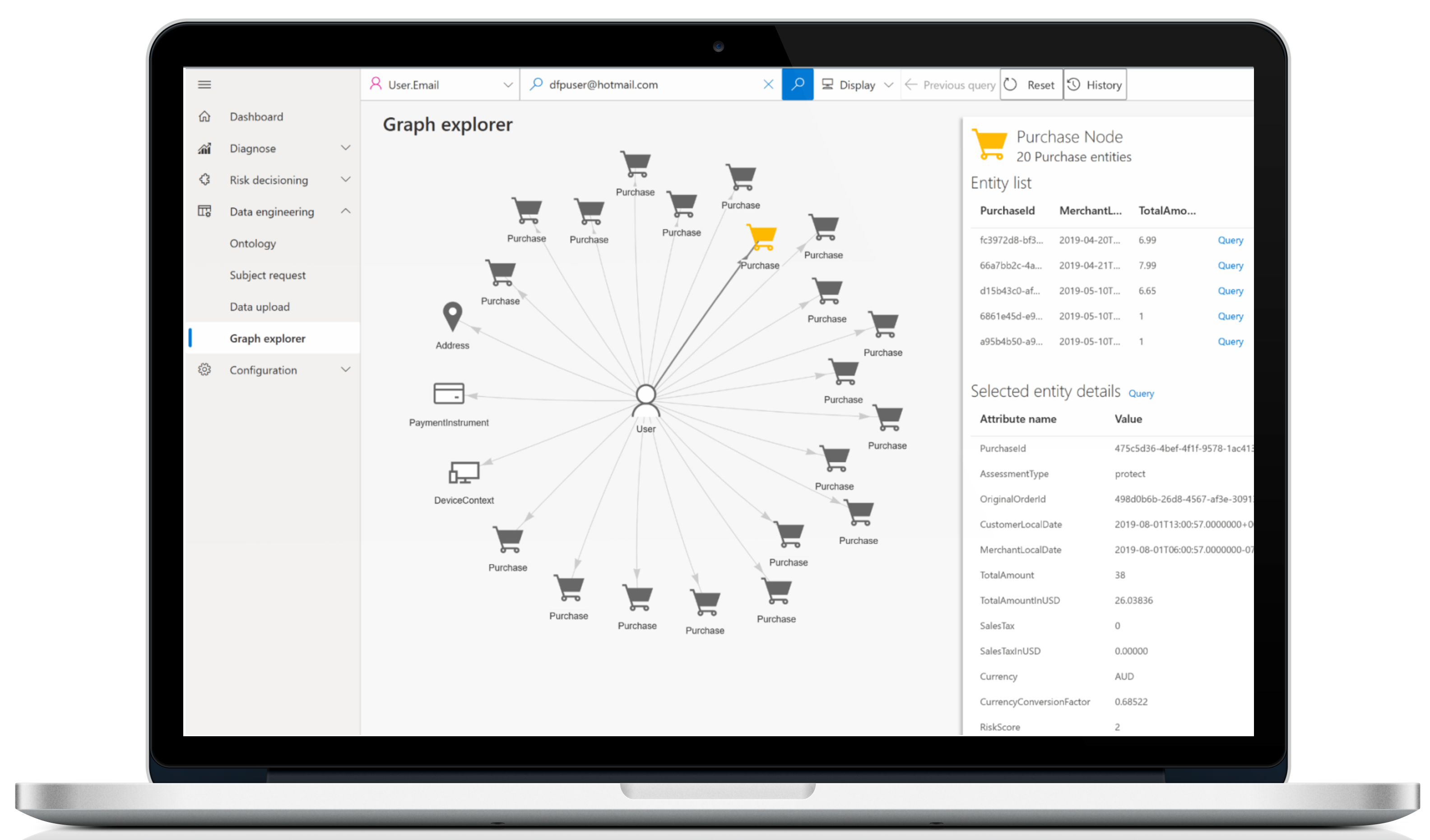 Connected fraud prevention network
Tap into a collective knowledge graph of fraud activity across the globe with Microsoft's own Fraud Protection Network. Your company and customer information stays secure, but you gain access to valuable, connected knowledge across all merchants in the network, in real time. You can also derive insights from other merchants' experiences, better positioning you to handle emerging fraud vectors and assess whether an incoming purchase transaction should be approved, rejected, or manually reviewed with greater accuracy.
Improve the shopping experience
Increase fraud detection accuracy, while decreasing friction for your real customers. The built-in Transaction Acceptance Booster allows you to opt-in to share transactional trust knowledge with issuing banks to boost authorization rates. This increase in bank acceptance and improved customer experience directly correlates with revenue gains. And, in the event of a customer escalation, your support team will be empowered to act quickly. With the Customer Escalation Support Tool, your support team will see detailed risk insights to make decisions fast and unblock legitimate purchase attempts.
MICROSOFT DYNAMICS 365 FRAUD PROTECTION FEATURES
Where most other solutions stop at forensics and risk assessment, Microsoft excels with device fingerprinting and trust knowledge sharing with banks, providing additional contextual information to accept transactions with a higher probability.
Machine learning of fraud patterns
Virtual fraud assistant
Configurable rules engine
Human supervised learning
Risk tuning for profit maximization
Merchant admin portal
Azure data lake store included
Fake account creation protection
Connected Knowledge Graph in Azure
API for transaction payload
API for for Device Fingerprinting
Risk Assessment Score
Transaction Acceptance Booster
Real-time trust knowledge shared with bank
Location anonymization for privacy
Condensed data for privacy
Safeguard individual and merchant privacy
Irreversible hashed tokens
Irreversible address derivations
Customer Escalation Support Tool
Standalone solution
Integrated with Dynamics 365
GDPR compliant (search and delete)
API or data upload
Accelerate Your Journey to a Full Fraud Protection Solution
Data is the cornerstone of good decisions. You can start with one of these three experiences with Dynamics 365 Fraud Protection.