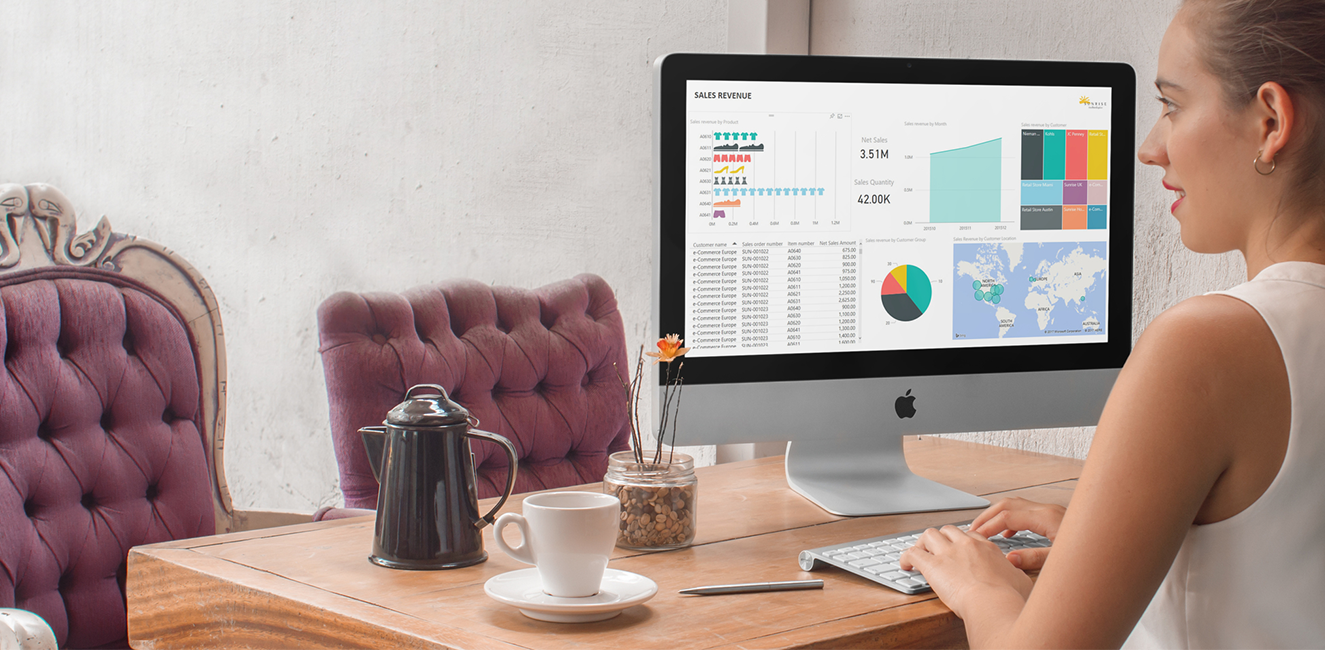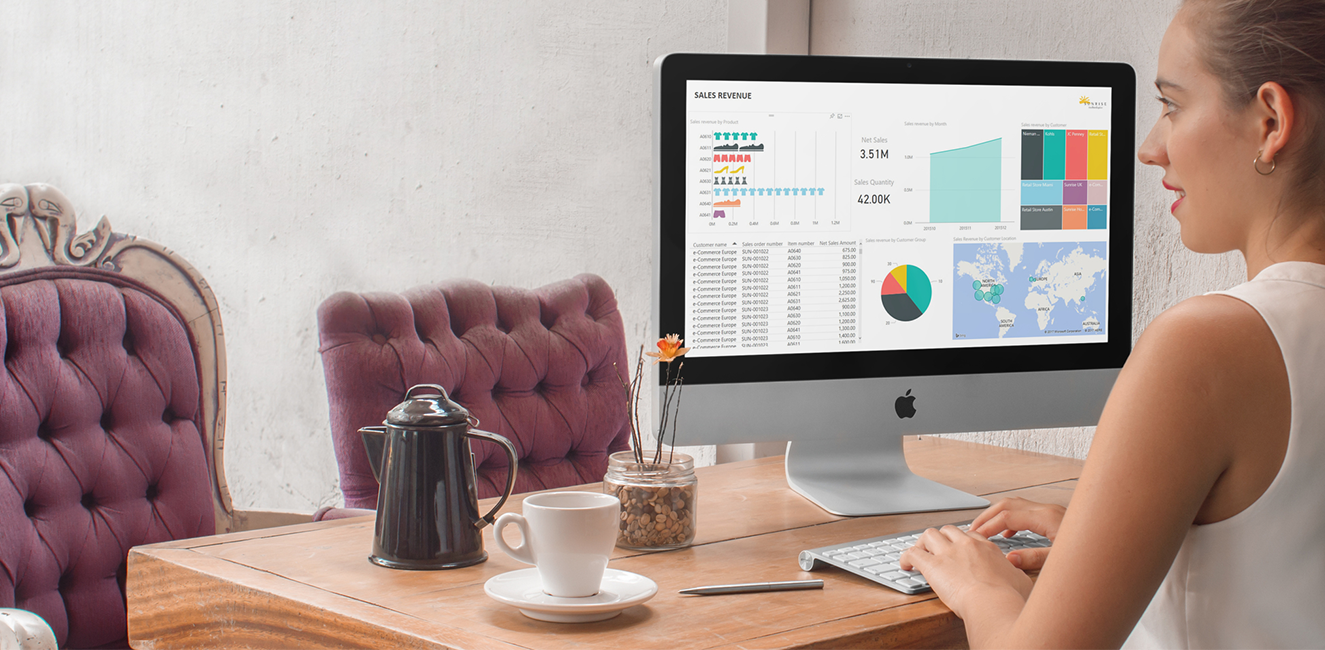 TALENT
Attract, onboard, and grow talent to foster self-service and employee retention
Big Picture Financial Insights
With financial process automation, planning, analysis, and control — integrated with operations in real time — you can run your business more efficiently. Easily meet local and regional business requirements with support across 37 countries and 42 languages out of the box.
Close books faster
Simplify global financial management
Increase profits
Improve cash flow
Smarter Supply Chain Operations
When you have one version of the truth where everything is connected, it is easier to spot issues and imbalances between supply and demand. With Dynamics 365 you can proactively address these problems before they materialize.
Accurate pre-season planning
Efficient operational execution from manufacturing, to sourcing, distribution and everything in between
Intelligent inventory optimization and visibility across channels
Distributed order management and optimized delivery
Sunrise 365® adds advanced industry functionality
Unified Commerce Across Channels
To keep pace with increasing consumer expectations, retailers are using Microsoft Dynamics 365 Commerce to deliver personalized, differentiated, friction-free shopping experiences. Without any duplication of information or gaps in customer history, it puts everything you need on one platform.
Consistent and connected commerce experience
Deliver exceptional customer service
Centralize merchandising, loyalty, and promotions
Cross channel balancing with Sunrise 365®
Engage Talent Strategically
Reimagine HR, win the war for top talent, and create a high-performance culture with Microsoft Dynamics 365 Talent. The same systems that run your business can help you attract, onboard, and engage the talent in your workforce.
Save time interviewing qualified candidates
Leverage the power of LinkedIn to find and attract talent
Welcome new hires with personalized onboarding experiences
Make core HR easier and more strategic with people analytics
Simplify with employee self service
MICROSOFT CLOUD ERP FEATURES
Organization Administration
General Ledger
Cash and Bank Management
Accounts Payable
Accounts Receivable
Accounting
Credit and Collections
Budgeting
Consolidations
Cost Management
Fixed Assets
Expense Management
Tax
Audit Workbench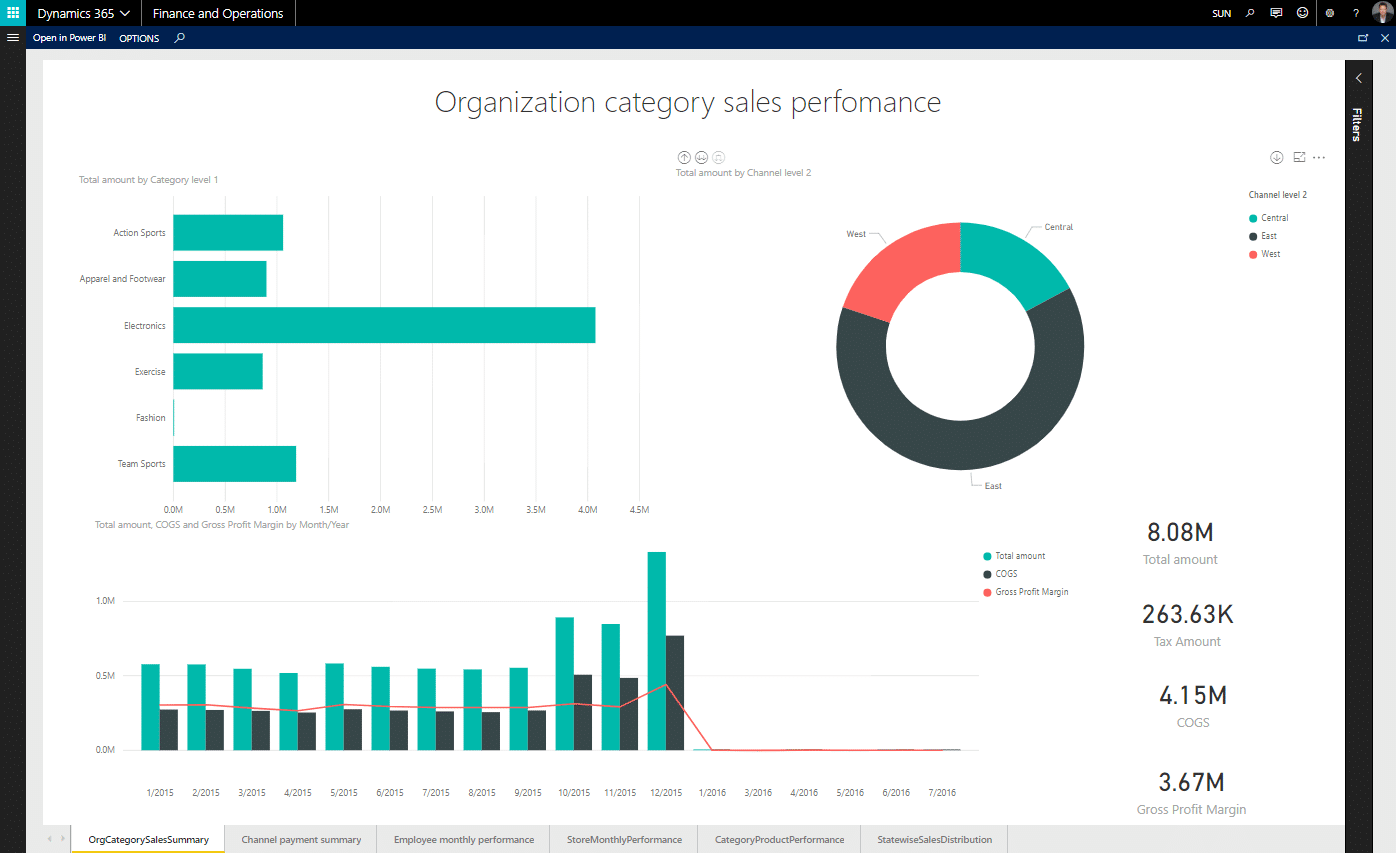 - Microsoft Dynamics 365 Finance
Product Management
Inventory Management
Procurement and Sourcing
Production Control
Warehouse Management
Fleet Management
Transportation Management
Master Planning
Vendor Portal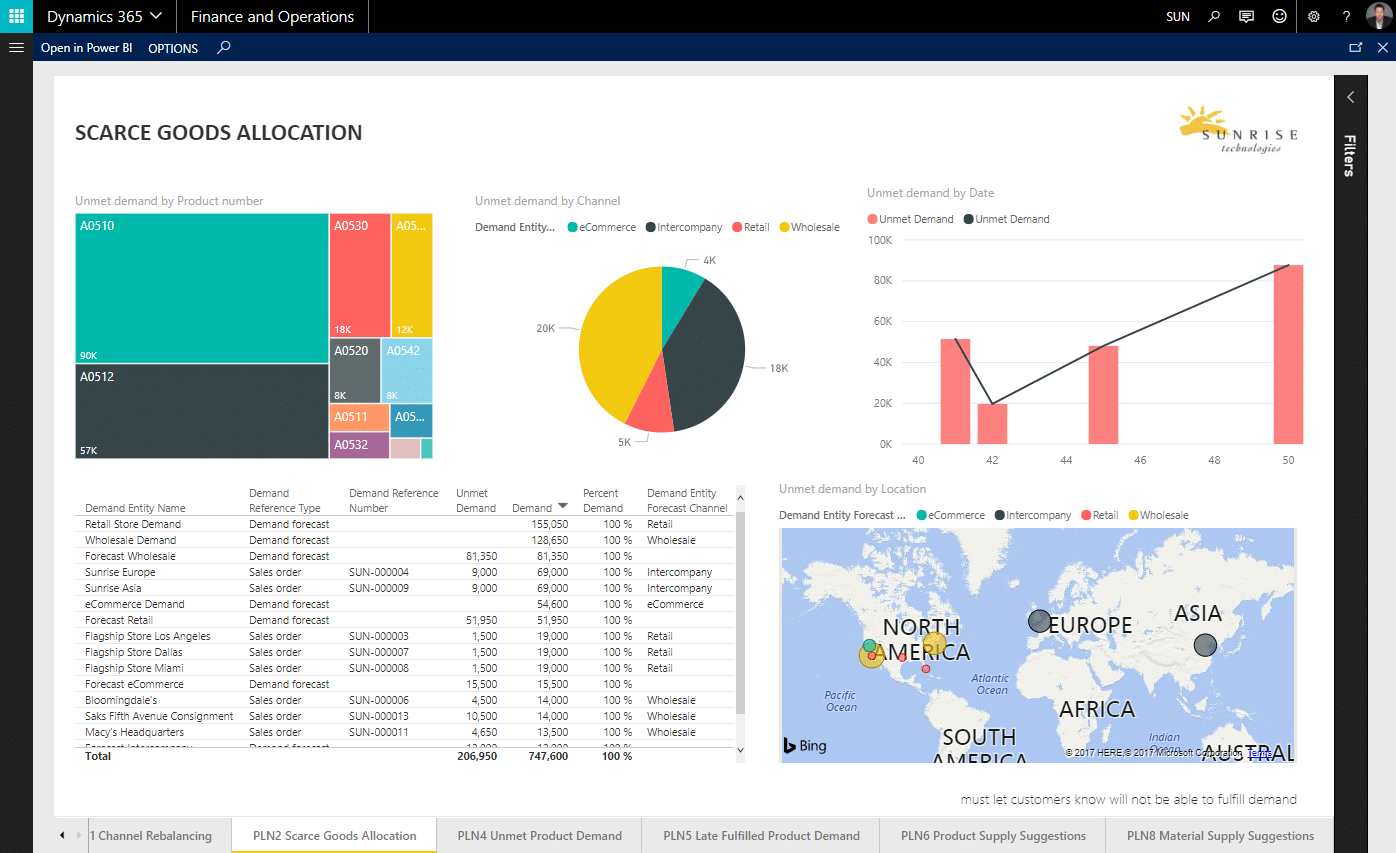 - Dynamics 365 Supply Chain with Sunrise 365 Embedded Allocation Power BI Report
Retail Point of Sale (POS)
Store Operations
Order Management
Commerce Runtime Engine
Call Center
Catalog Management
Mobile Solutions
Social Integration
Pricing and Promotions
Loyalty Programs
Connected Store
eCommerce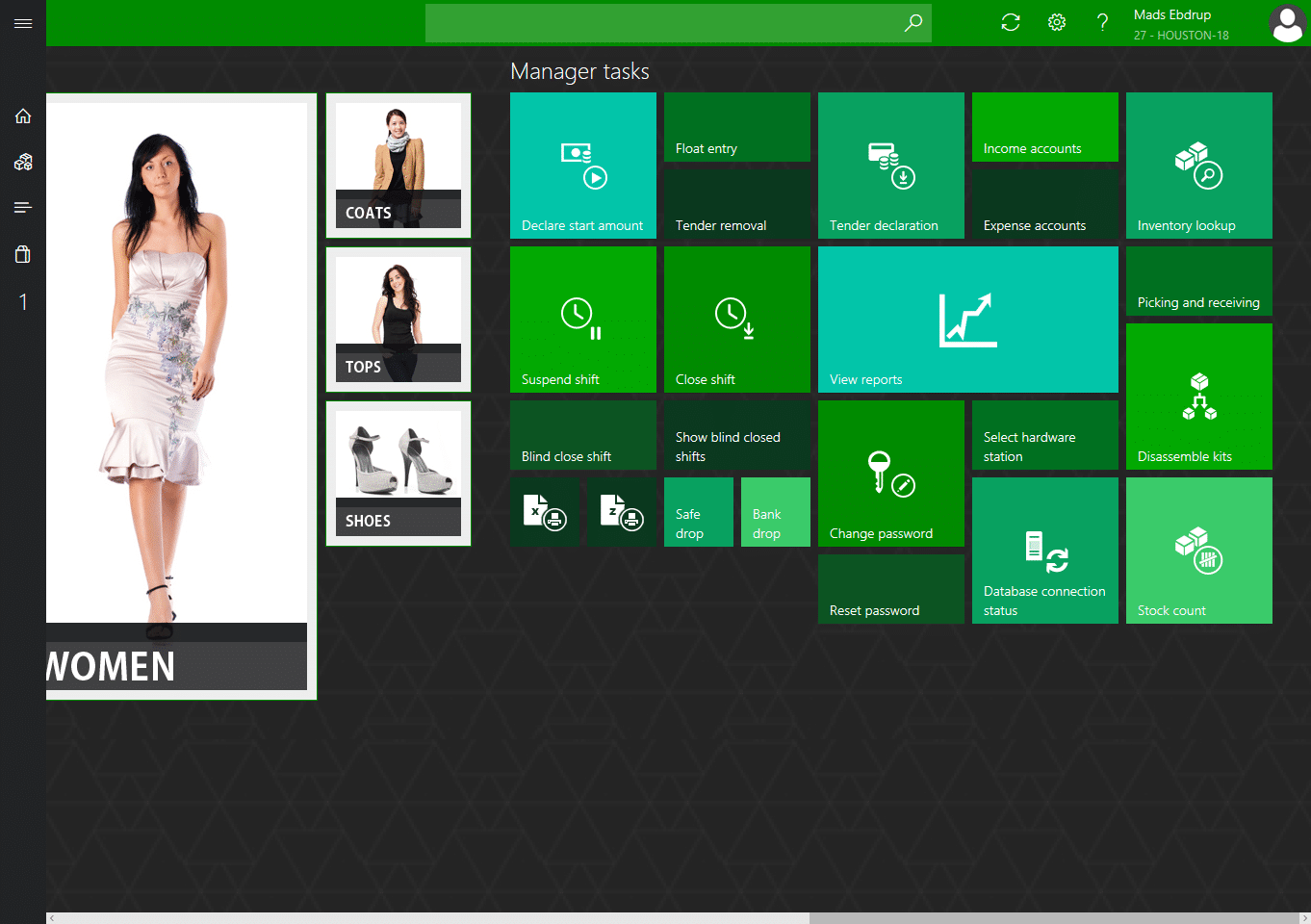 - Dynamics 365 Commerce In-Store Cloud POS
Talent Administration
Employee Self Service
Payroll
Onboarding and Offboarding
Performance Management
Time & Attendance
Competencies
Compensation
Benefits
Leave & Absence
Learning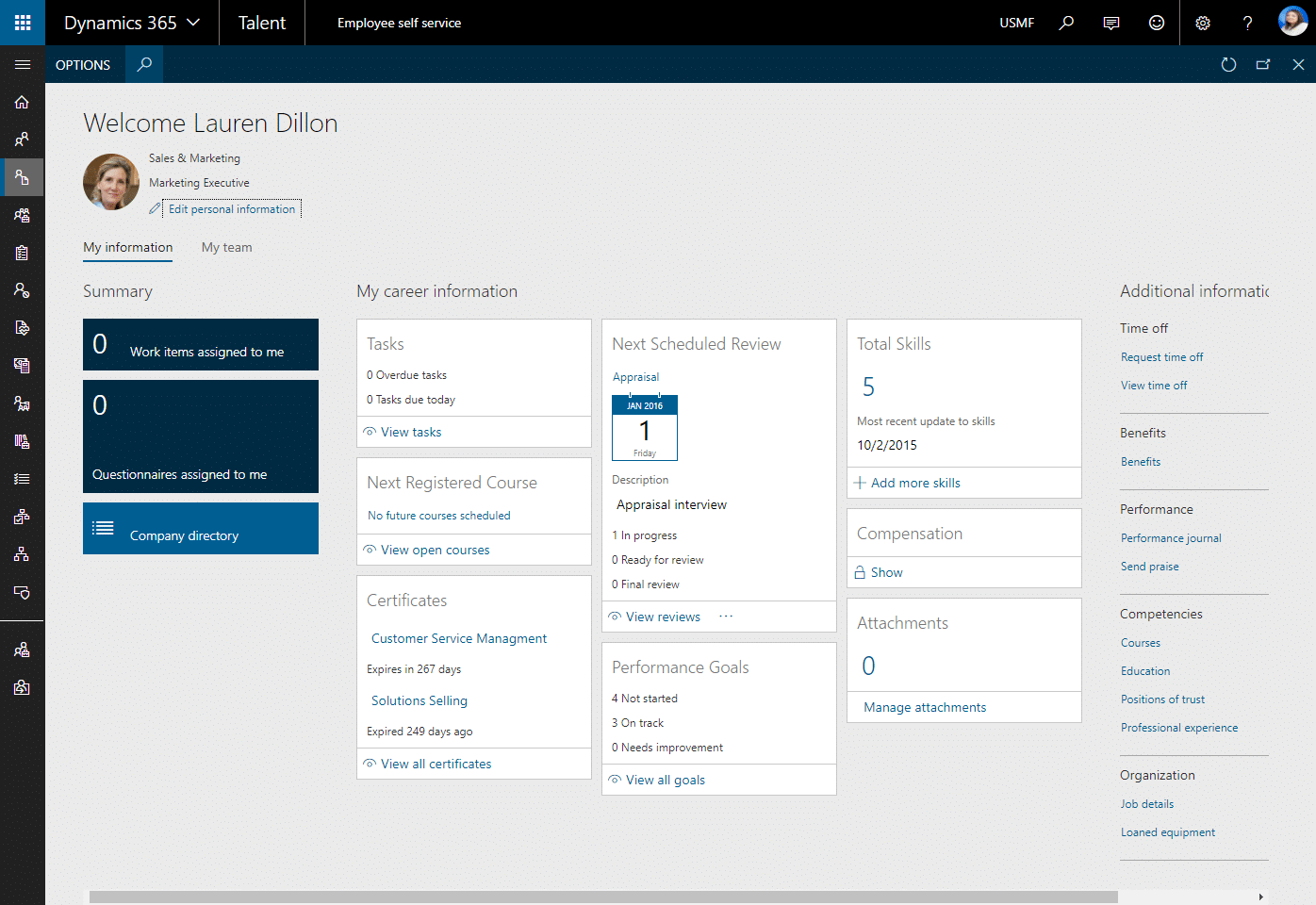 - Microsoft Dynamics 365 Talent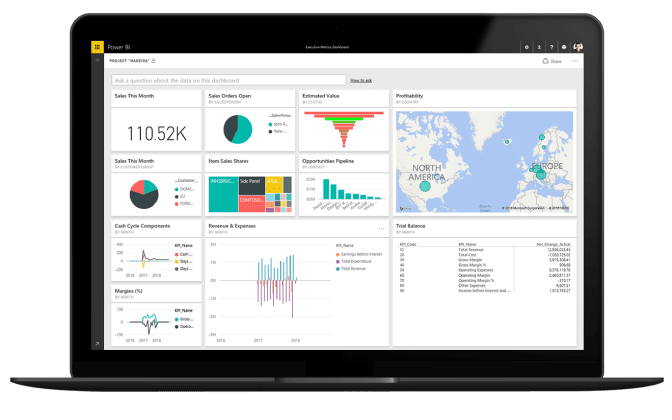 Built In Intelligence and Insights
Dynamics 365 is really smart and extensible. Power BI is natively embedded so you can better achieve your business goals with predictive insights, prescriptive advice, and actionable next steps. You'll find out what happened, why it happened, what will happen, and even suggestions about what to do. These impressive business intelligence capabilities are built across all applications in Dynamics 365 and can easily tap into the Power Platform and Artificial Intelligence.

WHAT YOU GET
(THERE'S A LOT, BY THE WAY).
When you select Dynamics 365 and Sunrise, you're not just getting cloud ERP software out of the box. You're receiving an unrivaled blend of supply chain management experience, best practices, industry solutions, and global customer support. We can help you hit the ground running and with solutions that will help your company grow for a lifetime — an all-in-one platform for the future with ERP, CRM, SCM, WMS, POS, and BI included. Not to mention everything else the Microsoft has to offer. We're a full service Microsoft Partner, just let us know how we can help.