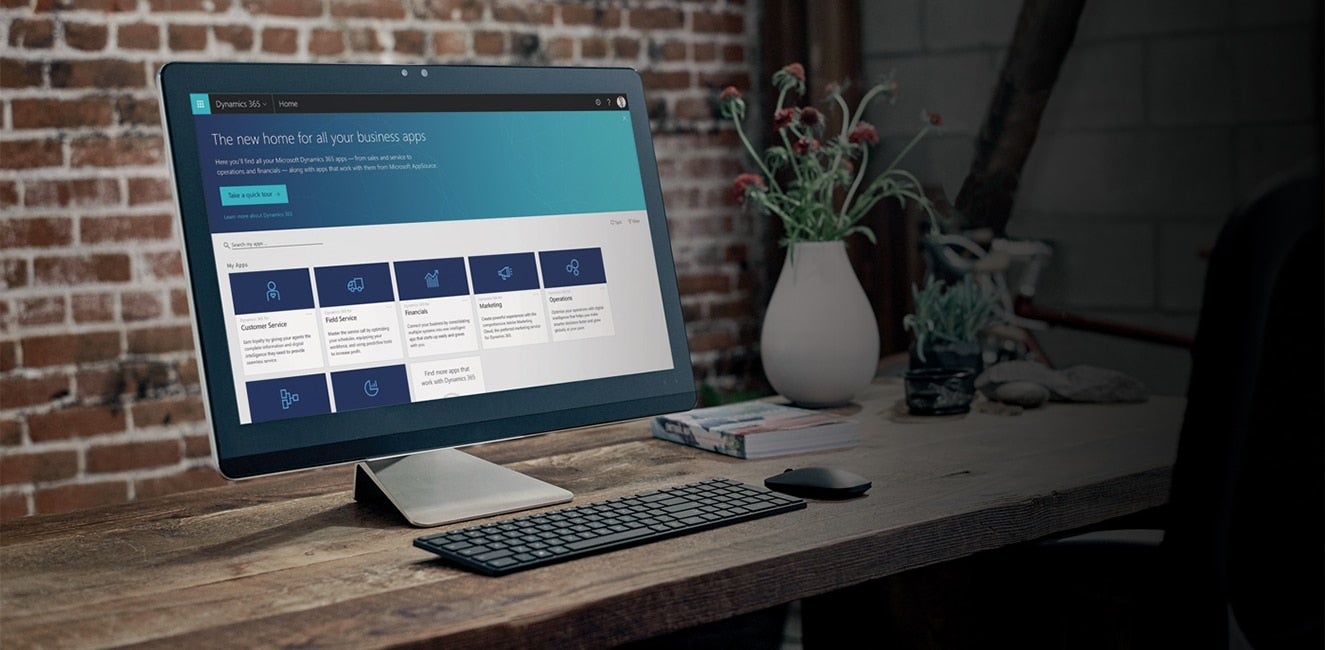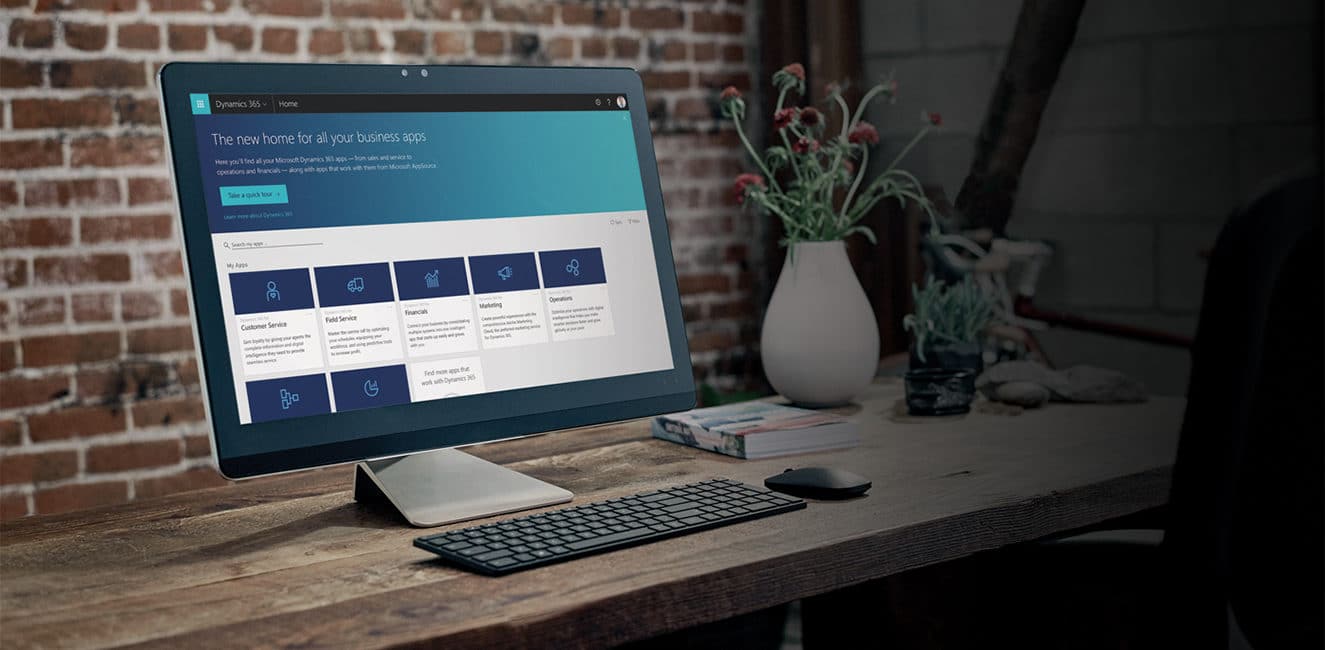 THIS IS YOUR FOREVER SYSTEM
Dynamics 365 can give your business systems a fresh and consolidated approach—where one platform (with a single database) can run everything. No duplication. No integration. A single version of the truth across channels and regions. Incremental cloud updates—so you'll always have the latest and greatest. Plus, Microsoft will stay relevant today, tomorrow, and decades from now. Why take a chance on any other vendor? This is your forever system. 
MICROSOFT'S INTELLIGENT CLOUD PLATFORM HAS IT ALL
This is more than a full-blown ERP, CRM, and POS—its the Microsoft intelligent cloud platform with everything you need to modernize your business systems and unify operations. Whether you've outgrown your current system, or you're ready to say goodbye to the complex, monolithic, closed business applications of the past, start your transformation with Dynamics 365 and its deep integrations to Office 365, Power BI, and the extensive Microsoft cloud portfolio. Start where you want and grow into the named users and features at your own pace.
A TREMENDOUS VALUE FOR CONSUMER BRANDS, MANUFACTURERS, AND RETAILERS
Support your company's growth across global regions, channels, and product lines. Powered by Microsoft, and enabled by Sunrise industry experience and solutions, you can quickly and easily deploy global, omnichannel, Tier 1 supply chain capabilities and embedded business intelligence—without all the cost and complexity.
GLOBAL OPERATIONS
ONE SYSTEM. GLOBAL REACH.
Knock down those barriers across your business with multi-country, multi-company, multi-currency, and multi-language capabilities. Microsoft Dynamics 365 is global from the start. It was designed to handle the complexities of global operations on a single platform. That means the sun never sets on your ability to see real-time sales, inventory levels, and other critical business data. Plus, it enables accurate financials at both the divisional and corporate level, with a user interface in virtually any language. View global language and currency list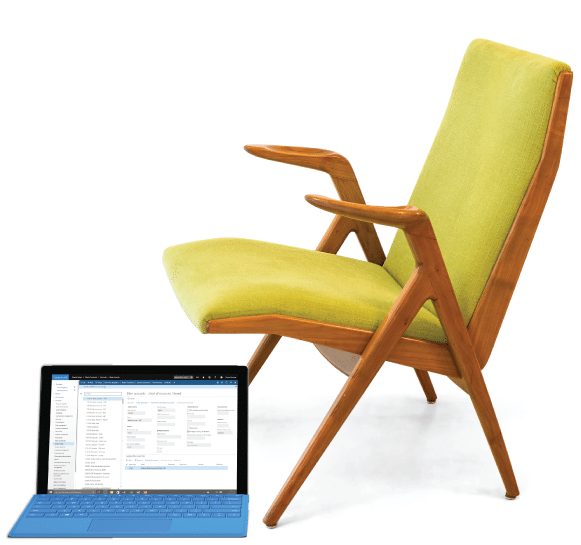 Unified Commerce
SO LONG, CHANNEL SILOS.
Delight your customers with true omnichannel capabilities, from wholesale to retail and everything in between. Furthermore, by connecting all of your distribution channels across retail, online, catalog, mobile, social, wholesale, and call centers, you'll finally have a complete view of your customers—without any duplicated information or gaps in history. In one platform, you'll have everything you need to manage pricing, promotions, product availability, sales, marketing, and loyalty programs—customized for each brand or location as you wish.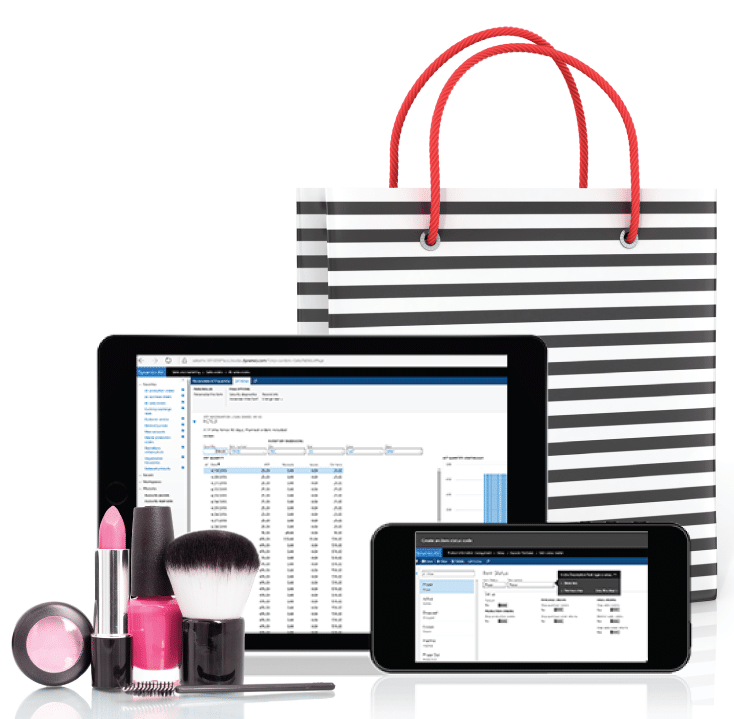 TIER 1 SUPPLY CHAIN
STRENGTHEN YOUR SUPPLY CHAIN.
Control your supply chain and ensure compliance. Out of the box, Dynamics 365 offers Tier 1 supply chain capabilities and Sunrise 365TM adds advanced planning, soft allocation, and analysis solutions. This unbeatable combination can give you a tighter, faster, more cost-effective supply chain. As a result, your company can elegantly handle expansion into new product lines, channels, and global markets with less technology friction, ultimately empowering you to beat your competition and win the hearts of customers. With Dynamics 365, you can control your supply chain regardless of how you manage sourcing, manufacturing, and logistics. Learn more about Supply Chain 365™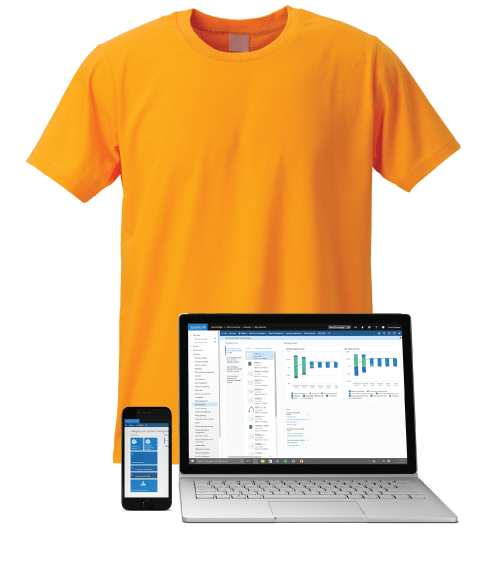 TREMENDOUS VALUE
UNBEATABLE VALUE FOR AN UNSTOPPABLE BUSINESS.
With Dynamics 365 and Sunrise, you really can have it all—without all the cost and complexity. Sunrise 365TM can help you hit the ground running with Dynamics 365. Dynamics 365 apps are designed so they can be easily and independently deployed so you can start small and pay only for what you need. Plus it looks and feels like Office 365, so employees will adapt to change much faster too. You'll have a flexible solution to support your brand growth today, tomorrow, and decades from now, backed by billions of dollars in Microsoft R&D investments. Learn more about Sunrise 365™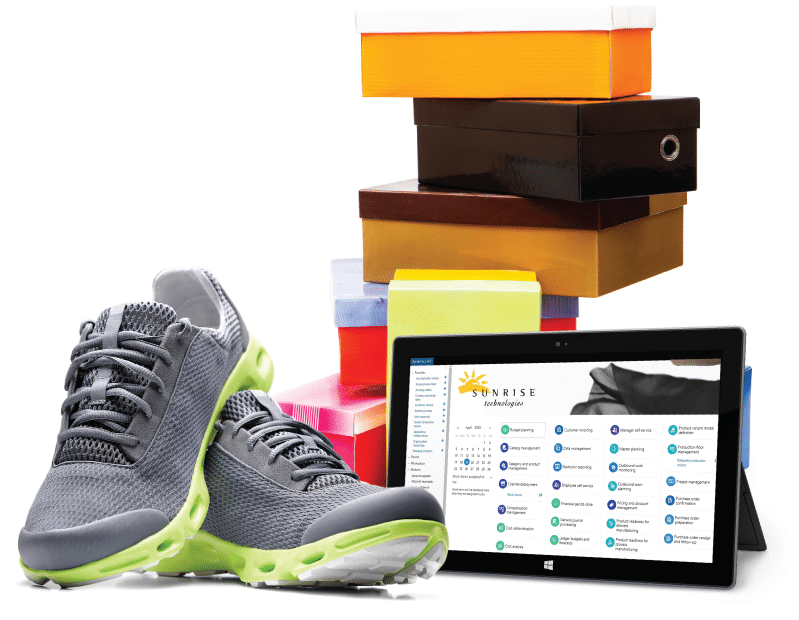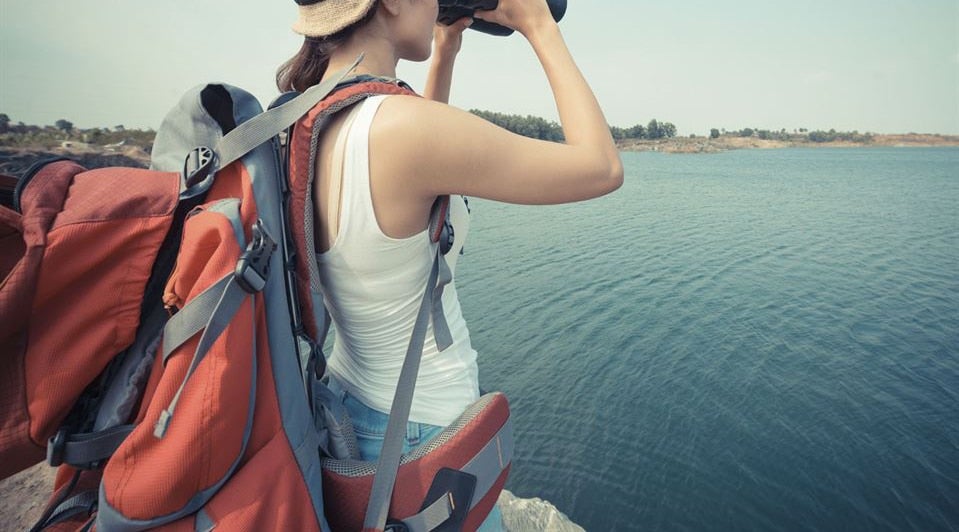 TRANSFORM YOUR BUSINESS WITH THE INTELLIGENT CLOUD
Break down the silos between ERP, CRM, POS, SCM, and WMS—all while surfacing insights for employees. Accelerate business growth by capitalizing on new opportunities, simplifying your company's digital landscape, improving customer (and employee) experiences, boosting revenue, and cutting costs.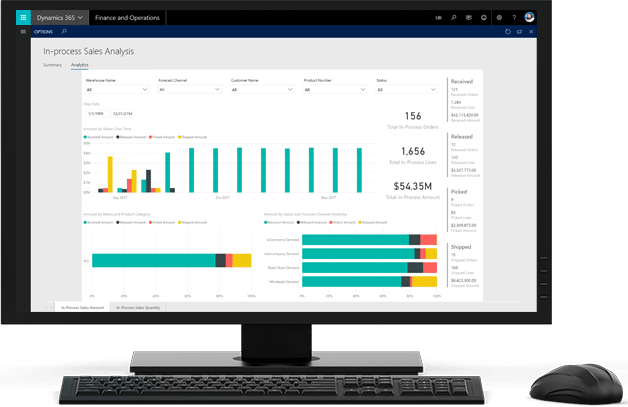 Client Value and Industry Expertise to Spare 
Sunrise's founder and president, John Pence, knew that Microsoft was on the verge of something big in 2003. With the introduction of Axapta (as Dynamics 365 was known back then) Microsoft changed the business application landscape forever. It was at that point Sunrise decided to go all in with Microsoft, and we've never looked back. 
Not Just Any Cloud Will Do
It's clear that the future is in the cloud — but not all clouds are created equal. See how Microsoft has crafted the intelligent cloud to engage customers, empower employees, and optimize operations. 
Microsoft CEO is All-In with Dynamics 365
Satya Nadella has Microsoft on a mission to help every organization, and every individual, achieve more. To that end, the company seeks to reinvent personal productivity and business processes with the power and flexibility of intelligent cloud applications, tailored to each industry and unique company by partners like Sunrise.
Transforming How Work is Done
Dynamics 365 can bring together the best of Microsoft's composable business applications to help accelerate your digital transformation to meet the changing needs of your customers. Keep pace with change with transformational technology and capitalize on future opportunities by harnessing the full power of Microsoft.
MICROSOFT DYNAMICS 365 FEATURES
Organization Administration
General Ledger
Cash and Bank Management
Account Payable
Accounts Receivable
Accounting
Credit and Collections
Budgeting
Consolidations
Cost Management
Fixed Assets
Expense Management
Tax
Audit Workbench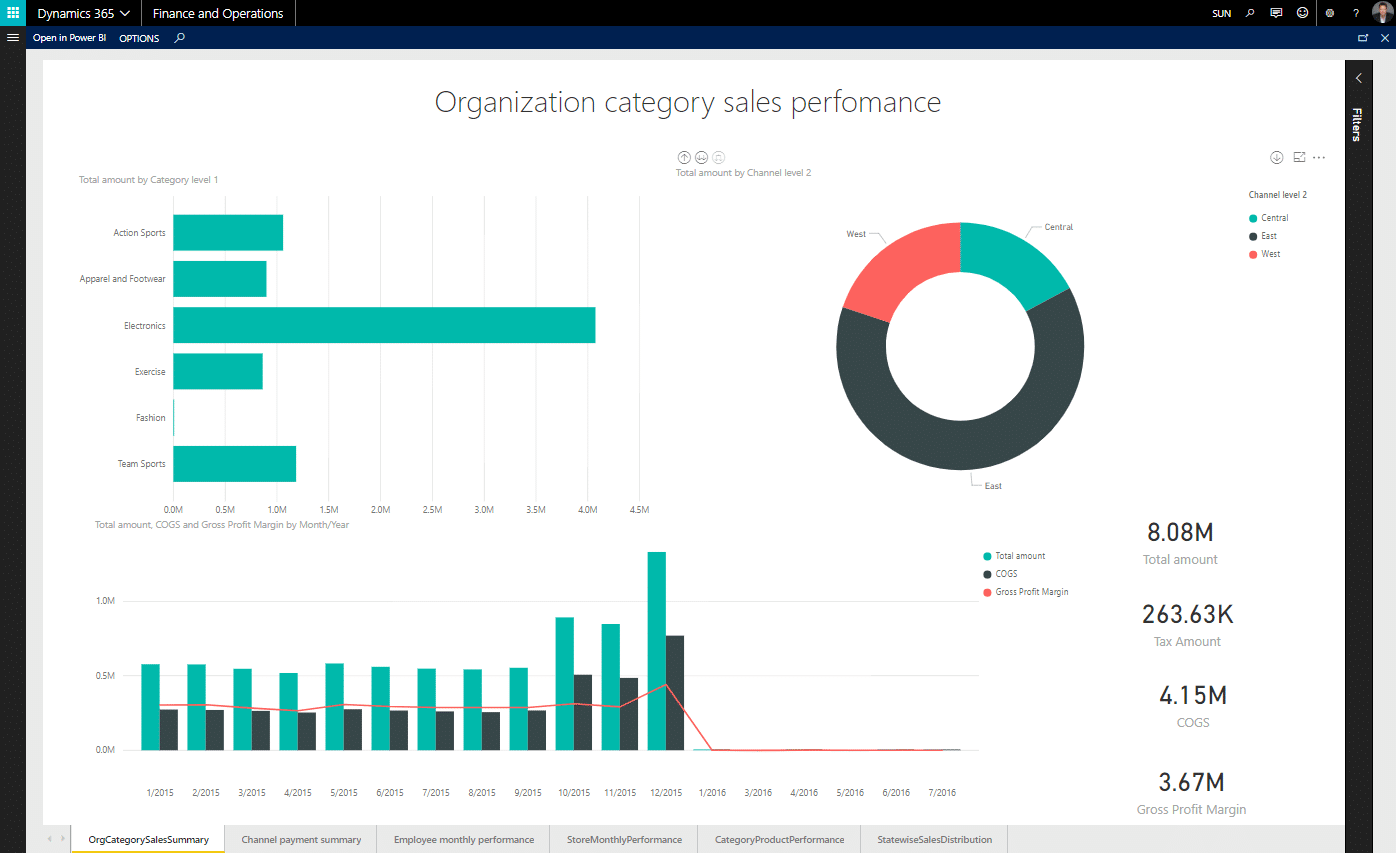 - Showing embedded BI capabilities of Dynamics 365 for Finance and Operations (formerly known as Dynamics AX)
Product Management
Inventory Management
Procurement and Sourcing
Production Control
Warehouse Management
Fleet Management
Transportation Management
Master Planning
Vendor Portal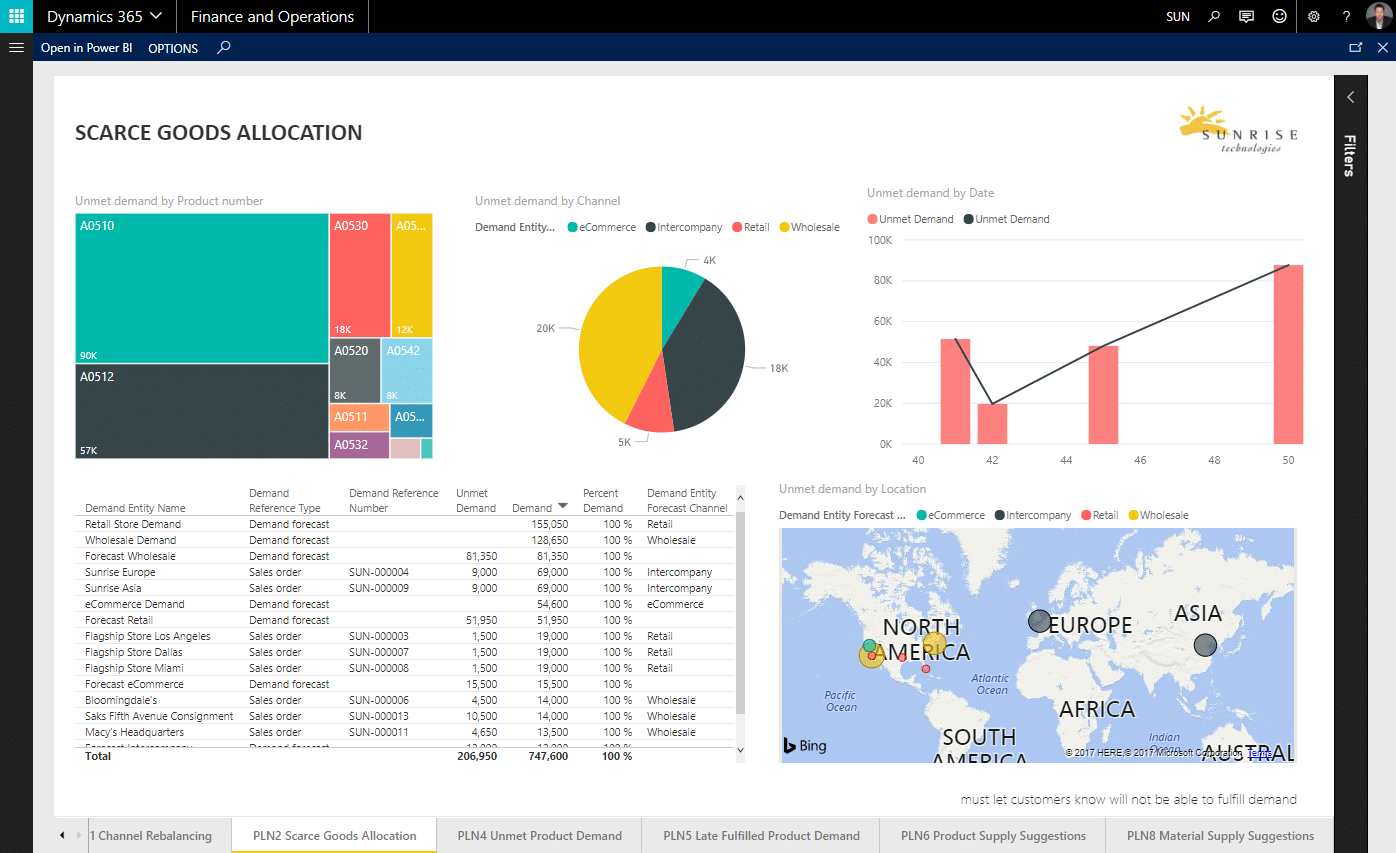 - Showing Sunrise 365, an extension for Dynamics 365 (formerly known as Dynamics AX)
Retail Point of Sale (POS)
Store Operations
Order Management
Commerce Runtime Engine
Call Center
Catalog Management
Mobile Solutions
Social Integration
Pricing and Promotions
Loyalty Programs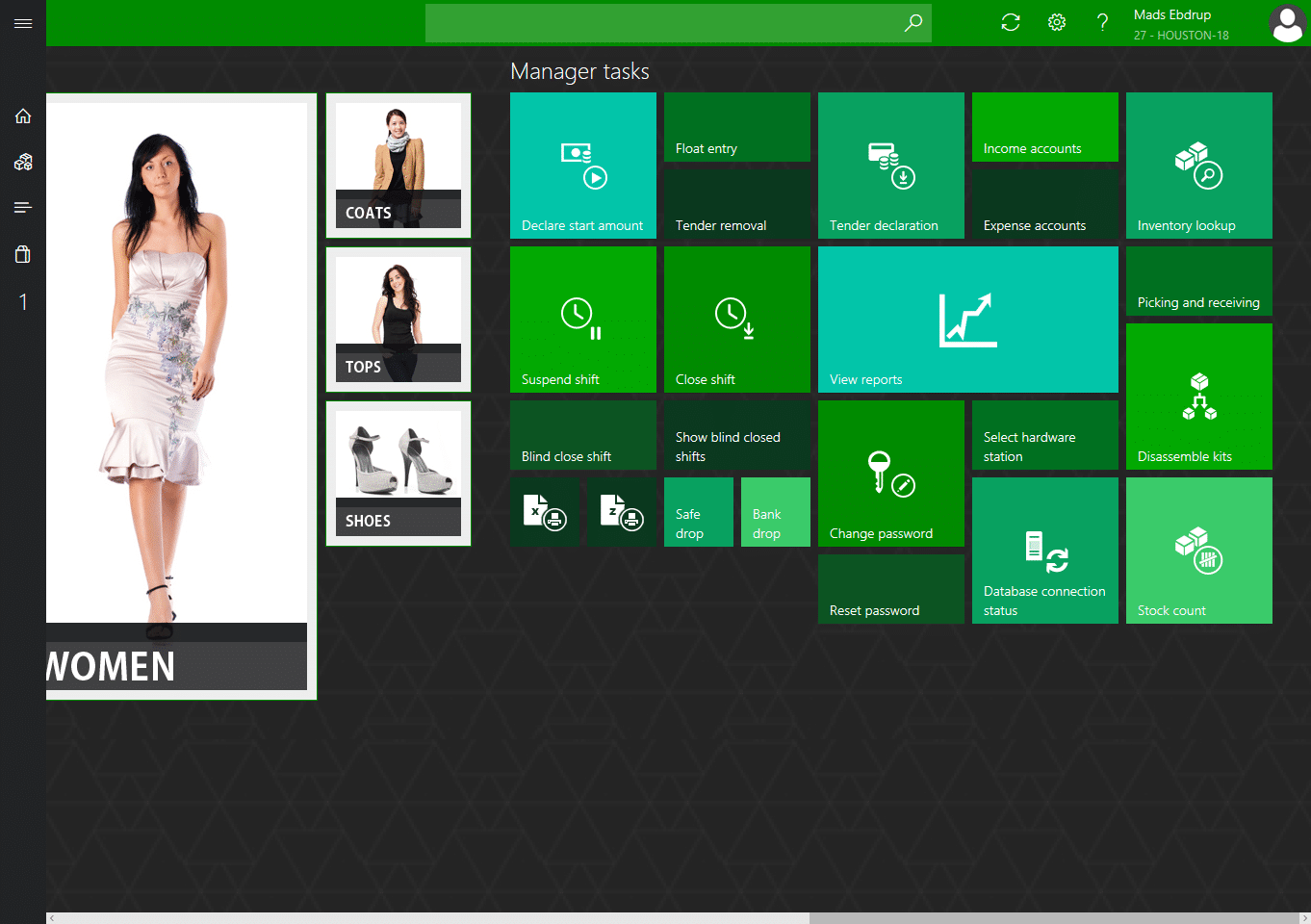 - Cloud POS from Dynamics 365  for Financials and Operations (formerly known as Dynamics AX)
Sales Management
Quote Management
Lead Management
Opportunity Management
Goal Management
Marketing Management
Project Service
Field Service
Customer Service
Case Management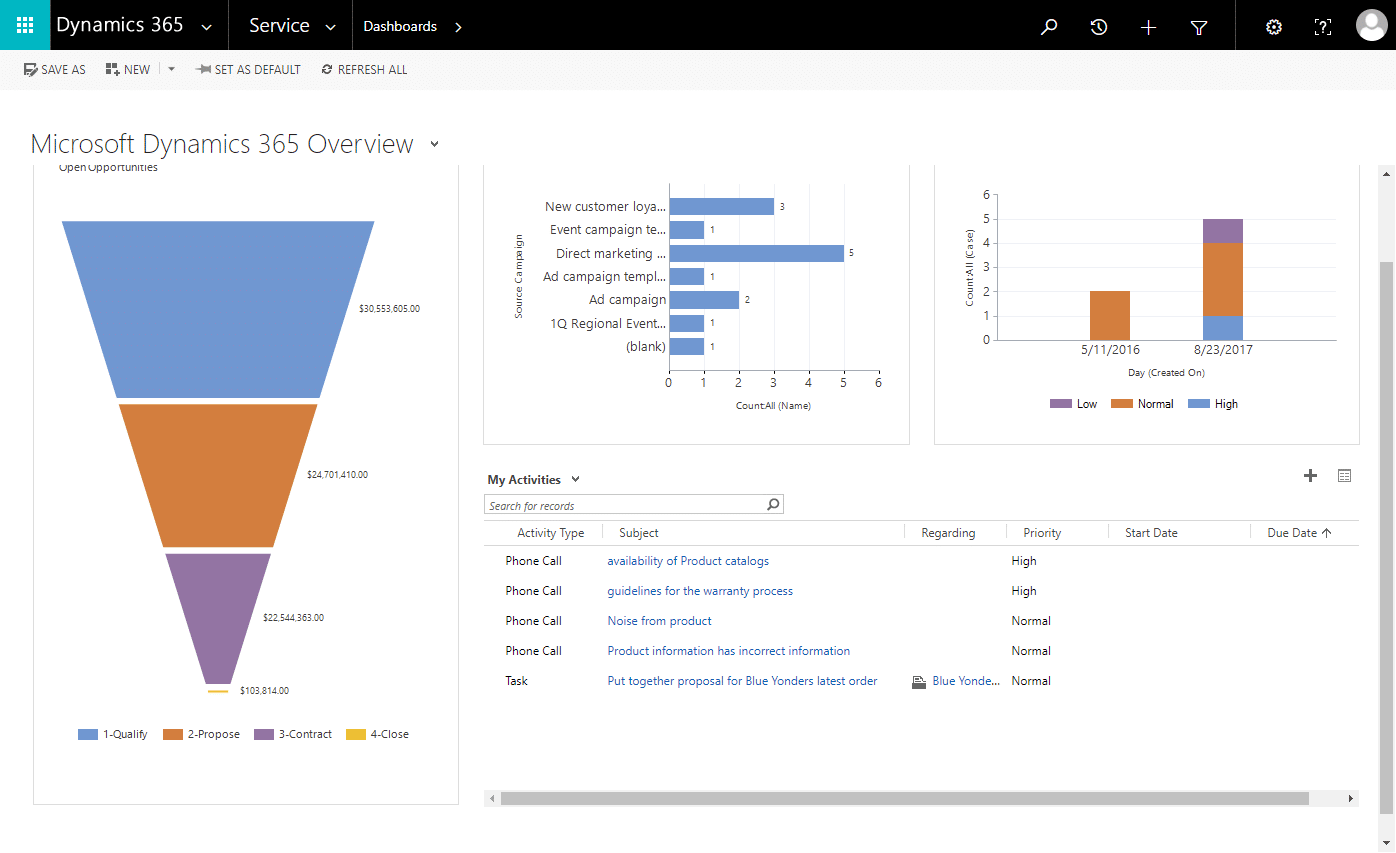 - Microsoft Dynamics 365 Sales and Customer Service (formerly known as Dynamics CRM)
Talent Administration
Employee Self Service
Payroll
Onboarding and Offboarding
Performance Management
Time & Attendance
Competencies
Compensation
Benefits
Leave & Absence
Learning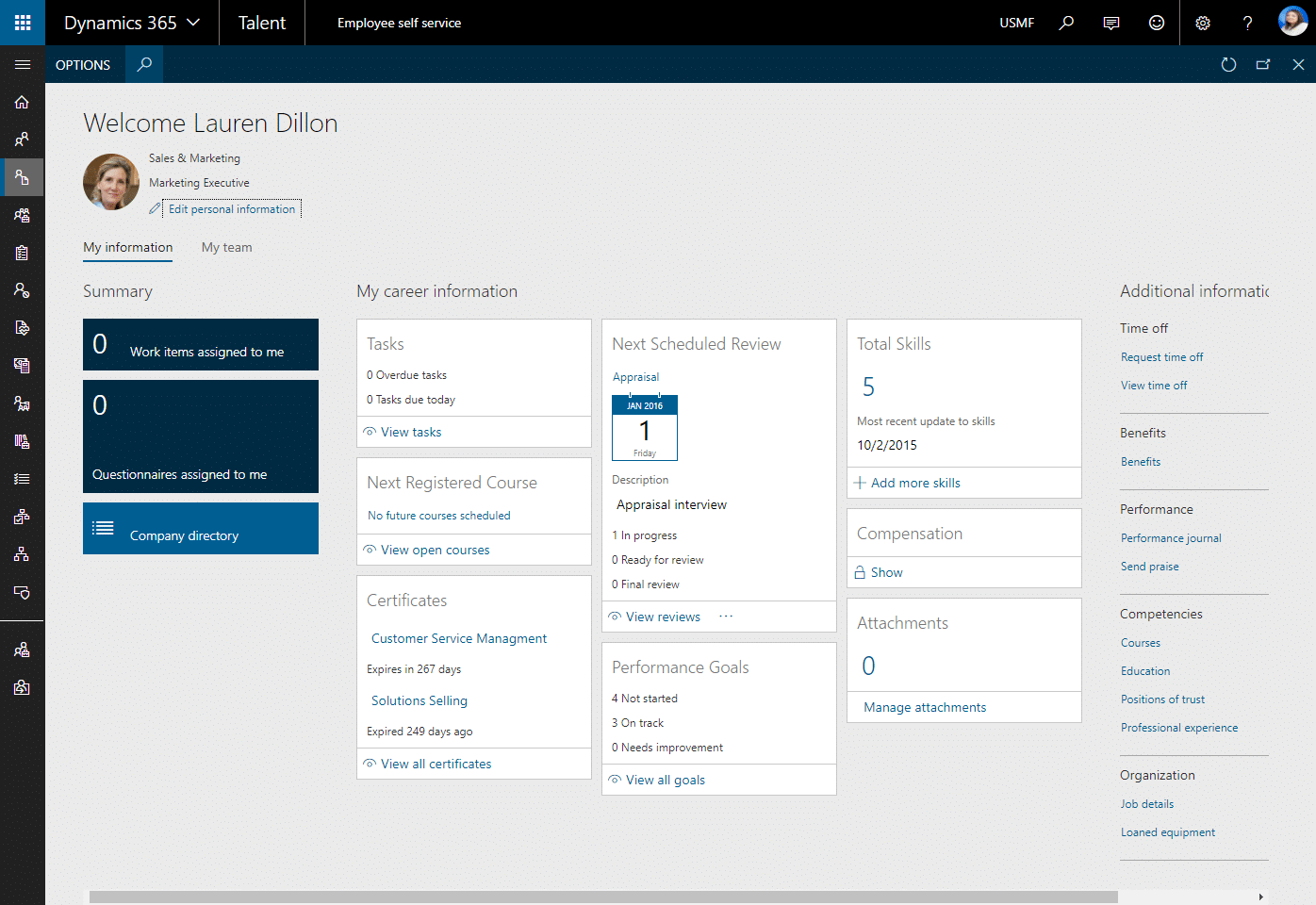 - Microsoft Dynamics 365 for Talent (formerly known as Dynamics AX)
Multi-channel campaigns
Web landing pages
Email marketing
Forms and surveys
Event management
Lead nurturing
Lead scoring
Campaign reporting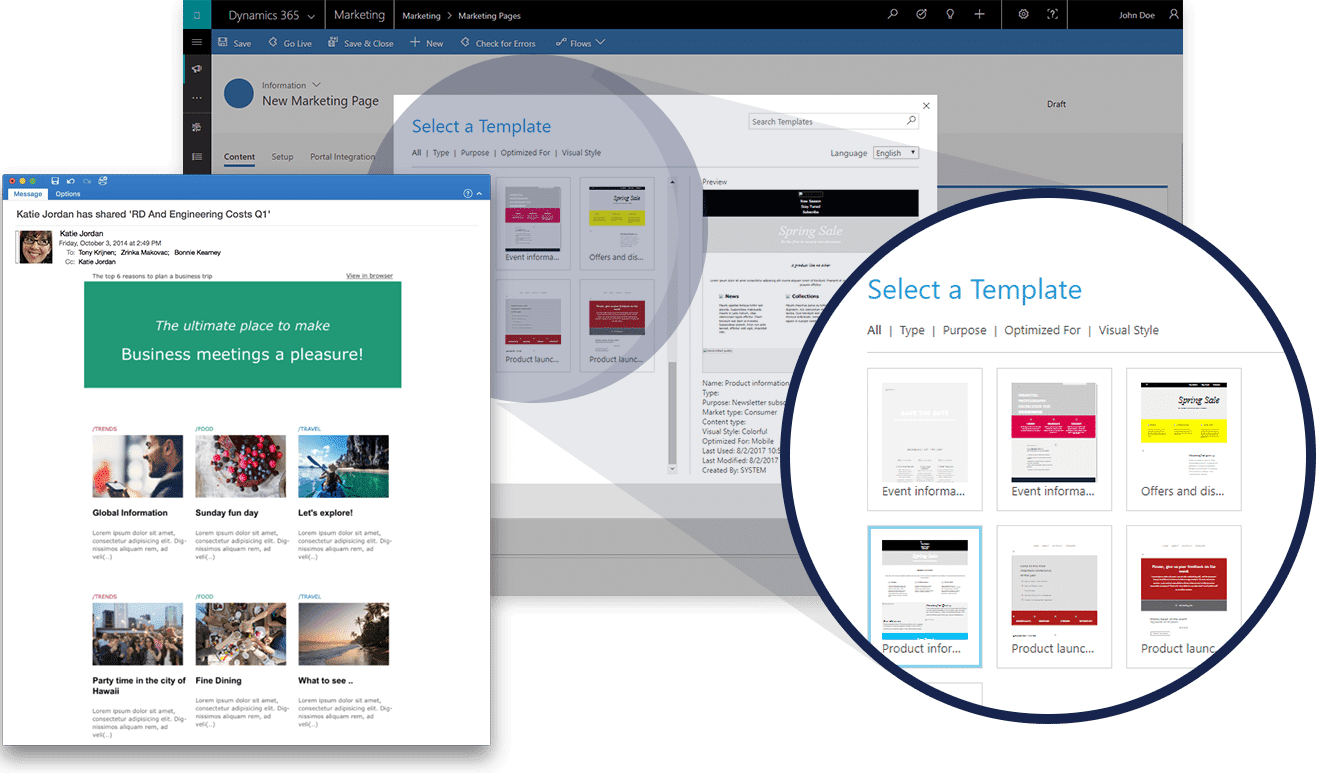 - Microsoft Dynamics 365 for Marketing
You'll love Dynamics 365, no matter what role you play in your business. Here's why:
If you're a CEO
So long, confining systems. Hello, peace of mind! With a single platform powered by Microsoft and enabled by Sunrise, you can grow your business faster into new product lines, channels, and global markets. Start with the edition you need with room to grow, all while making productivity and intelligence a priority. Enable all levels of the organization to uncover actionable insights, so everyone can make faster, smarter decisions.
One global platform for all business functions
Visibility and dashboards with built-in analytics
Flexibility to change on a dime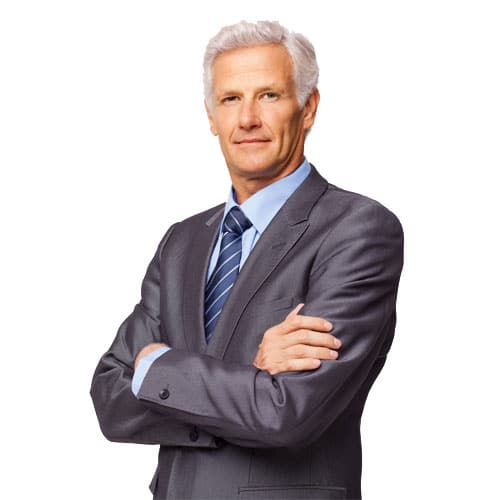 If You're A CFO
When every supply chain transaction or retail sale instantly ties back to the general ledger, you'll be able to see real-time profit and loss views across all stores, locations, brands, channels, and seasons—even when you're dealing with multiple currencies and legal entities. You'll also save on licensing fees and long-term maintenance expenses.
Global, real-time dashboards
Consolidated across divisions
Pay-as-you-go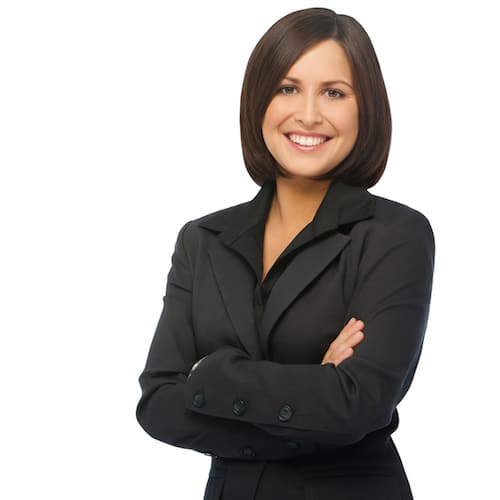 If you're a COO
Chances are, you have a lot to manage. Luckily, Dynamics 365 allows you to gain complete control and visibility over your entire supply chain. You'll be able to manage your sourcing, production, distribution, and logistics centrally, whether you do it in-house or with a network of vendors.
You'll also be able to identify and strengthen the weakest links of your supply chain to gain speed, reduce costs, and minimize inventory shortages and overages.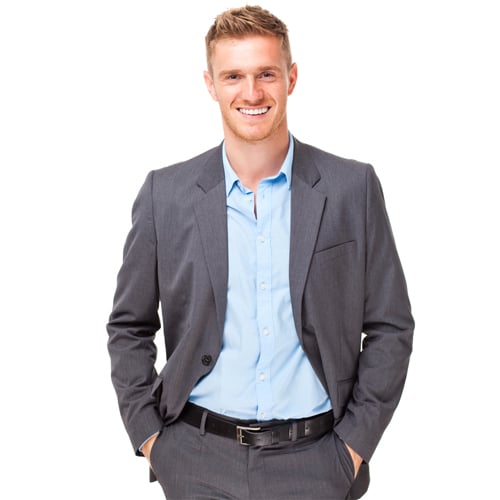 If you're a CIO
You'll be able to help your organization better leverage existing investments in Microsoft technologies with a future-proofed infrastructure. You'll also add mobile accessibility, reduce the pain of managing multiple disparate systems, and even remove yourself from the report-building equation. Phew!
One global platform
Reduced IT costs
Improved user adoption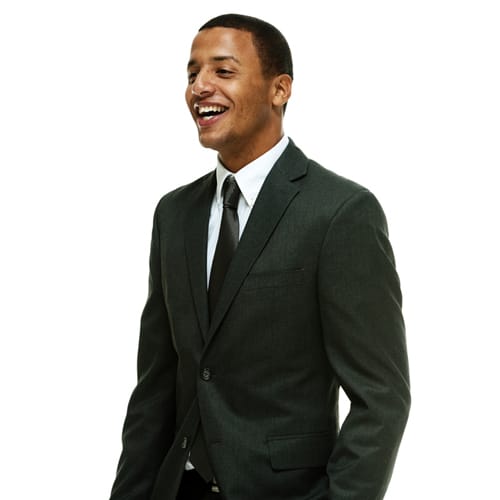 If you're a CMO or CSO
It's all about playing an increasingly strategic role to craft the perfect customer engagement experience across various channels and devices with the highest ROI possible. Dynamics 365 drives alignment between marketing, sales, and service to deliver a great customer experience which is essential to winning revenue and differentiating against the competition.
Build pipeline and revenue
Connect financial performance with specific investments
Gain business insight to make informed decisions that grow the business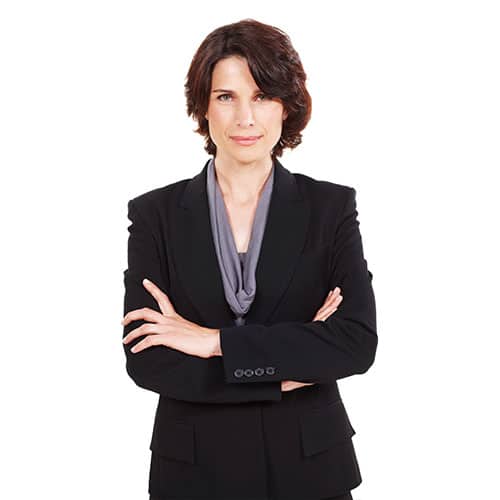 If you're an employee
Microsoft Dynamics 365 will change the way you work—for the better. You'll be able to keep everything you do during the day in one configurable, easy-to-use workspace. And, it works beautifully with Microsoft Office 365, so you can make updates in the office, on the road, or at home on any device you like.
Feels like Office and Outlook
Embedded reporting and dashboards
Work from anywhere
Easily make system updates in Excel or mobile apps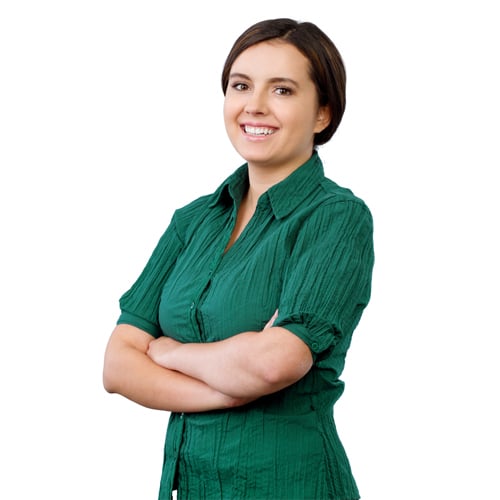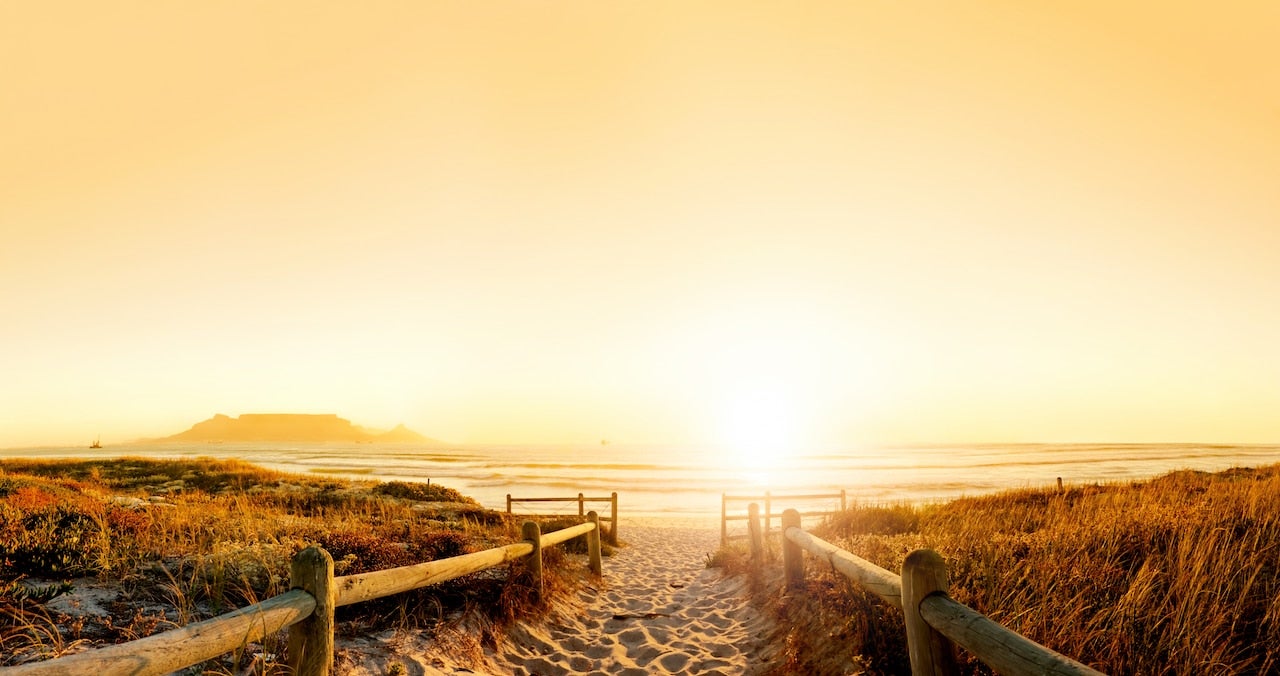 We implement for a number of industries, including:
Like many of our strong references, you'll be pleased with the results.