REPLENISHMENT
Sunrise 365® adds smart inventory replenishment across all stores
Microsoft is The Only Vendor Who Understands Retailers
As one of the top 10 retailers in the world, with all of the omni-channel complexities that make Microsoft the major tech giant that it is, it is one of the largest users of this retail product. No other vendor can come close. With more than 130 retail locations, call centers, and eCommerce, Microsoft understands better than anyone what is required to put customer demands first — to not only deliver the goods, but also a great experience. And they've put it to the test so you know you're getting a proven solution.
DYNAMICS 365 COMMERCE VIDEOS
Create exceptional, insightful shopping experiences for every customer with Dynamics 365 Commerce, a complete omni-channel solution. Watch the videos below to see how it can help you build a modern digital storefront that's secured and friction-free, while meeting omnichannel demands, optimizing merchandising, and maximizing profitability.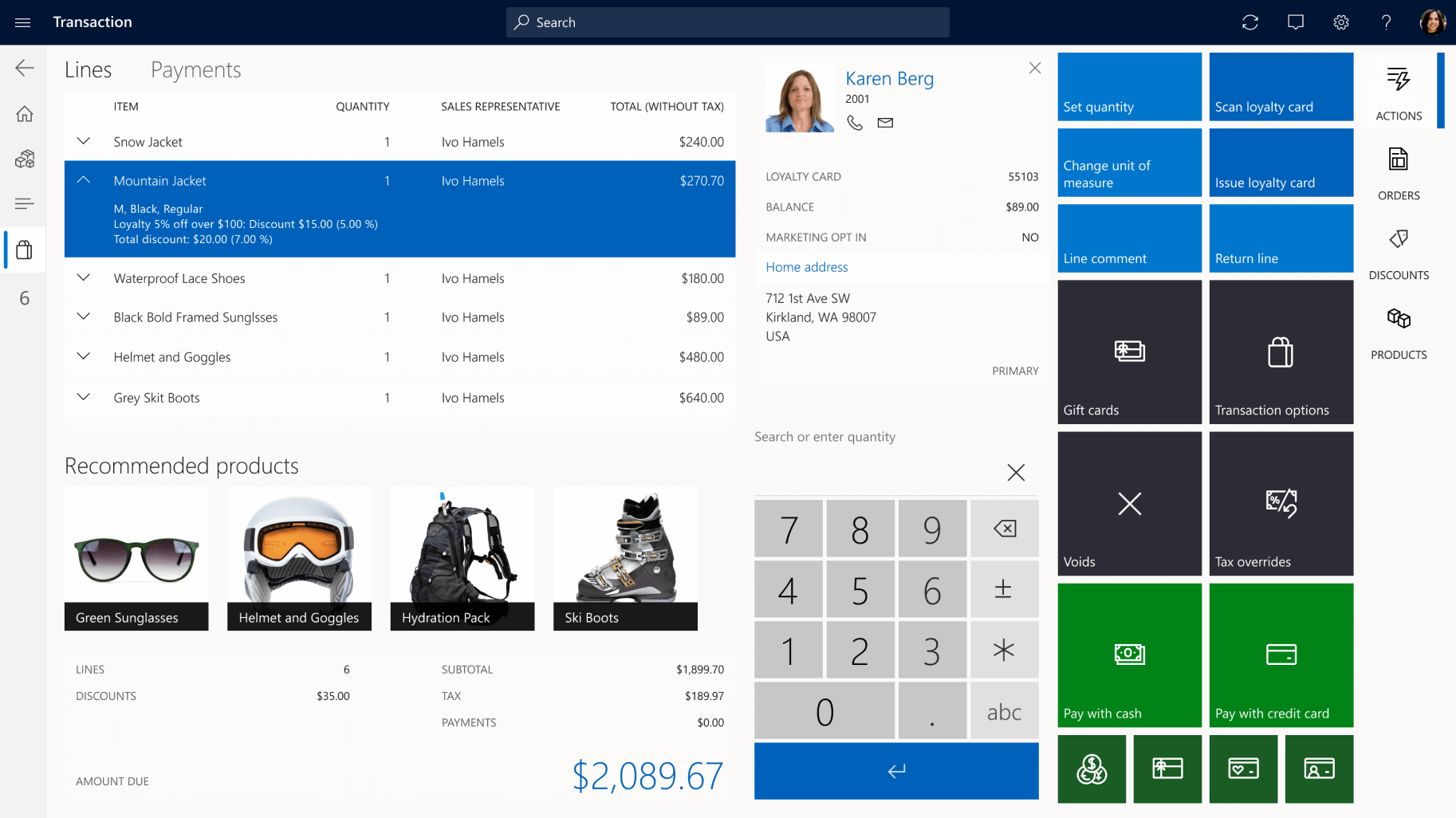 Big Picture Financial Insights
With financial process automation, planning, analysis, and control — integrated with operations in real time — you can run your business more efficiently. Easily meet local and regional business requirements with support across 37 countries and 42 languages out of the box.
Close books faster
Simplify global financial management
Increase profits
Improve cash flow
Native eCommerce channel
Streamline your business with everything you need to build and run digital commerce that scales to your needs across traditional and emerging channels.
Create engaging and intelligent digital storefronts
Connected marketing and commerce platform
Centralized management of content, assets, promotions, inventory, and pricing across channels
Streamline your business with an end-to-end commerce solution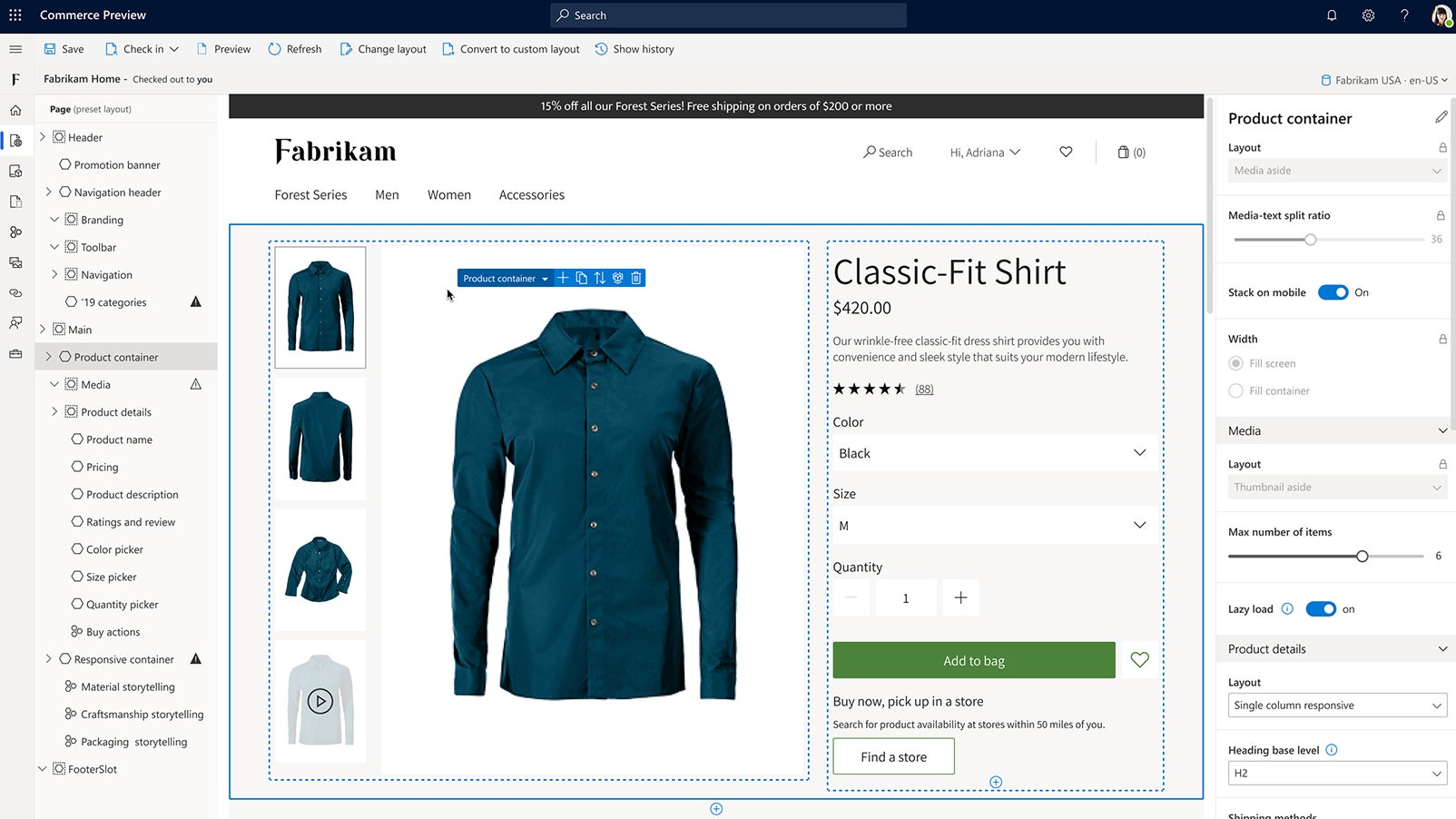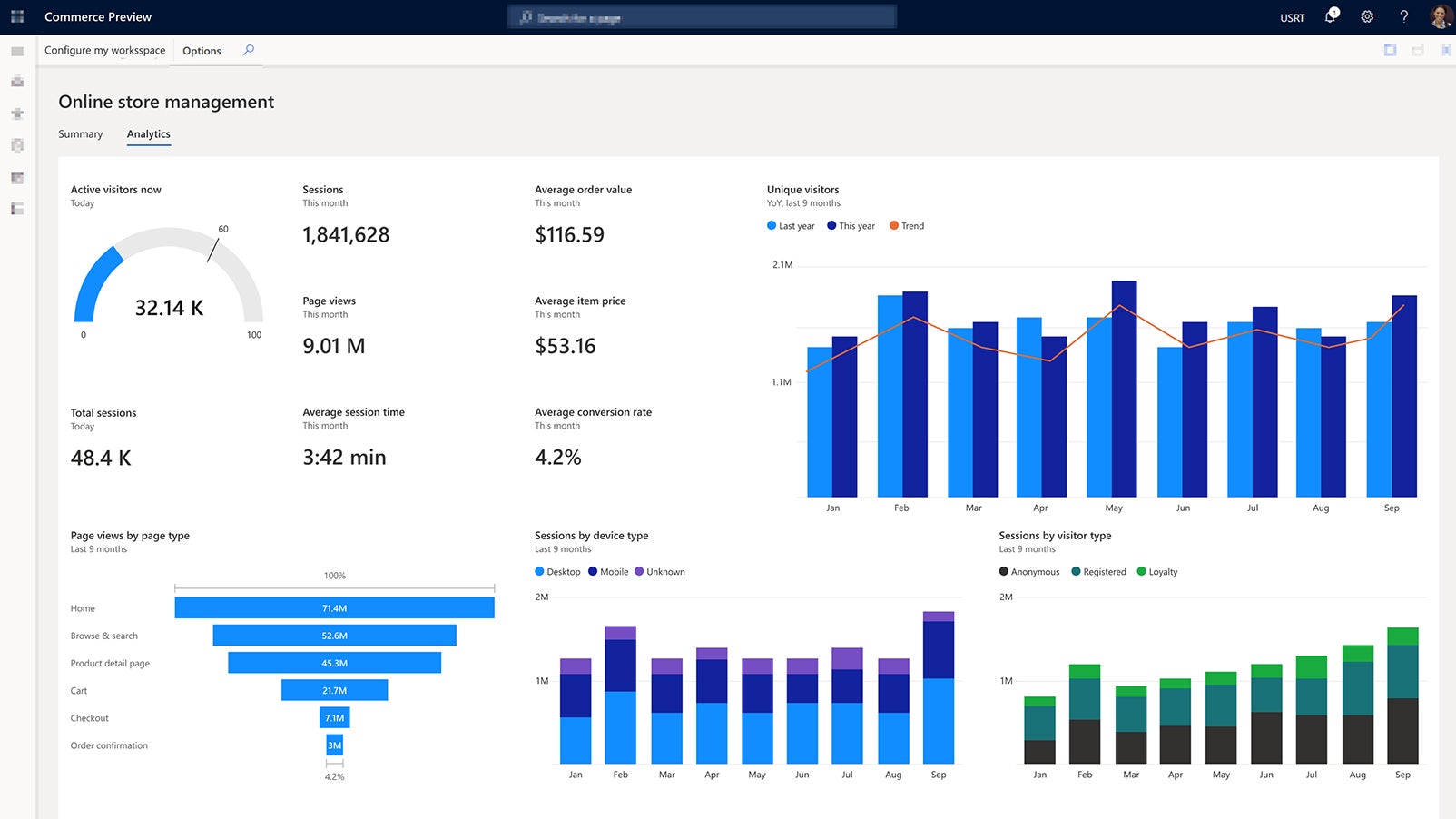 Empower Call Center Agents
In Dynamics 365 Commerce, a call center is configured as a type of retail channel that provides a user-friendly customer service application.
Easily locate customer accounts and related orders
Empower customer service staff to answer common order-related questions
Printed catalog response tracking capabilities
Call center orders are also leveraged by the POS supporting cross-channel fulfillment
Supports direct-to-consumer transaction processing
Retail replenishment, out of the box
At the core of every successful retailer is a very good supply chain with intelligent inventory replenishment across stores. With Sunrise 365, you can add on this functionality to Dynamics 365 Commerce, without the hassle and cost of implementing another standalone system.
Includes a configurable inventory replenishment engine
Requires no integrations with the built-in POS
Minimal integrations to an external POS solution
Embedded insights and business intelligence throughout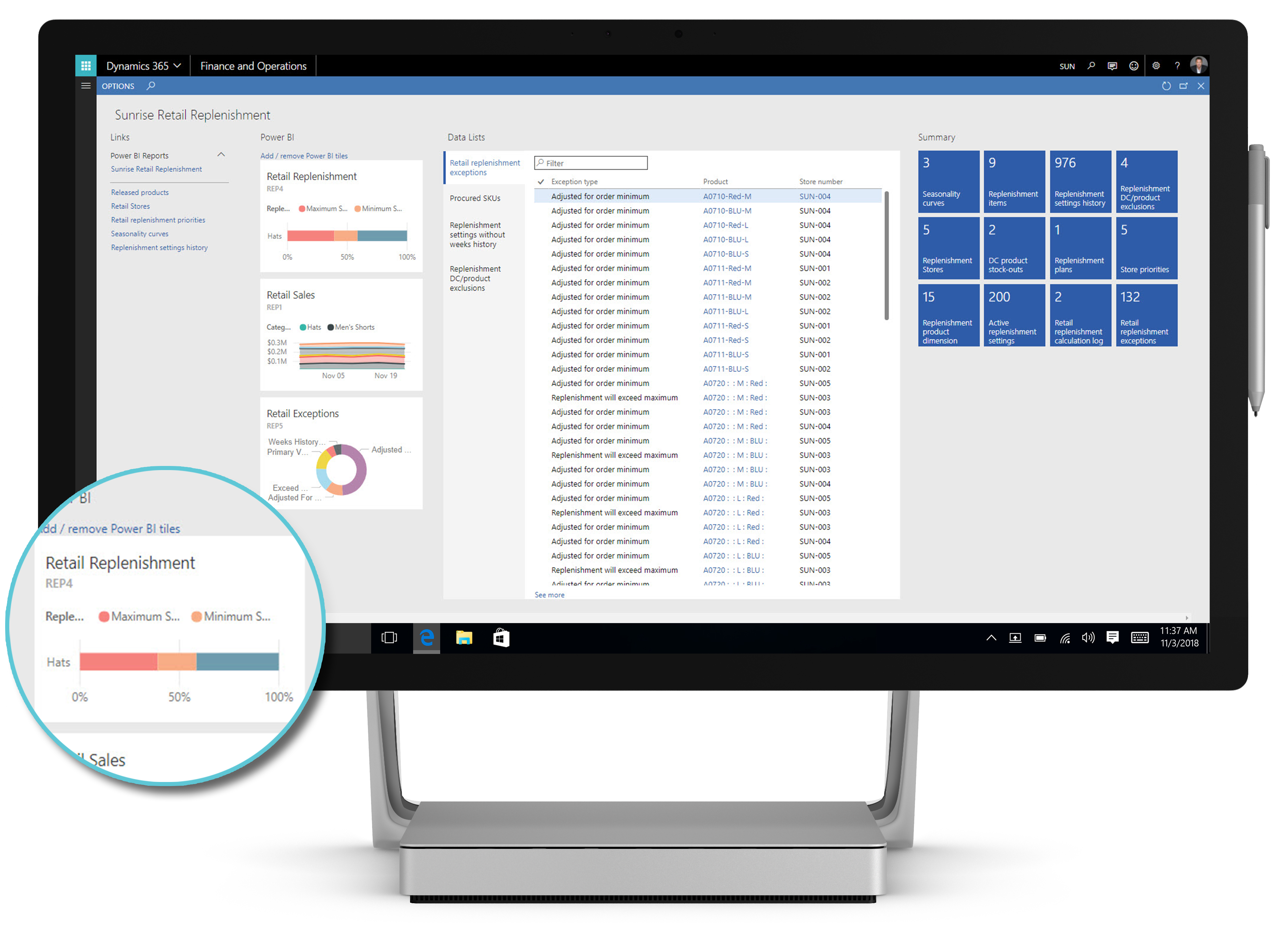 Cloud Intelligence Ties Back to
Every Purchase, Every Product, Every Interaction
Today's digitally savvy customers expect you to provide uninterrupted experiences no matter where they shop. In order to deliver this, you need a 360-degree view of every customer to unify and personalize that experience across every channel. Only one retail cloud software platform can do all this and more...and exceptionally well with Microsoft's superior intelligence capacities.
Embedded Intelligence
Beyond native reporting and workspaces, you can extend with the Power Platform and recommend products based on an AI engine
Artificial Intelligence
Build loyalty, reduce customer churn, and grow revenue with AI-driven insights across customers, products, market, and sales (better with Dynamics but also standalone)
Fraud Protection
Save more (and earn more) than you ever thought possible by detecting fraudulent transactions with greater accuracy and reducing friction for good buyers
Connected Store
Empower in-store employees to provide optimal shopping experiences through triggered alerts based on real-time data from video cameras and IoT sensors.
MICROSOFT CLOUD RETAIL SOFTWARE FEATURES
Built as a single solution (or as standalone apps), Dynamics 365 Commerce is a comprehensive omni-channel solution that unifies back-office, in-store, and digital experiences to personalize customer engagement and improve operations.
Centralized database
Product catalog
Promotions
Loyalty and gift receipts
Quotes and sales transactions
Any device
Clienteling
Branded interface
Connected wishlists
Omnichannel order history
Curate personalized catalogs
User or device licensing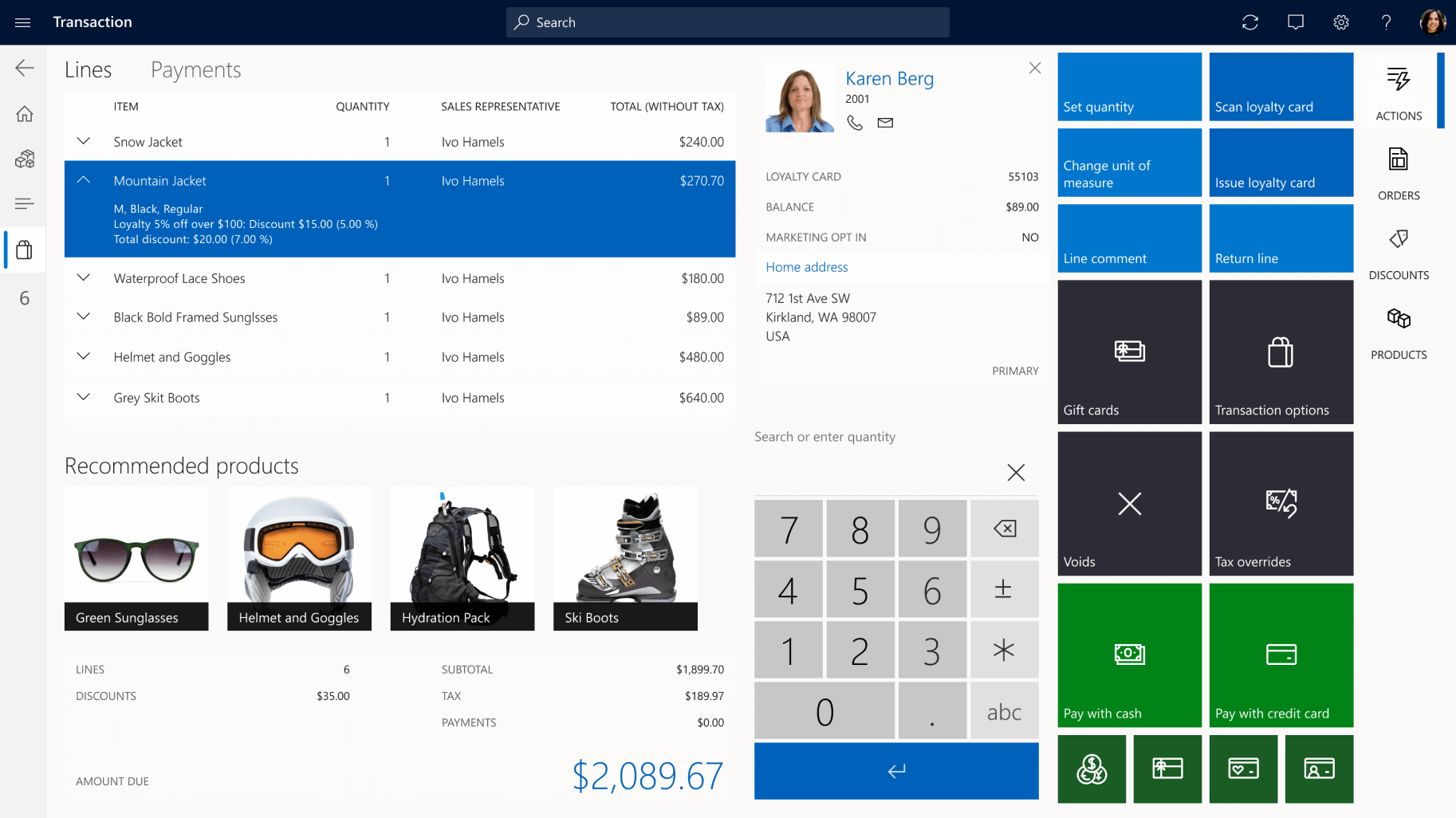 - Microsoft Dynamics 365 Commerce Point of Sale
Native eCommerce channel
Centralized digital asset management
Geo search insights
Cross-sell / Up-sell
AI product recommendations
Connected store
IoT intelligence
Product insights
Responsive eCommerce
No-code and low-code page editors
Built-in marketing landing page editors
Pricing, Promotions, and Loyalty
Works with Dynamics 365 Fraud Protection
Integrated call center channel
Gift Cards
Loyalty
Customer transaction processing
Pricing and Coupons
Print catalog tracking
Connected to online and in-store
Catalog workflows and audiences
Order holds
Basic fraud checks
Works with Dynamics 365 Fraud Protection

WHAT YOU GET
(THERE'S A LOT, BY THE WAY).
When you select Dynamics 365 Commerce and Sunrise, you're not just getting cloud retail software out of the box (with everything you need to connect eCommerce with stores so customers can buy, pickup, and return any way they want). You're receiving an unrivaled blend of supply chain and retail experience, best practices, industry solutions, and global support. We're a full-service Microsoft Partner, that can help you enable AI product recommendations, intelligent cross-sell revenue boosters, and centralized digital asset management.