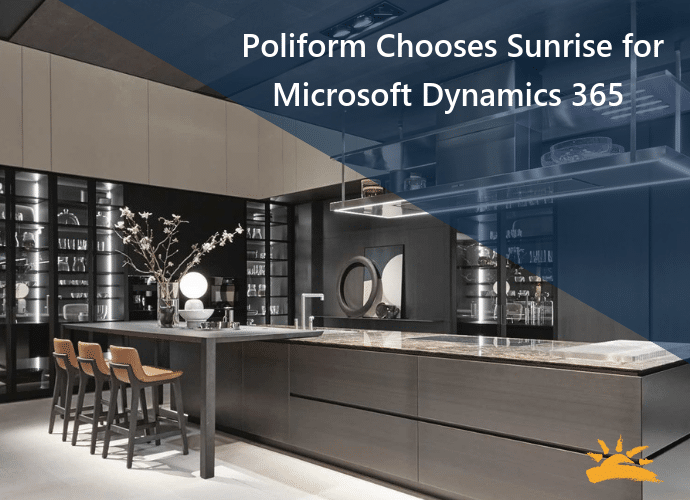 Mar 12, 2019
The contemporary Italian furniture brand will implement Microsoft Dynamics 365 Finance and Operations starting with their American HQ.
Winston-Salem, NC – Sunrise Technologies, a global provider of Microsoft Dynamics 365 Business Applications and Cloud services, announced today that Poliform Americas has selected Microsoft Dynamics 365 to run their business and Sunrise as their Dynamics 365 implementation partner.
Poliform is a luxury Italian furnishings manufacturer and retailer, offering sleek and contemporary designs for clients around the world. A family-owned company, Poliform has embraced modern technology while maintaining a strong ethos of craftsmanship and quality. Founded in 1970 outside Milan, Italy, today Poliform operates showrooms worldwide.
The company selected Microsoft Dynamics 365 for its cost-effective cloud ERP platform, combined with Sunrise's furniture implementation experience.
"We found a forever system with Microsoft Dynamics 365 and Sunrise," says Laura Anzani, CEO of Poliform Americas. "Moving to Microsoft's cloud platform represents a new phase of growth and expansion for our company."
Poliform Americas will implement Microsoft Dynamics 365 for Finance and Operations and the Sunrise 365® Supply Chain Solution.
"Poliform's move to the cloud offers them an incredible value while giving them a modern, flexible platform that can scale with their business," says John Pence, President of Sunrise Technologies. "With Dynamics 365 and Sunrise, Poliform has a state-of- the- art system that will always be up to date, plus with the industry solutions and expertise they wanted."