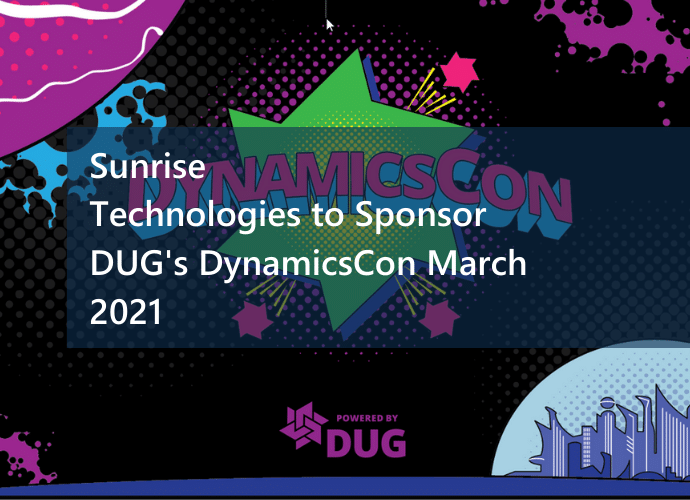 Mar 22, 2021
Funding from sponsors offers the Dynamics community this free, virtual learning experience.
Winston-Salem, NC; Sunrise Technologies, a global provider of Microsoft Dynamics 365 business applications and cloud services, announced today its sponsorship of DynamicsCon 2021, presented online from March 16-18, 2021. This three-day conference is hosted by Dynamics User Group (DUG), the premier community of Dynamics Finance and Operations, Business Central, and Power Platform users. Sunrise Technical Architect Michael Stashwick will be presenting on Logic Apps. This is the second time Sunrise has sponsored DynamicsCon and the first time a Sunrise employee is presenting a session.
Styled after ComicCon, DynamicsCon brings power users together and shares tips and tricks at this free, virtual event. Any remaining sponsorship funds will be donated to COVID-19 relief programs. Session topics are submitted and voted on by members of the DUG community. Michael Stashwick's session, Logic Apps with Finance and Operations, received the second highest number of votes.
Azure Logic Apps is a cloud service from Microsoft that helps users automate tasks, business processes, and workflows across enterprises or organizations.
"Integration tasks tend to be the most intimidating, difficult, and likely to slip on project timelines. I think the best way to change all of that is by opening the door to Logic Apps to show how approachable and simple, highly scalable integrations with Dynamics 365 can be," said Stashwick.
For more information, visit dynamicscon.com.