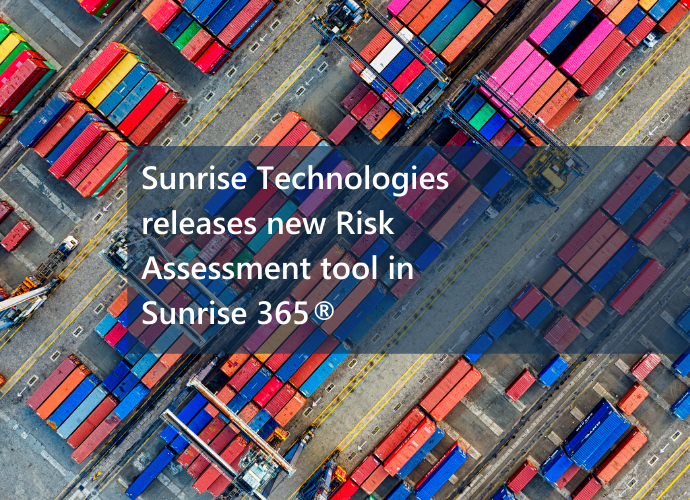 May 29, 2020
Winston-Salem, NC; Sunrise Technologies, a global provider of Microsoft Dynamics 365 Business Applications and Cloud services, has added risk assessment capabilities to its Sunrise 365 Supply Chain solution.
As a response to the rapidly shifting supply chain challenges from Covid-19, Sunrise developed Risk Assessment to identify and mitigate the risks surrounding supply chains, especially those of consumer brands and retailers.
These enhancements to the Sunrise 365 Supply Chain solution allow users to assign risk profiles to vendors, customers, and products. Risk Assessment builds on the soft allocation functionality in Sunrise 365 Supply Chain to identify potential results from what-if scenarios and soft allocation plans. The level of detail available in Risk Assessment, combined with the ability to apply risk profiles to soft allocation plans, provide an extra layer of security as companies weigh their options amidst challenges imposed by the pandemic.
Industry analysts estimate that the Covid-19 pandemic has created $130 – $170 billion dollars of unsold inventory around the world, due to delays in shipping and subsequent business closings in several countries. Companies are now faced with the inventory and supply chain challenges from several angles, from evaluating suppliers that are at risk of going out of business, to how to redistribute or mark down unsold inventory.
"Risk Assessment gives customers the tools they need to be even more proactive as they navigate supply chain challenges caused by Covid-19," said Brad Edwards, Chief Technology Officer of Sunrise Technologies. "We wanted to build extra resiliency into our customers' supply chains and help them make better decisions in a shorter amount of time."