Providing Enhanced Retail and Supply Chain Solutions for D365
We already knew Dynamics 365 and Sunrise 365® is a killer combo for brands and retailers. But we wanted a second opinion. Technology Evaluation Centers (TEC), a leading independent ERP software analyst firm, evaluated our Sunrise 365® Supply Chain and Retail Replenishment solutions and compared against their comprehensive model of ERP for Fashion and Retail. The verdict?
Sunrise 365 for Supply Chain and Retail Replenishment provides essential industry extensions for fashion and consumer goods brands. Here are the key highlights of TEC's report if you are considering Sunrise 365 for Dynamics 365 and your business is in fashion, apparel, or footwear.
How Sunrise 365® works with Dynamics 365
Sunrise Technologies is the developer of application extensions for Microsoft Dynamics 365 for Finance and Operations (D365) that have been built to manage the unique needs of manufacturers, distributors, and retailers of apparel, footwear, textiles, home furnishings, and similar consumer products.
The Sunrise 365® Supply Chain and Sunrise 365® Retail Replenishment products bring enhanced capabilities to D365 that are especially important to these industries. These capabilities include fully integrating the product variations, multichannel management, and automated processing and control of complex allocation schemes across the entire Enterprise Resource Planning (ERP) application suite.
The Sunrise solutions extend the core Dynamics 365 application. Sunrise's applications are seamlessly integrated into D365, so that users don't have to know whether they are working in D365 or in the Sunrise applications.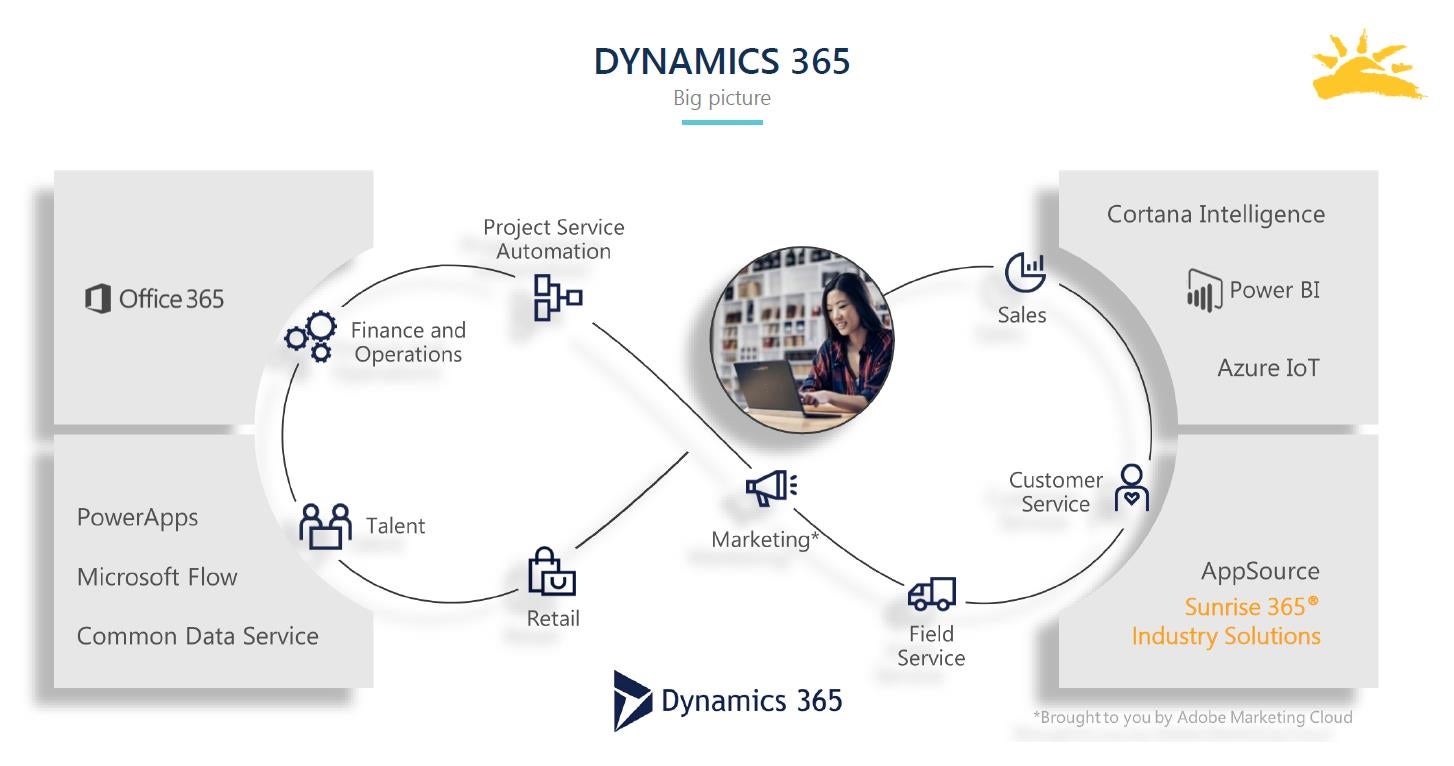 Product extensions
Sunrise 365® adds scale management, global trade item number (GTIN) reuse automation, season management, stock-keeping unit (SKU) lifecycle, and the product lifecycle management (PLM) integration framework to D365.
Scale management: supports dual sizing and NRF color and size codes, making it easier to manage products across multiple markets
GTIN: automation and reusability tools save time and money
Season management: tools to manage styles, colors, and delivery restrictions for seasons
Hard attributes: additional attributes like brand, category, and class allow for more specific sorting, filtering, and reporting
SKU lifecycle: item statuses allow for greater inventory control and specificity across the entire system
PLM integration framework: Sunrise's framework greatly reduces the time and cost of integrating D365 with a PLM system
Sales extensions
The Sunrise 365® Supply Chain extensions in sales include mark-for addresses, sales restrictions, sales cancellation log, sales order categories, sales order enhancements, bulk order management, and an automated order release. These extensions come with interactive, analytical dashboards that give users more insight into how products are flowing through the system.
Ship-to and mark-for addresses: allow orders to be earmarked for specific store
Sales restrictions: thresholds that restrict when an order can be released for shipment.
Sales cancellations: allow users to know more about why an order was cancelled.
Bulk order management: tracks orders and compares against a blanket or master order for all products over the course of a year or season.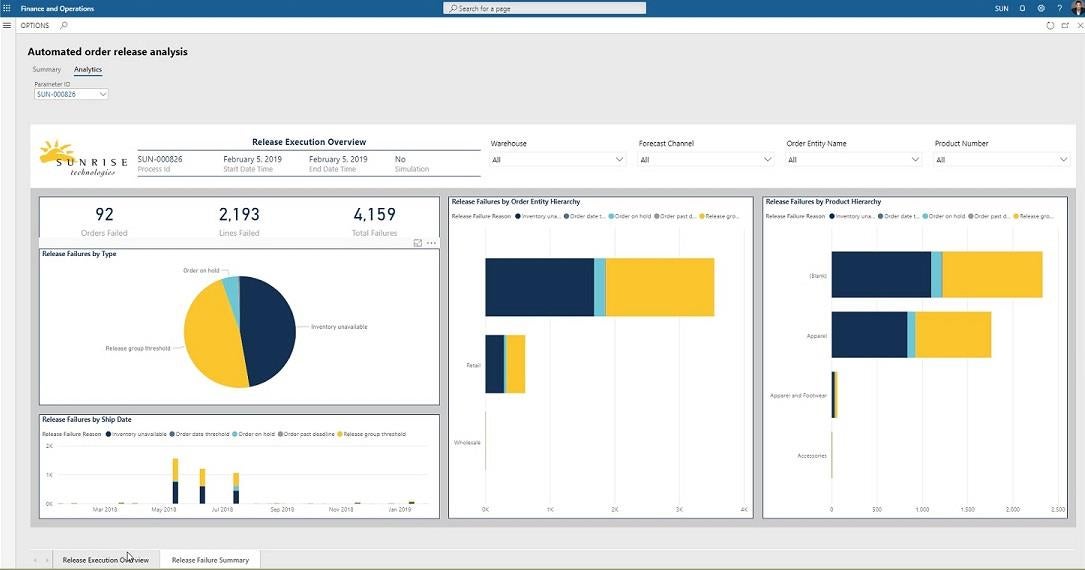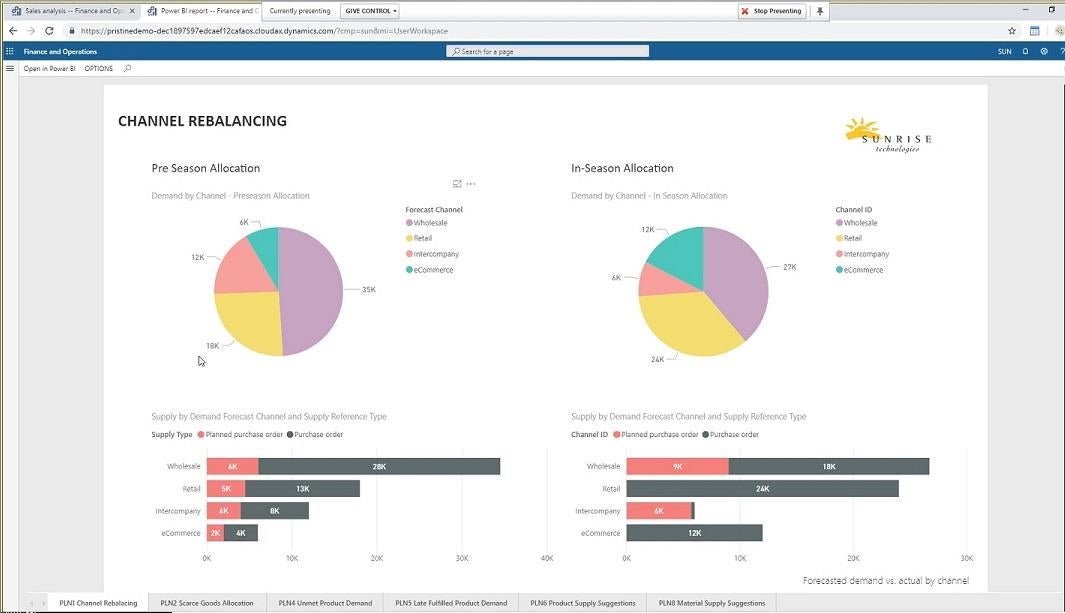 Supply chain: where it all comes together
The supply chain extensions are where everything comes together. The tools in this area include support for forecasting, forecast netting, soft allocation, and supply chain analysis. Forecasts can be built that clearly define demand channels (e.g., web, wholesale, or retail). A planning workbench is not only a part of this extension but also a forecast integration framework for those who wish to work with other tools. Supply chain analysis adds other insights to business challenges such as channel rebalancing, scarce goods allocation, projected excess product inventory, unmet product demand, product supply suggestions, and product inventory projections.
One of the most impactful capabilities in Sunrise 365® Supply Chain is the ability to manage what Sunrise calls "soft allocation" on inventory. Soft allocations let a user determine how to flexibly balance demand sequences to supply sequences and ensure that the demand will be appropriately supplied.
This is different from the "hard" allocation process, which occurs natively within Dynamics 365 and is not as flexible at meeting the more fluid requirements of Sunrise's customers.
Sunrise 365® Retail Replenishment
Retailers need to stock the right products in the right stores at the right time. Sunrise 365® Retail Replenishment is a relatively new product created by Sunrise to meet the demand of its customers, who were coming to them and asking whether they could help them manage retail replenishment without the steep prices associated with a third-party solution. Most of the solutions on the market are very expensive on their own. On top of the software costs, the costs to integrate these solutions with D365 are very steep.
The Sunrise retail replenishment tool brings together the retail store replenishment settings and rules and the actual inventory levels from the POS locations, and then it produces the appropriate retail plans.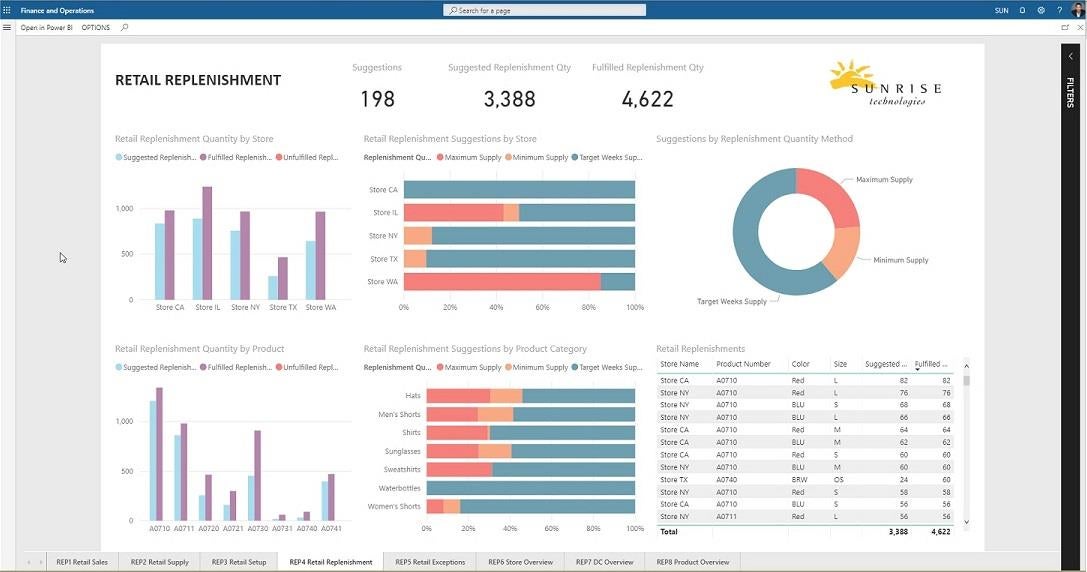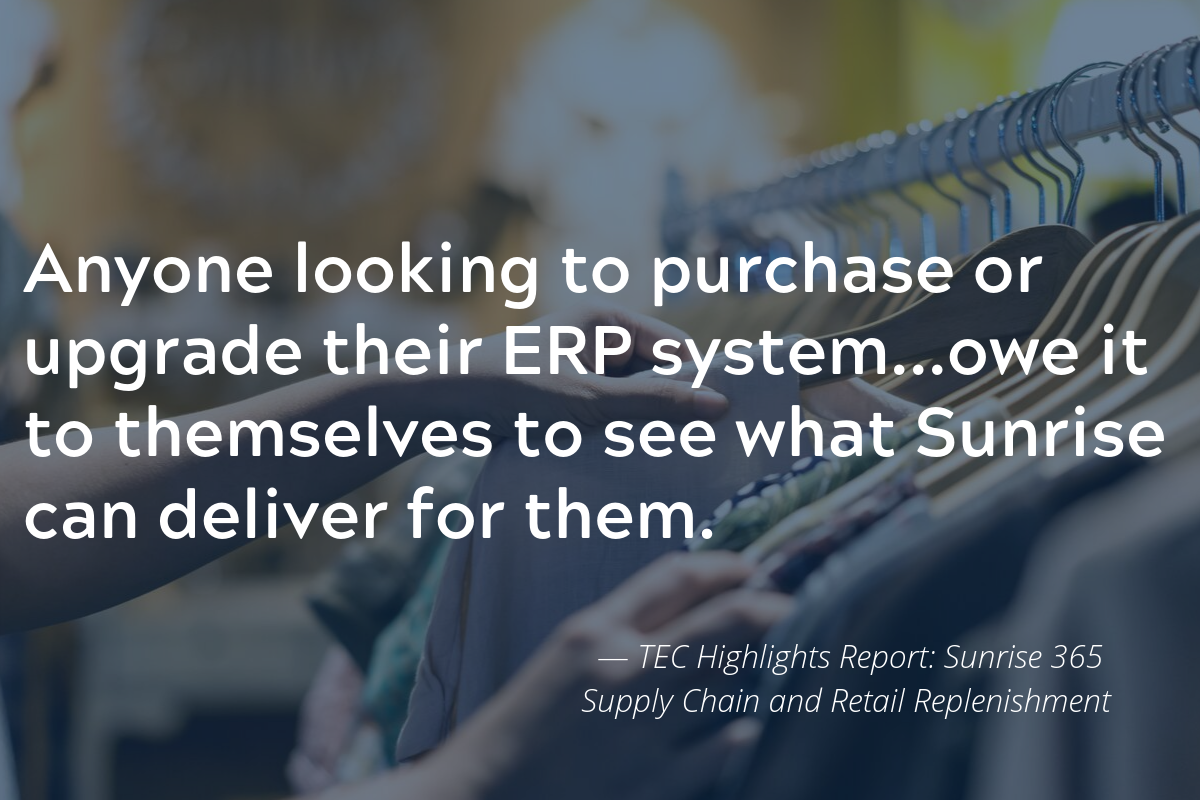 In conclusion...
Sunrise 365® brings great value, lowers the overall cost of ERP purchase and implementation, and brings faster deployment to its customers because of its tools and experience in these industries. Marquee customers such as Patagonia, Fila, Bioworld, and others rely on Sunrise to run their business. Anyone looking to purchase or upgrade their ERP system for these fluid consumer industries owe it to themselves to see what Sunrise can deliver for them.