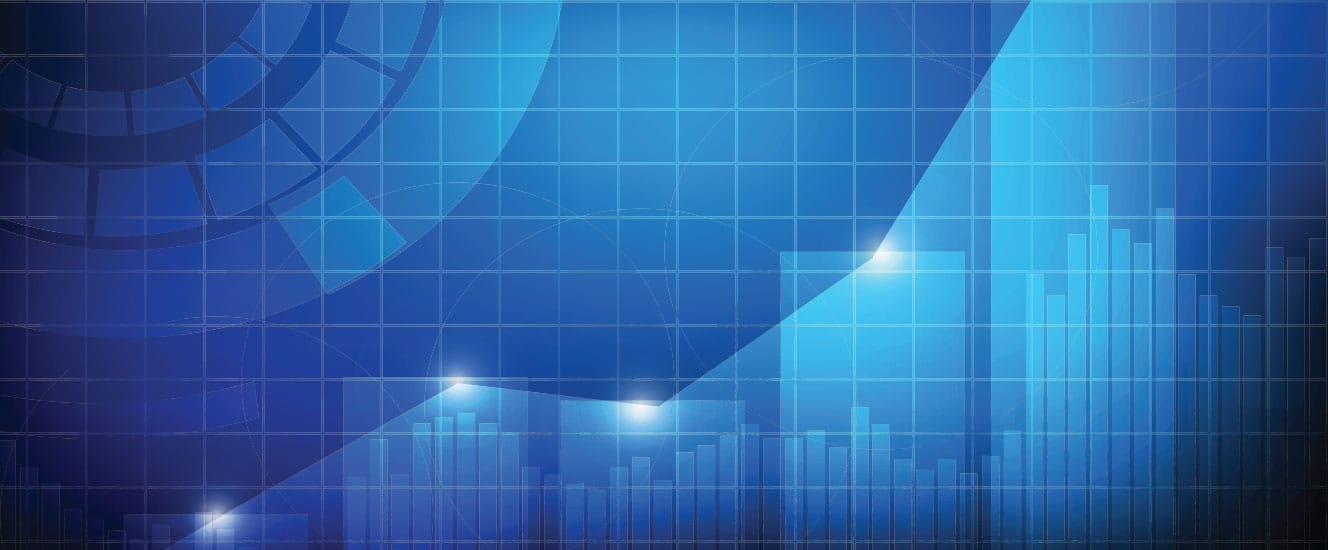 Above Average ROI from Dynamics 365
In analyzing the results of Microsoft Dynamics 365 deployments, Nucleus found that for every dollar spent, companies realized an average of $16.97 in returns. This is significantly higher than the average for both enterprise resource planning (ERP) and customer relationship management (CRM), which deliver, on average, $7.23 and $8.71 respectively. Nucleus found that companies taking advantage of Microsoft's investments in cloud and usability, as well as integration and analytics, were able to achieve significant returns by increasing productivity and revenues and reducing costs. Microsoft's integration of business capabilities such as ERP, CRM, and HCM with Office 365, Power BI, PowerApps, and Azure offer even greater value than the industry averages and as Microsoft makes further investments in integration and innovation, customers will benefit from the additional value provided by the cloud platform.
Nucleus Research ERP Technology Value Matrix
The ERP Value Matrix reflects the continued shift to the cloud, with vendors seeing accelerated adoption rates. Microsoft continues in its Leader position with Microsoft Dynamics 365 for Finance and Operations, Enterprise Edition. All the enterprise capabilities in Microsoft Dynamics for Finance and Operations, Enterprise edition are underpinned by Microsoft's global delivery strategy that includes 36 geographies and over 60 language localizations. Additionally, Microsoft business application platform delivers capabilities such as PowerApps, Power BI, Microsoft Flow, and Common Data Service, helping customers better collect and analyze their data as well as build applications to automate manual tasks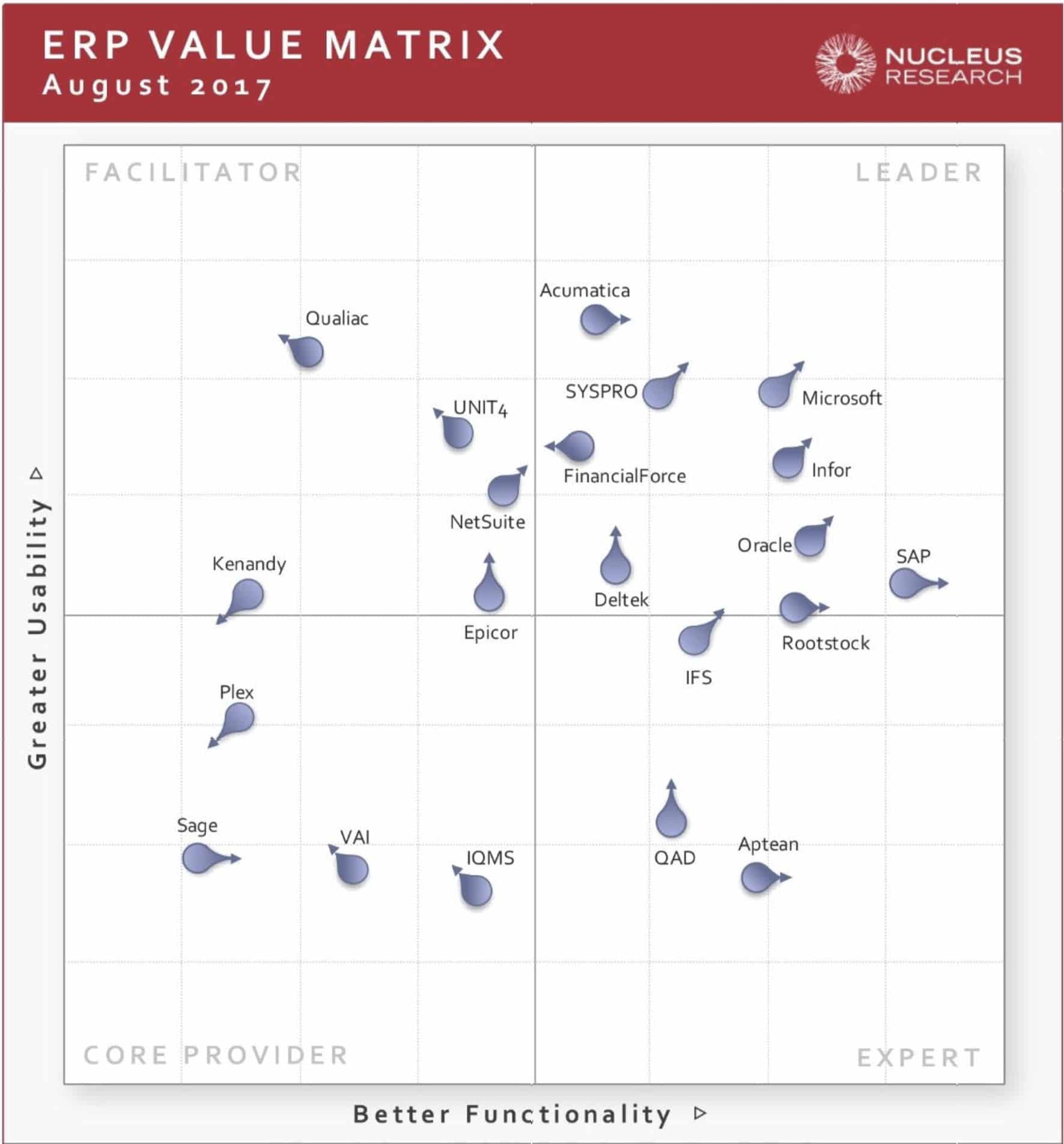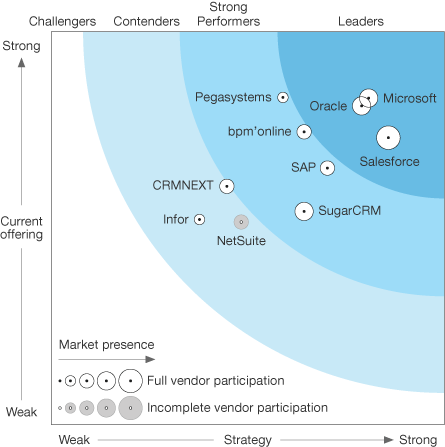 The Forrester Wave™: Sales Force Automation
Microsoft leads the pack when it comes to empowering modern sellers to deliver high-quality, high-touch customer experiences. The solution can enable process efficiencies and provide intelligent recommendations to sellers that will win the hearts and wallets of modern buyers. Microsoft delivers on intelligent seller productivity, with deep integrations into Office 365 and Outlook. For companies looking to capitalize on the productivity gains of their other Microsoft investments, and looking to disrupt their peers with AI and machine learning, Microsoft is a great choice.
Gartner Magic Quadrant: Business Intelligence and Analytics Platforms
For the eleventh consecutive year, Microsoft is positioned in the Leaders quadrant. By 2020, 50% of analytic queries will be generated using search, natural-language processing or voice, or will be autogenerated. Microsoft successfully executed on its "five by five" strategy — five seconds to sign up and five minutes to "wow". Strengths include affordability, ease of use, product vision, and customer experience.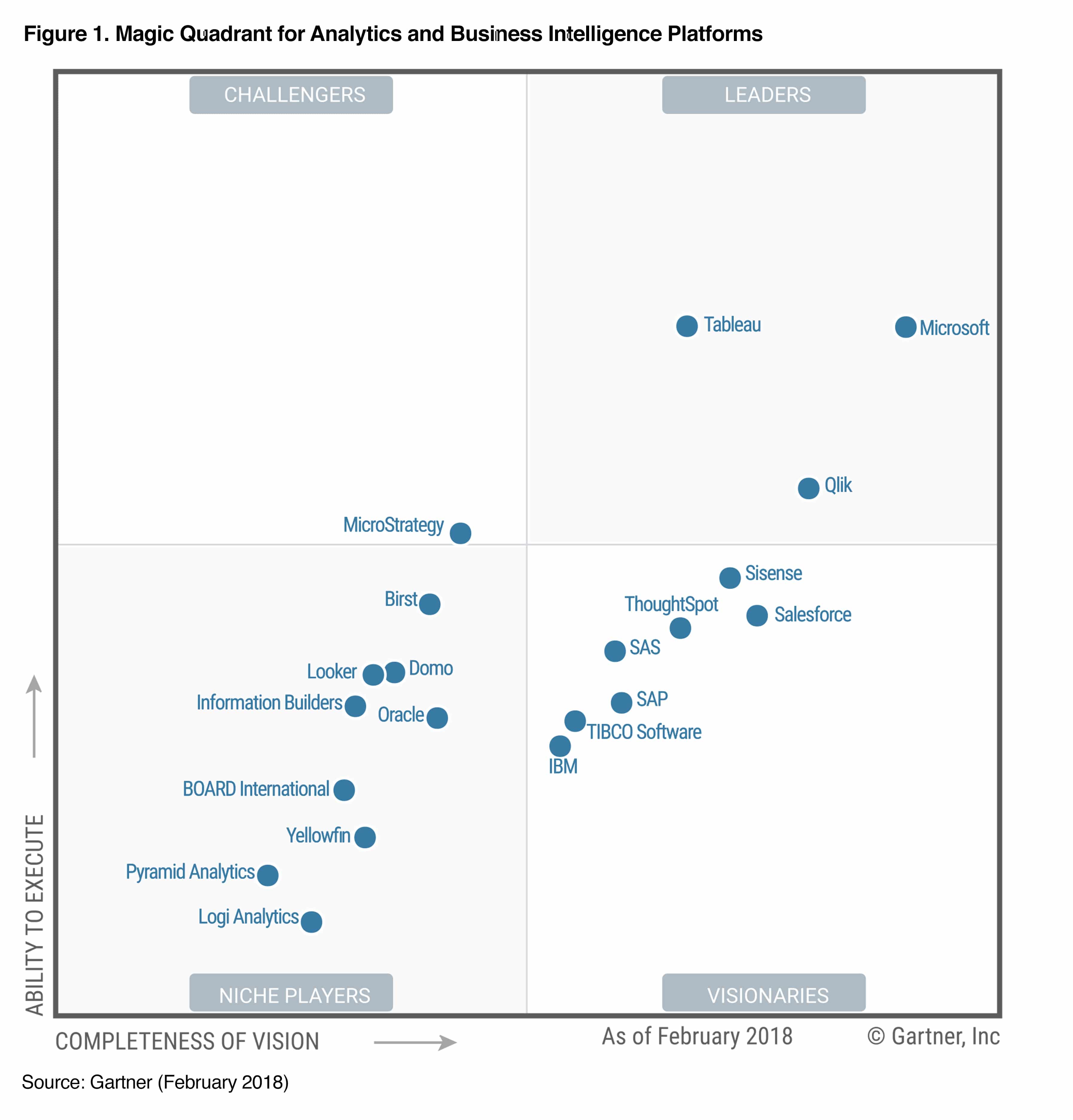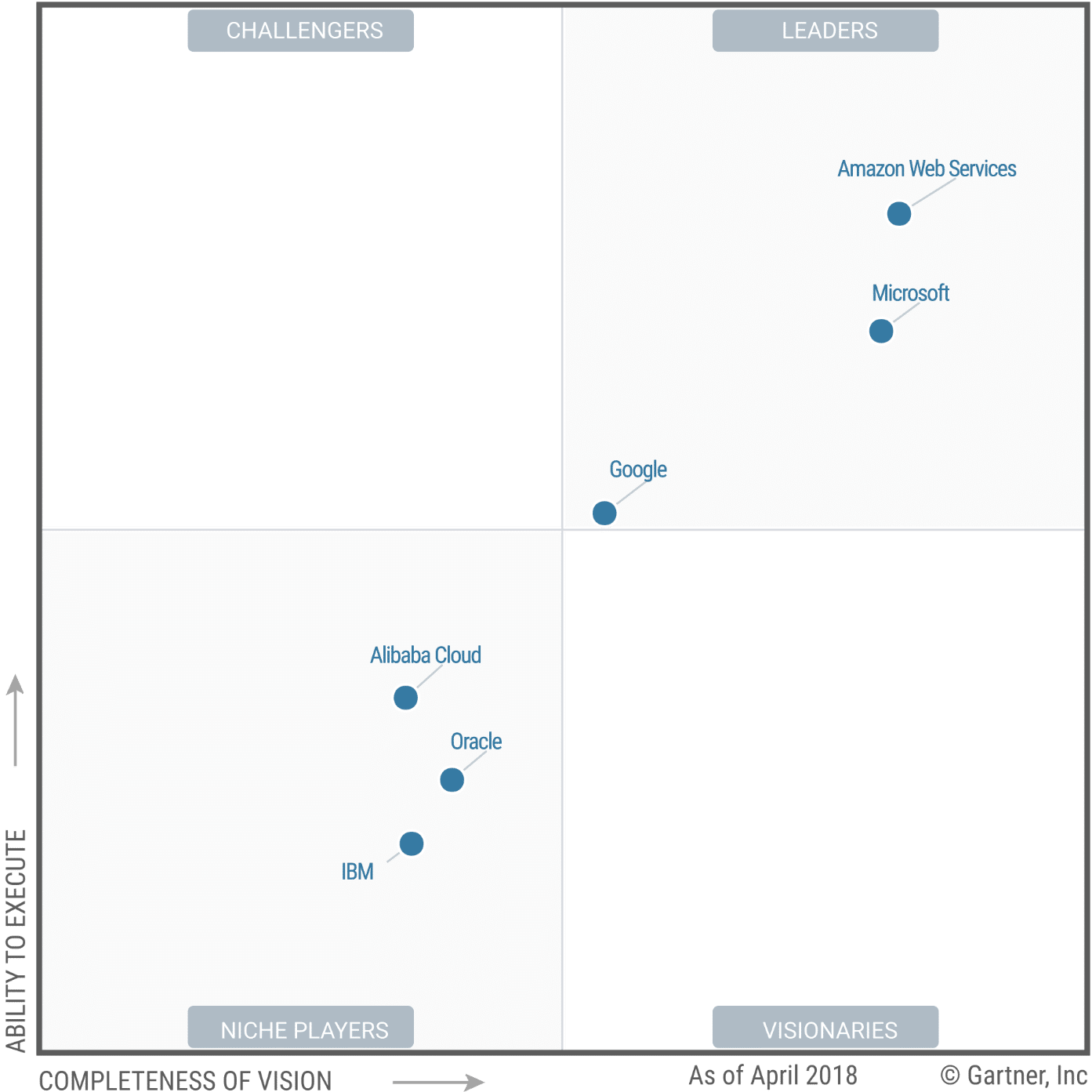 Gartner Magic Quadrant: Cloud Infrastructure as a Service
For the fifth consecutive year, Gartner has positioned Microsoft as a leader in the Magic Quadrant for Cloud Infrastructure as a Service (IaaS), Worldwide, 2018. Microsoft Azure IaaS + PaaS has been designed to meet all workload needs with hybrid deployment models and industry-leading compliance and security. Microsoft Azure's core strength is its Microsoft heritage—its integrations (both current and future) with other Microsoft products and services, its leverage of the existing Microsoft ISV ecosystem, and its overall strategic importance to Microsoft's future. Azure has a very broad range of services, and Microsoft has steadily executed on an ambitious roadmap. Microsoft has sustained a very high growth rate over multiple years, and Gartner estimates its end-of-2017 revenue run rate for integrated IaaS+PaaS at more than $4 billion.
The Total Economic Impact™ Of Microsoft Azure IaaS
Microsoft commissioned Forrester Consulting to conduct a study to examine the potential return on investment (ROI) enterprises may realize by shifting some or all their management and operations from on-premises, hosted, and outsourced implementations to Azure's infrastructure-as-a-service (IaaS) offering. Benefits included:
Improved production efficiency
Reduced datacenter, IT resource, and outsourcing costs
Easier and faster software and hardware management (such as patching and support)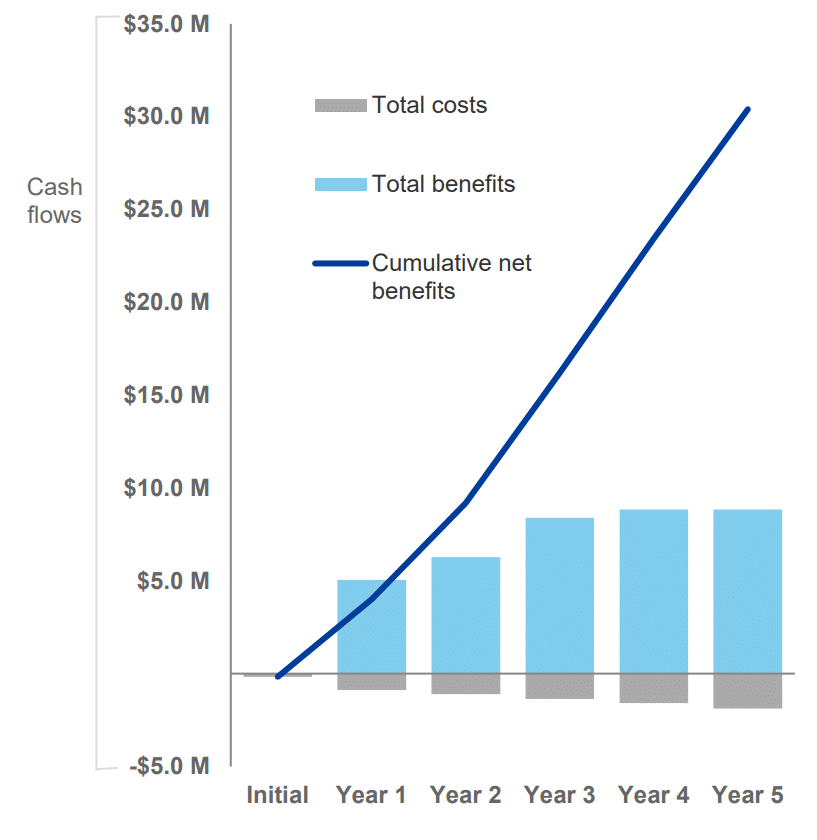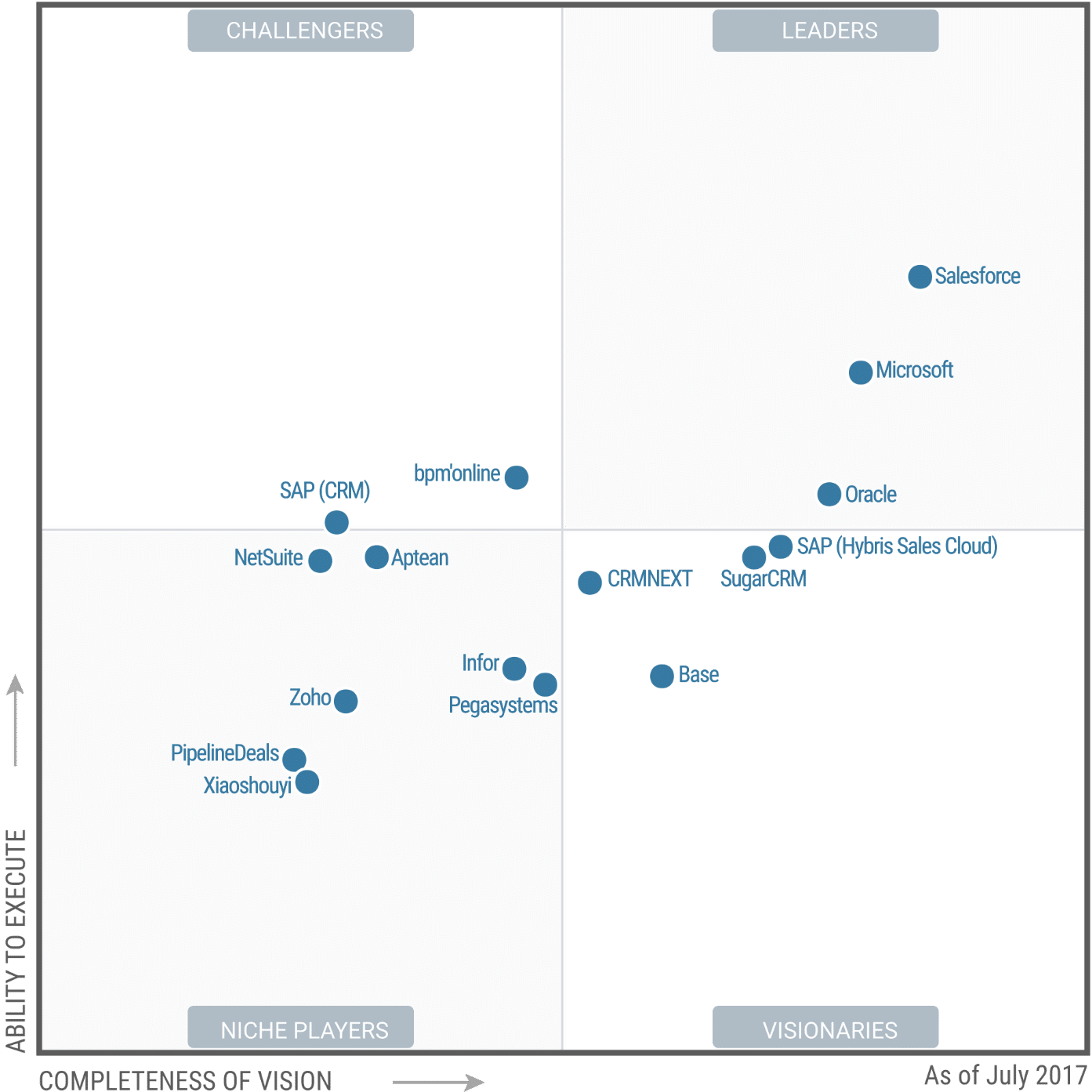 Gartner Magic Quadrant: Sales Force Automation
Microsoft is in the Leaders quadrant again this year with Microsoft Dynamics 365 for Sales. Microsoft's strength lies in its ability to create custom processes and integrations into Microsoft Exchange, Office 365 and SharePoint, as well as Power BI and Azure Machine Learning. Gartner clients have reported positively on this integrated product offering.
A Platform for Today, Tomorrow, and Decades from Now
Microsoft offers a complete platform at a tremendous value. Considering the billions of dollars invested in research and development, cloud growth, and long term viability, an investment in Microsoft makes long term sense.