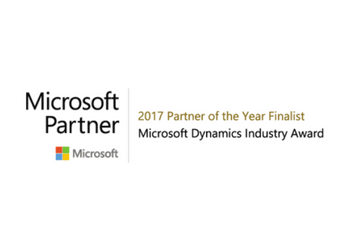 Jun 6, 2017
Sunrise Technologies today announced it has been named a finalist for the 2017 Microsoft Industry Partner of the Year Award. The company was honored among a global field of top Microsoft partners for demonstrating excellence in innovation and implementation of customer solutions based on Microsoft technology.
"We are proud and honored to be recognized as a finalist for the 2017 Microsoft Industry Partner of the Year award," said Sunrise's founder and president, John Pence. "To be recognized at a global level as one of the top industry partners by Microsoft for a third time speaks to the hard work of our talented, innovative team and our strong vertical focus which we have brought to the partner network since 2003."
Awards were presented in several categories, with winners chosen from a set of more than 2,800 entrants from 115 countries worldwide. Sunrise was recognized for providing outstanding solutions and services by embracing the vertical business opportunities presented by Microsoft ERP and CRM products.
The Microsoft Dynamics Industry Partner of the Year Award recognizes partners that excel in providing innovative and unique solutions based on Microsoft Dynamics to customers in a specific industry (examples include: manufacturing, distribution, and retail). Partners must demonstrate industry knowledge and expertise about the specific vertical being served, as well as consistent, high-quality, predictable service to Microsoft Dynamics Customers. Additionally, the Award recognizes those partners who have made significant progress in shifting their business to the cloud.
"The outstanding innovation and expertise the Microsoft partner community continues to provide is demonstrated by this year's award winners," said Ron Huddleston corporate vice president, One Commercial Partner, Microsoft Corp. "We applaud Sunrise Technologies on being a finalist for the 2017 Microsoft Industry Partner of the Year award"
The Microsoft Partner of the Year Awards recognizes Microsoft partners that have developed and delivered exceptional Microsoft-based solutions during the past year.