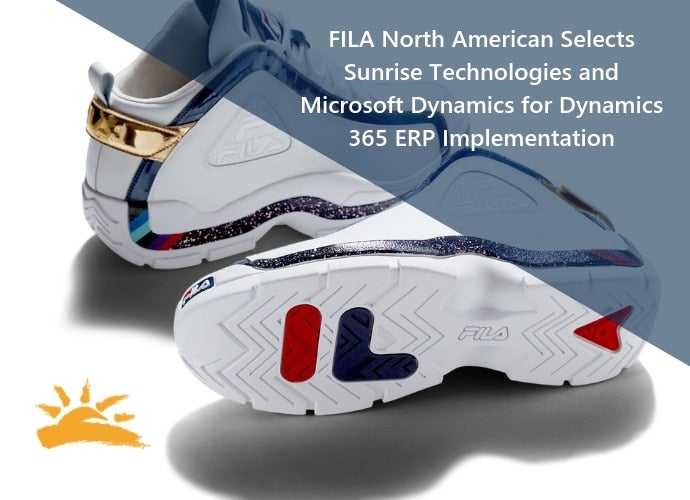 Jan 15, 2019
The iconic sportstyle brand will implement Dynamics 365
Winston-Salem, NC – Sunrise Technologies, a global provider of Microsoft Dynamics 365 Business Applications and Cloud services, announced today that FILA North America has selected Microsoft Dynamics 365 to run their business and Sunrise as their Dynamics 365 implementation partner.
FILA North America, headquartered in Sparks, MD, is an iconic sportstyle brand that offers athletic and leisure footwear, apparel and accessories. The company has experienced success in reaching a new generation of consumers, through innovative collaborations and retail partnerships with Barneys New York, Urban Outfitters and Foot Locker. The company selected Microsoft Dynamics 365 for their cost-effective cloud ERP platform, combined with Sunrise's apparel and footwear implementation experience.
"We were looking for a solution with longevity and a partner with industry experience, and we found both with Sunrise and Microsoft Dynamics 365," says Jennifer Estabrook, COO of FILA North America. "We now have a core system in place to keep pace with the growth of our business. With Microsoft Dynamics 365, we can update processes, gain greater visibility into our operations, and expand our channels to better serve our consumers and retail partners."
FILA North America will implement Microsoft Dynamics 365 for Finance and Operations and the Sunrise 365® Supply Chain Solution.
"We are very excited to welcome FILA North America to the Sunrise family" says John Pence, President of Sunrise Technologies. "With Sunrise and Microsoft solutions, FILA North America will have the core ERP, supply chain and industry extensions they need, combined with a secure platform to enable future growth,"