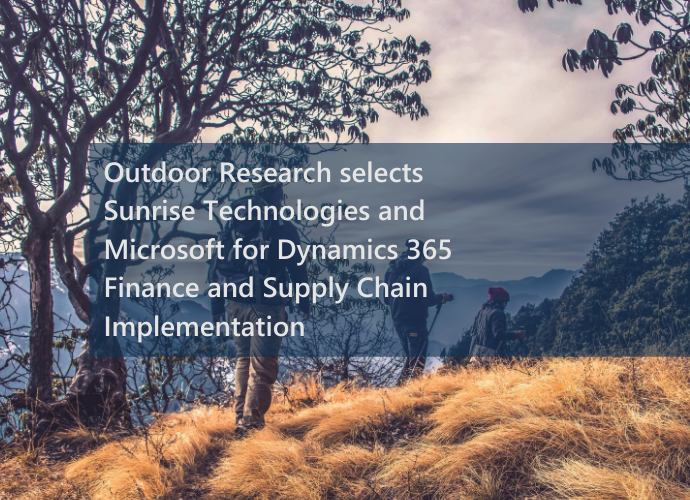 Sep 4, 2020
The outdoor gear and personal protective equipment manufacturer will implement Dynamics 365 with Sunrise Technologies to fuel its future growth
Sunrise Technologies, a global provider of Microsoft Dynamics 365 Business Applications and Cloud Services, announced today that Outdoor Research has selected Microsoft Dynamics 365 as its ERP solution and Sunrise as its implementation partner.
Founded in 1981 in Seattle, WA, Outdoor Research designs and manufactures technical apparel and gear and personal protective equipment for outdoor sports, lifestyle, tactical and medical communities. As a leader in the outdoor gear industry, today Outdoor Research offers products both online and at their Seattle retail store, and through retailer and distributor partners across the globe. After years of growth, Outdoor Research began a search for a new business application to support its thriving eCommerce and retail channels, as well as the company's growing tactical division.
"Sunrise had the supply chain solutions and experience we were looking for," said Roger Barton, CFO/COO at Outdoor Research. "With Dynamics 365 and Sunrise, we feel confident that we can support Outdoor Research through our next phase of growth and beyond."
"Dynamics 365 and Sunrise are a perfect fit for Outdoor Research." said John Pence, President and founder of Sunrise Technologies. "The omni-channel capabilities in Dynamics 365, combined with the allocation features in our Sunrise 365 Supply Chain Solution, gives Outdoor Research users the flexibility and security to support their business for a lifetime."
About Outdoor Research
Highly respected in the outdoor industry for developing functional solutions for extreme environments, Outdoor Research has a history of successfully leveraging the best commercial market technologies to serve the needs of the outdoor community, armed services and first responders.