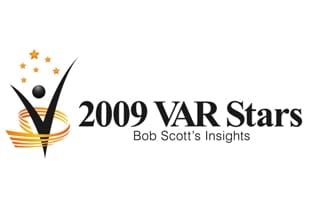 May 8, 2009
May 8, 2009
Bob Scott's Insights, a publication of the Progressive Media Group, is pleased to announce that Sunrise Technologies has been selected as a member of the 2009 VAR Stars, a group of 100 organizations that are being honored for their accomplishments mid-marketing financial software.
"This award is made to honor organizations for factors such as quality performance and leadership in their arena. It is made without regard to the volume of annual sales made by these businesses, although their ability to achieve notable growth is considered," says executive editor Bob Scott.
This is the first year that the award has been made by Bob Scott's Insights, a weekly electronic newsletter and companion Web site. However, Scott has been providing information, analysis and humor to value-added resellers and suppliers of mid-market accounting software since 1991 and has been involved in the awarding of previous industry honors.
Scott, who was editor of the former Accounting Technology for 12 years, is also executive editor of another Progressive Media Group publication, The Progressive Accountant, which is available at www.progressiveaccountant.com. Bob Scott's Insights is available at www.bobscottsinsights.com. The Progressive Media Group, a leader in B2B online media, is headquartered in Clifton,N.J. It helps business marketers reach targeted decision-makers through our portfolio of email newsletters, websites, edirectories, job boards, webinars, live events and databases focusing on the nonprofit, healthcare, finance/accounting, human resources, education, construction, government, supply chain, retail, distribution, manufacturing and professionals industries.
Sunrise Technologies is a leading Microsoft Gold Certified Partner specializing in the Microsoft Dynamics AX ERP solution.