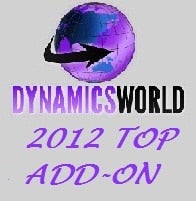 Dec 12, 2011
December 12, 2011
Microsoft DynamicsWorld's selection process was based on a number of requirements that are applicable to all businesses including value, implementation, functionality, simplicity, support, and the number of installations. More than 500 nominations were considered for the list.
"This award confirms what the marketplace has been telling us, that our Sunrise Apparel & Footwear Solution is the leading add-on in our vertical,"states John Pence, President of Sunrise Technologies.
Sunrise Technologies developed the template to integrate with Microsoft Dynamics AX, building on the solution's functionality aimed at the apparel and footwear industry. The Sunrise Apparel & Footwear Template is Certified for Microsoft Dynamics AX (CfMD), which signifies that the solution has met Microsoft Corporation's highest standard for partner-developed software.  The Sunrise Solution is the only Microsoft Dynamics AX CfMD certified solution for the Apparel & Footwear industry and available for Microsoft Dynamics AX 2012.
About Sunrise Technologies
Sunrise Technologies is a Microsoft Partner with the Gold ERP Competency. Sunrise specializes in the Microsoft Dynamics AX ERP solution for manufacturing, distribution, and retail, and is vertically focused on apparel, footwear, furniture, consumer goods, and industrial equipment. Sunrise Technologies is a global company with its corporate headquarters in the Piedmont Triad Research Park of Winston-Salem, North Carolina. Sunrise has regional offices in Dallas, Texas, Los Angeles, California, and Xi'an, China, as well as a Virtual Office at
www.sunrise-ax.com
. To learn more about Sunrise Technologies, please visit our Web site at
www.sunriseconsult.com
.