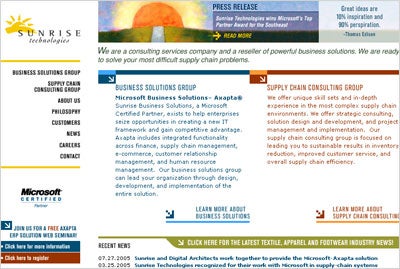 Aug 10, 2005
Sunrise Technologies, Inc. of Winston Salem, North Carolina and Digital Architects of Irving, Texas announce today that they are working together to implement and support the Microsoft Business Solutions-Axapta software for The Findley Group, the nation's premier franchise consulting firm. Sunrise Technologies will combine their Axapta expertise with the .NET development skills of Digital Architects to provide The Findley Group a complete Microsoft-Axapta solution.
Sunrise Technologies was founded in 1994 as a consulting services company and has implemented many successful supply chain and ERP solutions. Sunrise Technologies provides strategic consulting, systems integration, and enterprise and supply chain solution implementations. As a Microsoft Certified Partner reselling, implementing and supporting the Microsoft-Axapta solution, Sunrise Technologies offers their customers a fast and powerful way to gain competitive advantage.
Digital Architects leverages Microsoft technologies and years of software development expertise to help customers effectively attack the business problems of lack of visibility into their operations and of time-to-market challenges. These problems are targeted by Digital Architects through its Enterprise Performance Drivers™ and Rapid Platform Innovation™ service offerings. Effectiveness against these problems results in business growth, productivity enhancement and competitive innovation. Digital Architects has delivered these business-impacting solutions for over 9 years.
The Findley Group, located in Waco, Texas specializes in franchise consulting, development, and sales. The Findley Group works with companies to provide unique and exciting services to today's consumers. Using a company's business ideas, they creatively develop those ideas into a complete franchise offering. Gary Findley, former president of Curves International, leads the professional staff and sales team with years of experience in the franchise industry.
The Findley Group chose Sunrise Technologies and Digital Architects for their efficiency and technical expertise, "In today's market place, selecting Sunrise Technologies and Digital Architects to implement state of the art technology business solutions, is the competitive edge Findley Group is seeking. Their ability to customize our unique needs in the franchise industry with multiple franchise concepts is most impressive. Efficiency and technical expertise is the key to our success," states Janice Neckar, Controller for The Findley Group.
"Digital Architects partnership with Sunrise Technologies is successful because we complement each others strengths, and we share a common goal," states Jon Barcellona, CEO of Digital Architects. "The combination of Microsoft's Axapta software, Sunrise's Axapta implementation expertise, and Digital Architects business intelligence and .NET development skills creates powerful value for the Findley Group. Coupled with our common commitment to customer satisfaction, Sunrise and Digital Architects make a great team."