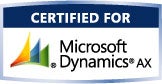 Jul 20, 2009
Sunrise Technologies Apparel & Footwear Template Has Met Microsoft's Highest Standard for Partner-Developed Software Solutions
Sunrise Technologies announced today that its Apparel & Footwear Template is now Certified for Microsoft Dynamics AX (CfMD), which signifies that the solution has met Microsoft Corporation's highest standard for partner-developed software. Solutions that are Certified for Microsoft Dynamics have demonstrated development quality and compatibility with the Microsoft Dynamics product and the Microsoft Dynamics partner must have customers who are successfully using the certified solution and willing to recommend it.
The Sunrise Technologies' Apparel & Footwear Template for Microsoft Dynamics AX is an integrated and comprehensive solution for companies in the apparel and footwear industries. Available on both Microsoft Dynamics AX 4.0 and Microsoft Dynamics AX 2009, the Apparel & Footwear Template enhances standard Microsoft Dynamics AX by adding apparel and footwear specific functionality in the areas of inventory management, order processing, season management, and production. The template enables users to more easily manage seasonality, UPC codes, item attributes such as brand/gender/country of origin, and size/color scales such as women's, men's, and children's sizes. The solution adheres to the Microsoft Dynamics AX best practices and the solution is completely embedded in the Microsoft Dynamics AX platform.
"Achieving CfMD certification for our Apparel & Footwear Template is a significant milestone in our long standing commitment to the apparel industry," said John Pence, President of Sunrise Technologies. Pence continues, "Only 150 of the 8000 published solutions for Microsoft Dynamics have achieved this level of certification. The certification means we follow the highest standards as set by Microsoft and we have a large and satisfied installed base willing to recommend our solution."
"By requiring both the software solution and the partner to meet our highest standards, Microsoft is assuring customers that these certified solutions work with their investments in Microsoft Dynamics," said Doug Kennedy, vice president, Microsoft Dynamics Partners. "Microsoft congratulates Sunrise Technologies on achieving the Certified for Microsoft Dynamics status for the Sunrise Technologies Apparel & Footwear Template by demonstrating its success and commitment in delivering a leading Microsoft Dynamics solution."
Sunrise Technologies is a Microsoft Gold Certified Partner and member of the elite Inner Circle for Microsoft Dynamics which represents the top 1% of Microsoft Dynamics partners. Sunrise Technologies specializes in the Microsoft Dynamics AX ERP solution for manufacturing, distribution, hosting and managed service providers. Microsoft Dynamics AX is a fully integrated ERP solution which includes integrated functionality across finance, supply chain management, e-commerce, customer relationship management, and human resource management. Sunrise Technologies is a global company with its corporate headquarters in the Piedmont Triad Research Park of Winston-Salem, North Carolina. Sunrise Technologies has regional offices in Dallas, Texas, Los Angeles, California, and Xi'an, China.
The names of actual companies and products mentioned herein may be the trademarks of their respective owners.