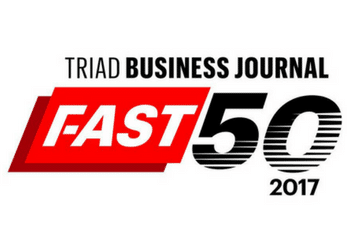 Oct 3, 2017
Sunrise Technologies has been a Fast 50 winner more times than any other local company.
Sunrise Technologies has won the Triad Business Journal's Fast 50 award for the eleventh consecutive year. Sunrise is honored to be selected once again, and was privileged to be recognized alongside other local companies in the construction, furniture, retail, and manufacturing businesses.
Mike Pereira, vice president of Sunrise Technologies, accepted the award for Sunrise and had this to say, "We are honored to have made the Fast 50 list for the eleventh time in a row. Over the past year, we've experienced many changes as a company, including moving to new offices and launching Dynamics 365, the new cloud-based business applications from Microsoft, while continuing to drive consistent growth throughout our business."
To be eligible for the Triad Fast 50 award, a company must have its U.S. headquarters in the Triad, be a privately-held and for-profit venture, and have been in business for three full fiscal years.