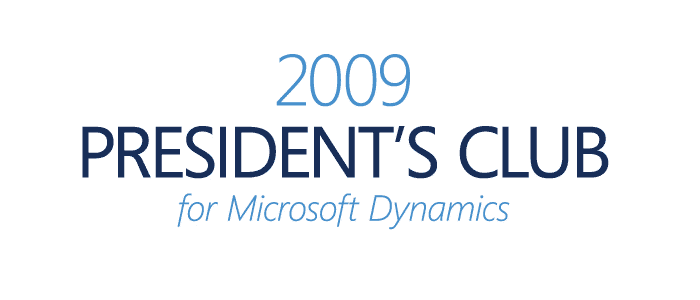 Jul 14, 2009
Microsoft Honors Sunrise Technologies for Outstanding Customer Commitment and Sales Achievement
Sunrise Technologies has been named to the 2009 Microsoft Dynamics President's Club for the third consecutive year, receiving recognition from Microsoft Corp. for its dedicated commitment to customers. This honor reflects Sunrise Technologies' success in extending the Microsoft Dynamics platform to drive business advantages in companies worldwide.
This recognition came during Microsoft's Worldwide Partner Conference in New Orleans. It is a prestigious club, recognizing a small group of Microsoft Business Solutions partners worldwide for achieving a high level of sales and business performance while maintaining a constant dedication to customer satisfaction and innovation.
"Microsoft is proud to congratulate Sunrise Technologies on being named to the 2009 Microsoft Dynamics President's Club," said Doug Kennedy, vice president, Microsoft Dynamics Partners. "This accomplishment is a result of Sunrise Technologies demonstrating unparalleled commitment by investing in the success of Microsoft Dynamics, our customers and solutions.
Sunrise Technologies offers customers a combined expertise of business knowledge, strong project management capability, and powerful business software solutions. Sunrise Technologies exists to help enterprises seize opportunities in creating a new IT framework and gain competitive advantage with the Microsoft Dynamics AX ERP solution. By working closely with the teams at Microsoft, Sunrise Technologies maintains a comprehensive understanding of the Microsoft Dynamics platform in order to provide leading-edge solutions, services, and unparalleled value to Microsoft Dynamics AX customers. Honors include: 2009 Microsoft Dynamics Inner Circle, Triad Best Places to Work recipient, and Triad Fast 50 recipient for two consecutive years.
Sunrise Technologies is a global company that provides implementation, training and consultation for small, midmarket and corporate businesses using business applications. Sunrise Technologies specializes in Microsoft Dynamics AX, with solutions such as the Sunrise Apparel-Footwear Template and the Sunrise Hosting and Managed Service Provider and Sunrise Advanced Warehouse Management solutions for Microsoft Dynamics AX that help leading global companies across industries, including manufacturing and distribution, achieve success.
"We are extremely proud to have received this recognition for the third year in a row," states John Pence, President of Sunrise Technologies. "This award is a reflection of the outstanding team we have at Sunrise Technologies, and our continued focus on our partnership with Microsoft and Microsoft Dynamics AX."
About Sunrise Technologies
Microsoft Gold Certified Partner, Sunrise Technologies, was founded in 1994 as a consulting services company. Sunrise specializes in the Microsoft Dynamics AX ERP solution for manufacturing, distribution, hosting and managed service providers. Sunrise Technologies is a global company with its corporate headquarters in the Piedmont Triad Research Park of Winston-Salem, North Carolina. Sunrise has regional offices in Dallas, Texas, Los Angeles, California, and Xi'an, China.