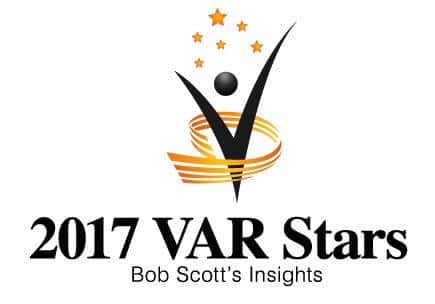 Jan 24, 2018
Sunrise Technologies, a worldwide provider of Microsoft Dynamics 365 ERP and BI consulting services, has been selected as a member of Bob Scott's VAR Stars for 2017. Bob Scott's VAR Stars award is unique in that organizations are selected based on factors including growth, industry recognition, and innovation, rather than pure revenue. VAR Stars represent a wide range of sizes and many different software publishers of accounting software.
This is the fourth consecutive year that Sunrise has earned the VAR Star award. Earlier in 2017 Sunrise was recognized by Bob Scott's Insights as a top 100 VAR for the seventh consecutive year. Sunrise also appears on Accounting Today's Top 100 VARs list for 2017. The company also received local recognition with a regional growth award, the Triad Business Journal's Fast 50 Award, for the eleventh year in a row.
About Bob Scott
Bob Scott has been informing and entertaining the mid-market financial software community via his email newsletters for 18 years. He has published this information via the "Bob Scott's Insights" newsletter and website since 2009. He has covered this market for more than 25 years through print and electronic publications, first as technology editor of Accounting Today and then as the Editor of Accounting Technology from 1997 through 2009. He has covered the traditional tax and accounting profession during the same time and has continued to address that market as executive editor of The Progressive Accountant since 2009.