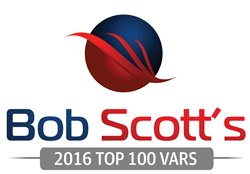 Jun 19, 2016
June 19, 2016 – View on PRWeb
Sunrise Technologies, a leading Microsoft Dynamics AX partner, has been named to the Bob Scott's Insights Top 100 VARs for 2016. This is the sixth consecutive year that Sunrise has appeared on the list, which features resellers that are chosen from organizations specializing in the sale and implementation of Enterprise Resource Planning (ERP) and accounting software. "We want to congratulate this year's class of Bob Scott's Top 100 VARs," said Bob Scott, executive editor of Bob Scott's Insights. "This selection represents recognition of leaders in this important field."
Although the report noted, "M&A has touched the Top 100 as never before" Sunrise Technologies has continued to grow its award-winning Microsoft Dynamics AX business organically. Headquartered in Winston-Salem, North Carolina, Sunrise is a global implementation partner with offices across North America, Europe, and Asia. Focusing on the apparel, footwear, home furnishings, consumer products, retail, and manufacturing industries, Sunrise is Microsoft Gold certified for ERP and Cloud Services.
"We're honored to be named as a Top 100 VAR for 2016," said John Pence, President of Sunrise Technologies. "I think our continued appearances on this list as an independent partner really speaks to our ability to offer the same global scope of implementations as a larger company, while maintaining the unparalleled service and attention of a smaller organization."
The criteria for inclusion on the list is solely based on annual revenue generated by each reseller. A special report that includes names of the organizations selected for this year's Top 100 list, ranked by revenue, can be found at http://www.bobscottsinsights.com.
About Sunrise Technologies
Since 1994, Sunrise Technologies has delivered game-changing ERP and business intelligence solutions at a tremendous value, in partnership with Microsoft. With one of the largest apparel, footwear, and home furnishings Microsoft Dynamics AX customer bases in the world, Sunrise is a global systems integrator operating out of North America, Europe and Asia. For more information on this Microsoft Gold Partner, US Microsoft Dynamics AX Retail Partner of the Year 2015, and US Microsoft Dynamics AX Distribution Partner of the Year 2014, please visit http://sunriseconsult.com or call 336.722.6741.
About Bob Scott
Bob Scott has been informing and entertaining the mid-market financial software community via his email newsletters for 17 years. He has published this information via the Bob Scott's Insights newsletter and website since 2009. He has covered this market for 25 years through print and electronic publications, first as technology editor of Accounting Today and then as the Editor of Accounting Technology from 1997 through 2009. He has covered the traditional tax and accounting profession during the same time and has continued to address that market as executive editor of the Progressive Accountant since 2009.