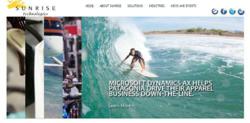 May 28, 2011
Leading Microsoft Dynamics™ AX ERP provider, Sunrise technologies is proud to announce the launch of an improved Web site at http://www.sunriseconsult.com. The new Web design is more engaging and will allow visitors to learn more about Microsoft Dynamics AX and the services that we provide more quickly. The improved Web site has a fresh new look that is uncluttered and easy to navigate. Keeping up with current technologies, the new site runs well in all browsers and has a mobile site for quick access from your smart phone or tablet.
We are excited about the contemporary, streamlined look of the Web site, but most importantly the content. By visiting our virtual office, using our Chat Live feature, and using the improved navigation to content-rich informational pages, visitors are able to easily learn specific information about our products, industry expertise, and consulting/implementation services. We believe the Web site allows visitors to collect all of the preliminary information that they need before speaking with a Sunrise team member to discuss their selection process, next steps, and requirements.
Sunrise Technologies is a global company with its corporate headquarters in the Piedmont Triad Research Park of Winston-Salem, North Carolina. Sunrise has regional offices in Dallas, Texas, Los Angeles, California, and Xi'an, China.