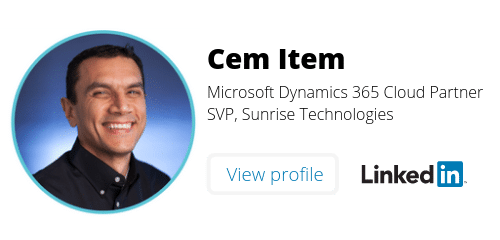 ---
As the SVP of Global Business Development for Sunrise Technologies, Cem Item serves as a trusted advisor to C-level executives running large global enterprises. He conducts corporate business strategy engagements and digital transformation workshops around the world. With over 20 years of consulting experience, Cem specializes in the textile, apparel, footwear, home furnishings, consumer goods manufacturing, and retail industries.
---
The importance of seasonal products for brands
Some brands live or die by seasons. We work with a lot of apparel and fashion brands, and seasonal inventory is very common for these companies. Winter coats, summer dresses, that sort of thing. While other types of businesses certainly have a seasonal element, there is tremendous pressure for brands to stay on top of the latest trends (or create trends themselves).
Optimize inventory with season codes
Season codes give you the ability to report on a product's sales performance by season. This is a good thing. Especially for apparel and fashion brands, the styles of products change from year to year. A style may have one season to prove itself, and if it doesn't sell well, it's gone next year. Often, we find companies add the season code to a product's style number — for example, say you make a dress and call it DressF20.
Embedded season codes in style numbers cause problems
At first glance, combining season codes and style numbers seems fine. It makes logical sense. But over time, keeping these two attributes together causes problems. Let's examine a few:
Problem 1: If you decide to sell across seasons, you need to create new style numbers for the same product
The dress from Fall 2020 was a big hit. You want to carry it next year. Great! However, you'll now have to make a DressF21 style and move the 2020 inventory to the new 2021 style number.
Problem 2: Carried-over styles need new color and size product variants
The original dress you sold that was so popular — you also have to make new color and size variants for the carried-over style.
Problem 3: You must complete inventory transfers for the new SKUs.
You've got your new style number, your new variants — now it's time to transfer the leftover inventory from the old SKU to the new SKU. Now imagine doing all this work for 10, 20, 30 styles every season. Think about all the time and effort wasted — all because you're tracking styles and the season code together.
Last season doesn't really mean last season (for styles)
Ask yourself: what data are you really trying to capture with the season code? Are you trying to document:
When the product was designed?
When the product was manufactured?
The selling season for the product?
A better way to manage seasonal inventory
You may find a more logical attribute than season, or that there are actually multiple "seasons" that have nothing to do with whether it's snowing outside or not. Maybe design seasons are the way to go.
Another way to think about it is in terms of color. Colors lend themselves to seasonality more than style, so you could link a season code with a color rather than a product.
The best way to generate season codes will differ for your business, but being thoughtful about what you really need that data for, and setting it up right the first time, can save time and money down the road (no more frantically keying in new product numbers and inventory transfers).