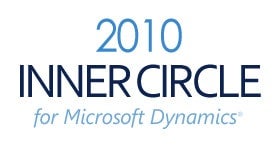 Jul 19, 2010
July 19, 2010
Sunrise Technologies, a Microsoft Gold Certified Partner  who specializes in Microsoft Dynamics AX , has joined the prestigious 2010 Inner Circle for Microsoft Dynamics. For the second consecutive year, Sunrise has been named to this elite group of the most strategic Microsoft Dynamics partners whose sales achievements rank them in the highest echelon of the Microsoft Dynamics global network of partners. Members of the Microsoft Dynamics Inner Circle have performed to a high standard of excellence by delivering valuable solutions that help organizations achieve increased success. This recognition of the Microsoft Dynamics Inner Circle came during the Microsoft Worldwide Partner Conference (WPC), Microsoft's annual premier partner event.
"We're excited to recognize Sunrise Technologies as a leader in the Microsoft Dynamics global partner community for promoting and delivering solutions that drive customer success," said Doug Kennedy, vice president of Microsoft Dynamics Partners. "By providing the highest level of sales and innovation, customers can have absolute assurance they are dealing with the 'best of the best' when working with Sunrise Technologies."
Sunrise Technologies is dedicated to helping customers find the best solutions and services to accommodate their business needs.   By collaborating with the teams at Microsoft, Sunrise Technologies maintains a comprehensive understanding of the Microsoft Dynamics platform so we can provide innovative solutions, services, and unparalleled value to Microsoft Dynamics customers.  Recent honors include: 2010 Microsoft Dynamics President's Club (4 consecutive years), 2010 Microsoft Distinction in Marketing Award winner for Best Overall Marketing Campaign, Triad Best Places to Work recipient, and Triad Fast 50 recipient.
"We are extremely proud of attaining this recognition for the second straight year" said John Pence, President of Sunrise Technologies.  "This recognition means that the market is rewarding our unique combination of industry solutions, Microsoft Dynamics AX knowledge, and outstanding customer service."
About Sunrise Technologies
Sunrise specializes in the Microsoft Dynamics AX ERP solution for manufacturing, distribution, and retail, and is vertically focused on apparel, footwear, furniture, and CPG distribution.  Sunrise Technologies is a global company with its corporate headquarters in the Piedmont Triad Research Park of Winston-Salem, North Carolina. Sunrise has regional offices in Dallas, Texas, Los Angeles, California, and Xi'an, China, as well as online at sunriseconsult.com