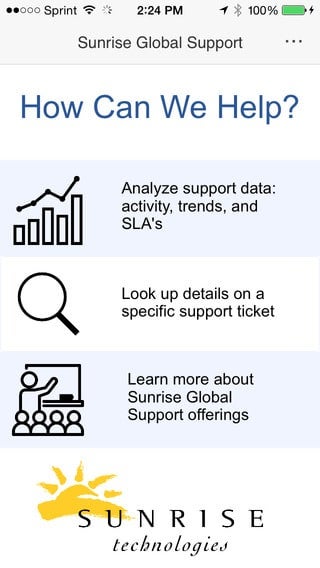 Sep 4, 2014
September 4, 2014 – View on PRWeb
Sunrise Technologies, a leading Microsoft Dynamics AX and MicroStrategy partner, has developed an exclusive iPhone app called Sunrise Global Support, built on the powerful MicroStrategy Mobile App Platform. Now available in the iTunes App Store, Sunrise Technologies Global Support customers can access support data on their mobile devices.
Sunrise Global Support provides customers with an exclusive support team for their Microsoft Dynamics AX Solution. Support resources consist of Support Analysts, Development Resource Services, and Infrastructure Technical Services. With these services, Sunrise Technologies' customers can create an infrastructure that supports their Microsoft Dynamics AX environment 24/7, while eliminating the need to hire in-house technical experts.
The Sunrise Global Support app provides a high level visual overview of support ticket activity on a weekly, monthly, and yearly basis, as well as allowing authorized users to search and view details on a specific support ticket, and even contact a Sunrise Support representative directly from within the app to request additional information or a status update.
"We've created an engaging experience that allows our customers and staff to take immediate action with their support data, right on their mobile device. Customers can analyze their ticket activity and sort tickets by status, priority, or support representative, as well as contact their Global Support team from within the application. Customer satisfaction is a priority to us and we will continue to provide services that help make our customers jobs easier," says Steve Gamberini, Manager of Global Customer Support.
About Sunrise Technologies
Since 1994, Sunrise Technologies has delivered game-changing supply chain, ERP and business intelligence solutions for fashion and home furnishing manufacturers, distributors, and retail organizations with craftsman-like quality. A global consulting network across North America, Europe, and Asia enables Sunrise to support clients of large-scale Microsoft Dynamics AX and MicroStrategy implementations anywhere they do business. For more information, visit http://www.sunriseconsult.com or call 336-722-6741.