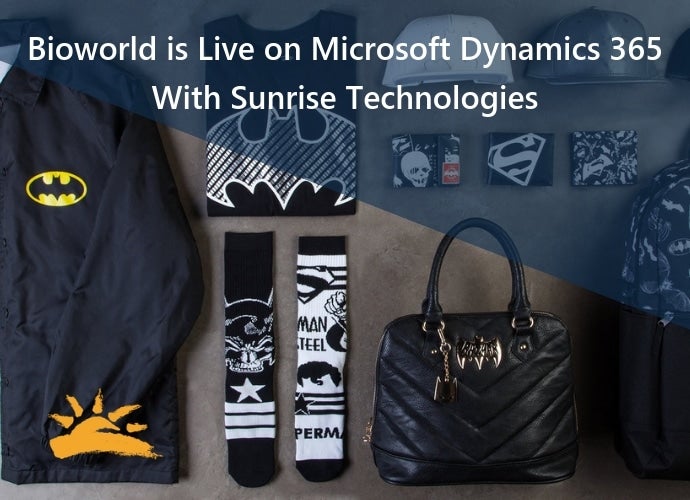 Mar 5, 2019
The leading global, licensed apparel and accessories company is using Microsoft's cloud-based platform to run their business
Winston-Salem, NC – Sunrise Technologies, a global provider of Microsoft Dynamics 365 Business Applications and Cloud services, announced today that Bioworld is live on Microsoft Dynamics 365 for Finance and Operations.
Specializing in pop culture and entertainment brands, Bioworld Merchandising designs and distributes licensed and private label apparel, sleepwear, headwear, bags, and accessories. Brands like Marvel, DC Comics, Disney, and Nickelodeon partner with Bioworld for brand management, design, and distribution.
After their initial Dynamics 365 implementation with another partner, the Bioworld team felt the system could be optimized for better visibility and reporting. Both Sunrise consulting and Global Support teams assisted Bioworld with relaunching Dynamics 365 in just under two months.
"We are thrilled to be live on Dynamics 365," says Shawn Stauffer, CIO of Bioworld. "We're already seeing the benefits from the new system. The combination of Dynamics 365 and the Sunrise 365® solution was exactly what Bioworld needed to handle growth and expansion for many years to come."
Bioworld chose Sunrise as their implementation partner due to Sunrise's apparel industry experience, unique methodology, and the industry-specific Sunrise 365® Supply Chain Solution.
"Both the Sunrise consulting and Global Support teams did an excellent job launching Dynamics 365 for Bioworld," says John Pence, President of Sunrise Technologies. "Bioworld now has streamlined processes, real-time business intelligence reporting, and a single, global view of their business."