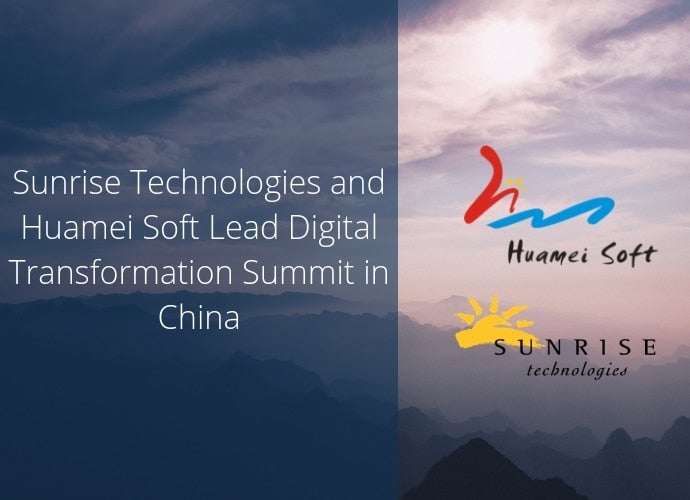 Oct 16, 2018
Sunrise founder speaks at joint Huamei Soft and Microsoft China conference.
Winston-Salem, NC; Sunrise Technologies, a Microsoft Gold partner for Dynamics 365 ERP, CRM, Power BI, and Cloud Services, presented at the second annual Western Region Digital Transformation Summit in Xi'an, China from September 19 -21.
Huamei Soft, Sunrise Technologies' development organization in China, sponsored the summit, along with Microsoft China. Topics from speakers at the Summit included digital transformation using the Microsoft Cloud, Dynamics 365 for manufacturing and retail industries, and Office 365 as the modern workplace platform. Sunrise's founder and president, John Pence, focused on Sunrise development and shared several digital transformation success stories from Sunrise customers.
Executives from Huamei Soft also met with Dr. Mingqiang Xu, Chief Technology Officer of One Commercial Partner (OCP) and Small, Medium, and Corporate (SMC) business at Microsoft, as part of Huamei Soft's commitment to promoting Sunrise 365® Solutions in China.
More information can be found at huameisoft.com and sunrise.co.
Huamei Soft was founded in 2007 and has been dedicated in Microsoft business solutions for over 10 years. Huamei Soft provides Dynamics 365 consulting, implementation, development, training, and support for companies in information technology, manufacturing, distribution, and retail industries. As the largest Microsoft APAC MBS R&D vendor, Huamei Soft specializes in providing a complete set of services for Microsoft Dynamics 365.