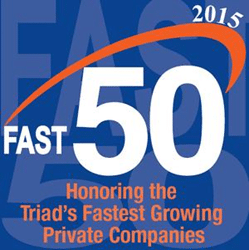 Oct 7, 2015
Sunrise Technologies is pleased to announce that they have been selected for the ninth consecutive year as one of the Triad Business Journal's Fast 50 Winners. Currently, Sunrise is tied with one other company for the most consecutive appearances on the Fast 50 list. During the awards ceremony, Sunrise was honored to be selected once again, and was privileged to be recognized alongside other local companies in the logistics and technology industries, as well as construction, furniture, retail, and manufacturing businesses.
John Pence, founder and President of Sunrise Technologies, accepted the award for Sunrise and had this to say, "We are thrilled to have made the Fast 50 list again this year and we're honored to have earned this recognition nine years in a row. Without the relationship with our great partner, Microsoft, and our commitment to outstanding customer service we wouldn't be where we are today." To be eligible for the Fast 50, a company must have its U.S. headquarters the Triad, be a privately-held and for-profit venture, and have been in business for three full fiscal years.
Sunrise Technologies is an experienced supply chain consulting organization that provides Enterprise Resource Planning and Business Intelligence solutions. Sunrise has over 21 years of experience in business and information systems consulting, with ERP and Supply Chain Management implementation expertise in the manufacturing, distribution, and retail industries. As a global ERP and BI provider they have locations all over the world with their headquarters in Winston-Salem, North Carolina, and regional offices located in Dallas, Texas; Salt Lake City, Utah; Xi'an, China; and Lugano, Switzerland.
For more information about Sunrise Technologies please email info@sunriseconsult.com, or call 336-722-6741.