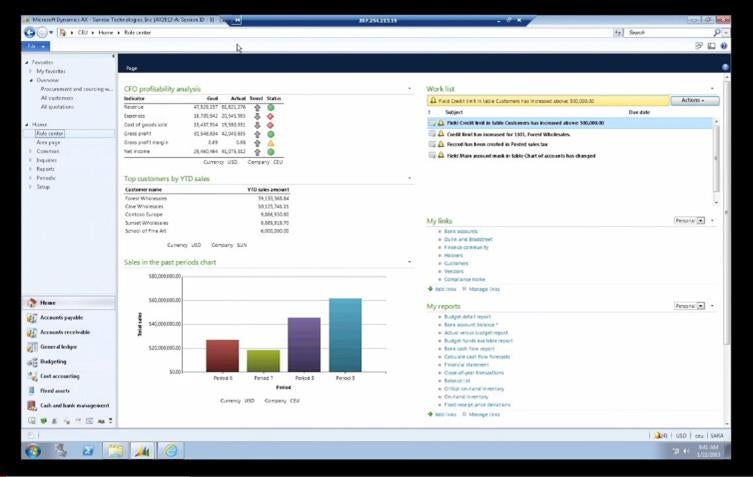 Mar 14, 2013
March 14, 2013
Sunrise Technologies is proud to announce the release of new online on-demand demonstrations for Microsoft Dynamics AX. The three demos include an overview demo of Microsoft Dynamics AX 2012 user features, a demo for manufacturing and distribution, and a demo for the apparel and footwear industries. The on-demand demos allow visitors who are starting the ERP process the flexibility to quickly and easily learn about the functionality of Microsoft Dynamics AX 2012 at any time.
All three demonstrations show how simple, agile, and powerful Microsoft Dynamics AX 2012 is for the end user. The enhanced role center interface is seen throughout Microsoft Dynamics AX, resulting in a familiar user experience and connection with business processes. Building on the familiarity of other Microsoft products such as Outlook, Word, and Excel, viewers will be able to see how easy it is to navigate through the system.
The apparel and footwear demonstration highlights solutions to many of the problems that apparel and footwear companies are facing in a global market. The Microsoft Dynamics AX dimensional capability allows companies to manage data at the end item level to successfully forecast, plan, and manufacture products, delivering the right product, and controlling inventories. Also featured in the demonstration is the Sunrise Technologies Apparel & Footwear Template which adds advanced functionality. Written in X++, the solution is completely embedded in the Microsoft Dynamics AX ERP system and enhances standard Microsoft Dynamics AX by adding apparel and footwear specific functionality in the areas of inventory management, order processing, season management, and production.
With 19 years of experience in business and information systems consulting, Sunrise offers its customers a combined expertise of business knowledge, strong project management capability, and powerful business software solutions. Sunrise takes pride in their ability to lead customers through design, development, and implementation of the entire solution by employing highly skilled certified consultants. Outstanding customer commitment and sales achievement has helped Sunrise achieve membership in Microsoft Dynamics™ President's Club and Microsoft Dynamics™ Inner Circle.  Sunrise Technologies' goal is to implement the great ideas of its customers, helping them gain competitive advantage with the Microsoft Dynamics AX ERP solution.
Sunrise Technologies is a global company with its corporate headquarters in the Wake Forest Innovation Quarter of Winston-Salem, North Carolina. Sunrise has regional offices in Dallas, Texas, Salt Lake City, Utah, Xi'an, China, Chiasso, Switzerland, as well as a Virtual Office at www.sunrise-ax.com.
For additional information about Sunrise Technologies please visit our Web site www.sunriseconsult.com.